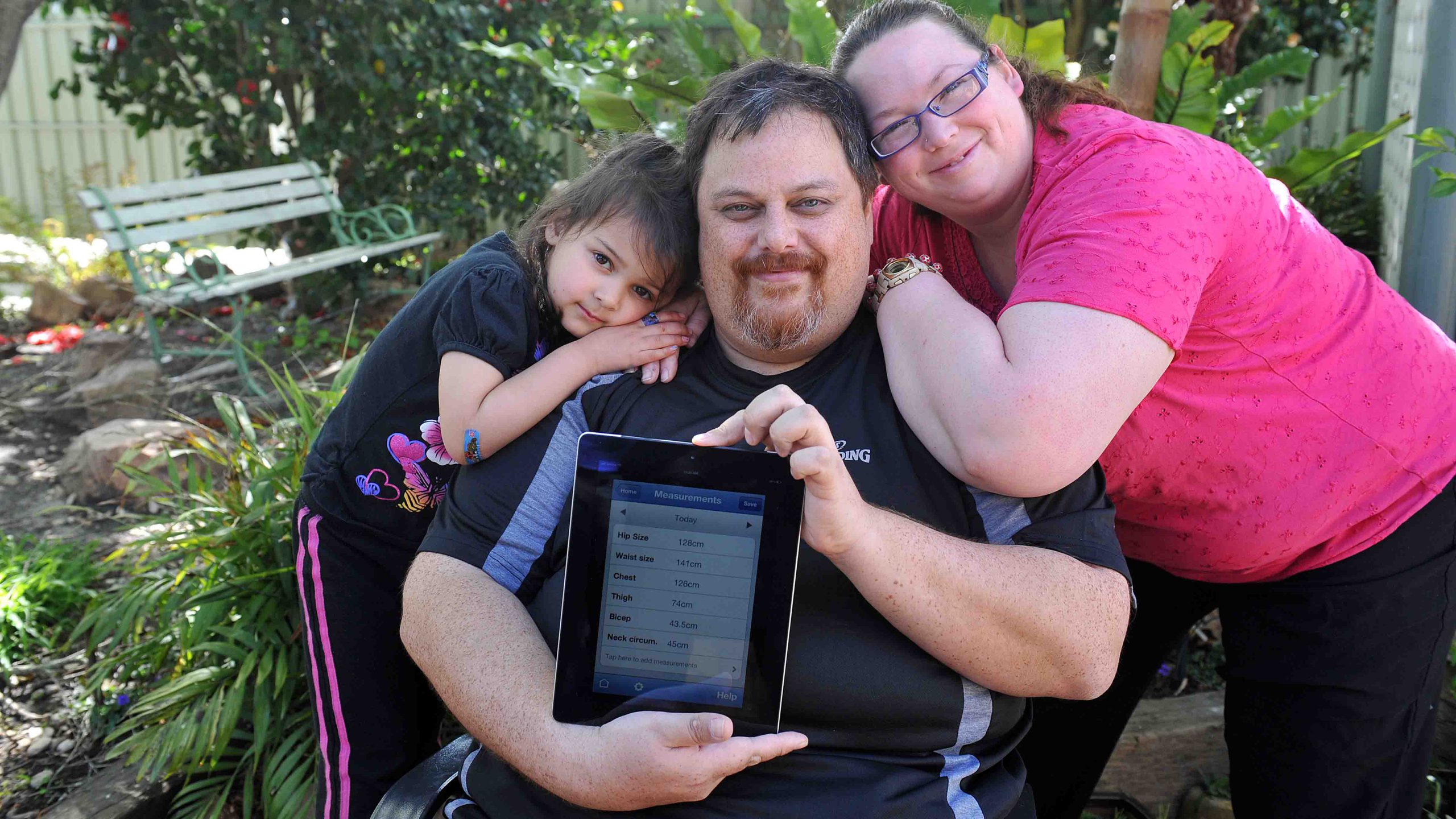 Earlier this year, Michael Crofts' body sent him a clear and confronting warning: he only had two years to live.
Weighing in at 150 kilograms at the age of 38, the possibility that Michael would not live to see his four year-old daughter's teenage years became all too real.
It was an epiphany which emboldened Michael to face his greatest enemy: embarrassment.
"Embarrassment about my weight was a complete enemy of mine, and as a result, any attempts to fight it would always be done in private as my own little secret, so I wouldn't be embarrassed when I failed," Michael said.
From "fad diets", self motivation courses, and personal trainers, Michael felt like he had tried them all, and to no avail; he "wasn't really failing, because nobody else knew about it".
But after feeling like he was going to "keel over and die" after walking two city blocks, the warning signs became too loud to ignore and the fear of heart attack became too strong.
It drove Michael to make the biggest decision of his life; taking his 15-year private struggle with obesity into the public domain.
"I was literally sitting on the couch to 12am at night, and (my wife) Michelle saw the look of despair on my face, so I told her look what I wanted to do," he said.
In August, Michael took his latest effort to fight "severely morbid obesity" to social media, starting up a Facebook page documenting his efforts.
Humorously titled 'Save the Whale', friends, family and colleagues have joined the page to witness and encourage Michael's drastic lifestyle change, documented through regular photo uploads and status updates.
In a painfully honest mission statement on the closed group's Facebook wall, Michael laid down the brutal truth.
"You know there's a real problem when you have to look at how many people are in an elevator because you're the one who was directly responsible for causing a 45-minute wait when you were the one who overloaded one," he wrote, sharing his insecurities publicly for the first time.
"When I hit the 'post' button, there was a tingling sensation which became a very powerful experience; while I thought 'oh God, what have I done', it felt remarkable at the same time, like it was something I was wanting to get off my chest forever," he told The Express this week.
"This is coming from a guy who in 15 years has never taken his shirt off in public, even to my family; I was stuck in what felt like an unbreakable cycle of my own self-loathing and low feeling of worth."
The bold act was enough to encourage Michelle to get on board, with the pair agreeing to a self-imposed 12-month ban on take-away junk food, while sweets and other unnecessary sugars are all but banned, apart from at social gatherings.
And with a notorious habit of watching television long into the night, Michael has reduced his television intake to less than two hours per day, to be replaced with house maintenance, playing with daughter Jordan, and of course, exercise. Three weeks in and six kilograms lighter, Michael said it was one of the best decisions he had ever made.
The 'Save the Whale' Facebook wall has been alight with messages of encouragement, and has even inspired a few to open up about their struggles with obesity.
For Michelle, while the decision to go public was just as daunting, she had quickly warmed to the approach.
"With everyone watching, we are finally being honest with ourselves about our weight problems; telling everyone seems to be working, and we are feeling great about it now – there's more honesty now than there has ever been in my life," Michelle said.
"If you don't tell anyone about your weight, then you don't really admit it to even yourself… it's already changed everything, from our eating habits and the education of our daughter has changed, she is already telling us we can't have (certain foods) because they are not healthy."
While the 'Save the Whale' Facebook page is a closed group, Michael said he was open to people wanting inspiration or to offer support joining the group via request, however "haters need not apply".