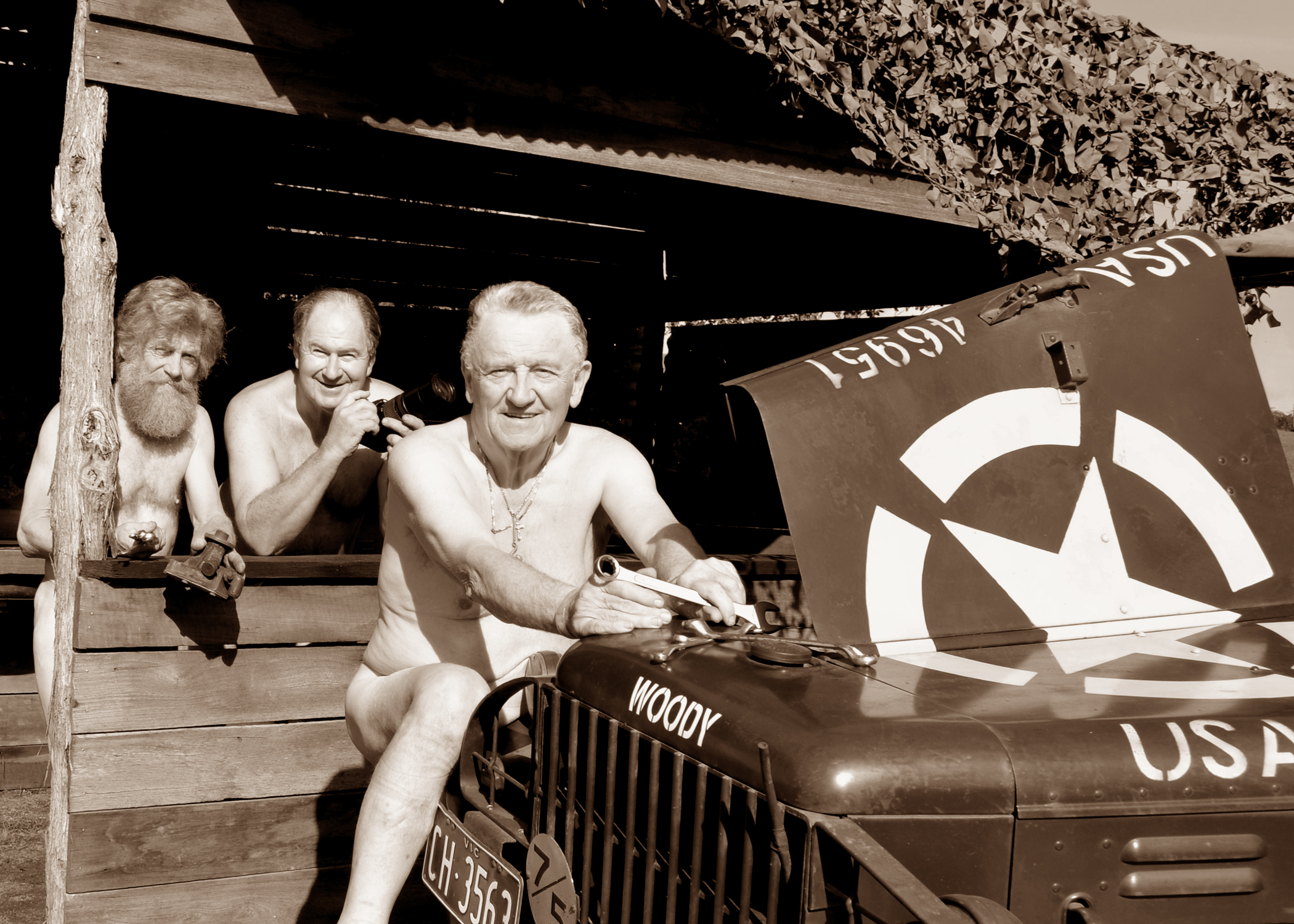 Latrobe Valley Vietnam War veterans are being encouraged to bare all for a "nearly nude" calendar raising money for a veteran's retreat near Bairnsdale.
Retired professional photographer Greg Carter runs the retreat Cockatoo Rise, out of his 50 acre property with his wife Annie and a group of dedicated veterans.
The first edition of the calendar, Men at War and Peace, was produced for 2007 and raised more than $65,000 for veterans' welfare services.
Due to public demand they are creating another.
Two Latrobe Valley Vietnam veterans, Colin Bermingham and Peter Steinkellner, attended the retreat earlier this month and posed almost naked for a shot, which will appear within the 2014 calendar to be released in October this year.
Mr Bermingham said he had visited the retreat several times with other veterans and enjoyed the peacefulness of the property, which reminded him of wartime, minus the constant gunfire.
"It's got the atmosphere of militia, with things we used to have in the bush, sitting on logs around the fire just like at our base camp," Mr Bermingham said.
"It's a great place for veterans to go when they are having a downer or health issues and they just need to get away and they can go up there and have a retreat – chill out."
Mr Carter, also a Vietnam War veteran, said the retreat was open to veterans of all wars with camping facilities and amenities provided free of charge and while donations were welcome, there was no obligation.
"Stays range from overnight to three weeks, and we even had a man staying for six months. Veterans either bring a caravan or tents and camp," Mr Carter said
Mr Carter said the idea for the retreat struck two and a half years ago after he constructed a golf course on his property for friends.
Through a series of working bees, six months later the retreat was completed and opened
He said his experience as a veteran meant he knew what they required and also provided a sense of familiarity to guests, "who know even though they haven't seen us before, they've got a mate".
"The retreat also offers activities for ladies, including a crochet course, vegetable garden, garden around the house, or the women can have a hit on the golf course as well," Mr Carter said.
He said word had spread about the peaceful retreat, with hundreds of veterans travelling from across the country to stay or attend events during Veteran's Heath Week or various golf days.
So far 30 Vietnam veterans have volunteered to be photographed for the calendar, and in August a final 12 will be chosen to grace the pages, with the remaining photos to feature on the back.
Cost is $15 and it can be ordered from www.menandwaratpeace.com.au with all proceeds going to the running costs of the retreat.
For more information on visiting the retreat or posing for the calendar phone 0409 418 332. Reservations are essential.