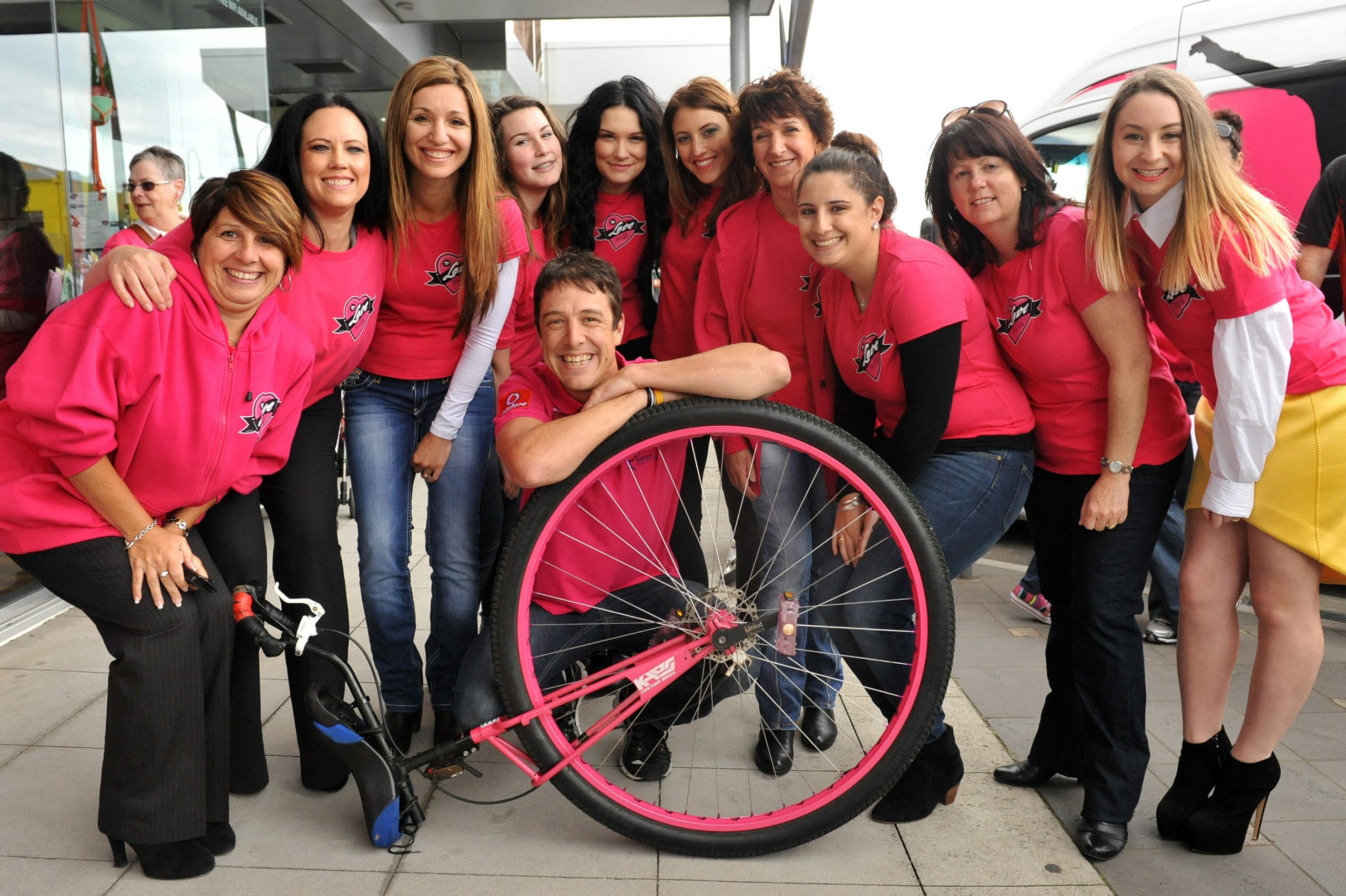 With about 140 days left of his arduous Australia-wide Love Your Sister unicycle trip, actor Sam Johnson battled through rainfall in Moe to make it to Traralgon "in one piece" yesterday to encourage women to be "breast aware" and raise money for breast cancer research.
Having raised nearly $800,000 so far, Mr Johnson said he was confident he would reach his $1 million target, which would go towards the Garvan Institute.
"It's certainly tracking very well and because breast cancer is an issue which affects so many families, people tend to be quite generous when it comes to the pink," he said.
The idea of the trek stemmed from a joke Mr Johnson's sister Connie made in their kitchen, daring him to complete the unicycle journey – this soon turned into a promise.
Throughout Ms Johnson's life, she has suffered from cancer on three different occasions but this time was diagnosed as terminal.
"Connie's very well at the moment, she's stable, you wouldn't even know she had cancer to look at her so she's better than she was two years ago," Mr Johnson said.
"She was given three years, three and a half years ago, so we'll see how she goes."
Mr Johnson said his aim of spreading awareness and the story of his sister's battle was equally as important as raising funds.
"My sister knew something was wrong, she failed to act and she's paying the ultimate price; I'm desperate for other young mums to learn from her experience, it's something better dealt with than pushed under the carpet," he said.
With Mr Johnson's family originating in the Latrobe Valley, a team of his relatives and friends have organised a girls only gala to raise money.
The Love Your Sister gala event will be held at Mercedes-Benz Traralgon, and run from 7.45pm to midnight on Friday, 11 October. There will be auctions, music, beverages and finger food. Tickets are $90, phone Pat Coles on 0428 746 207 to purchase.