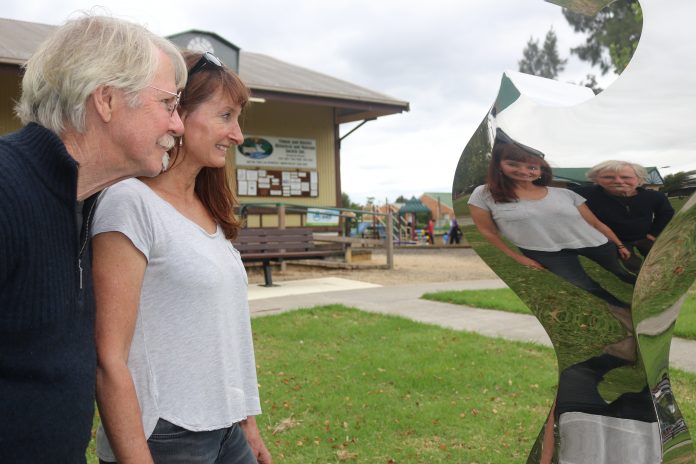 Michelle Slater
Yinnar is being transformed into an outdoor public art space with the Gippsland Sculpture Exhibition to be officially opened on Sunday.
About 40 large scale outdoor sculptures have been installed throughout the town's main street along with 73 smaller works displayed at arc Yinnar.
Visitors can also enjoy free live music and workshops each Sunday for the seven-week show, and take part in mosaic-making, stone carving, indigenous weaving or wood burning.
This year's show is featuring some well-known established artists from all over Australia exhibiting alongside emerging local sculptors in the biennial event.
It includes wire artist Tom Ripon whose animals are scattered about the town, with a Yellow Dog on the pub roof, and a Blue Panther surveying Yinnar from above the local cafe.
Other highlights include the debut of local artist Mick Bolding with his lobster-form Jasus Edwardsii, Mark Niglia's giant horse Phoenix on Jumbuk Road and Aimie Whiting's giraffe Darcy.
This year will also feature the return of renowned chainsaw carver Rob Bast who will be producing a sculpture for the town, after his previous work Homage to Billy Hillier is going on permanent display.
Exhibition organiser Tony Hanning said the sculpture exhibition is making art more accessible to those who may never step inside a gallery.
"People have the opportunity to be a critic, once it's in the street they don't have to go into a gallery, they can make a judgement about what they like," Mr Hanning said.
"Many people are not keen to go into a gallery and here people can see things they would not normally see, it's making art very accessible in a beautiful regional setting."
Artists are up for $11,000 in prizemoney with a $1000 people's choice award on offer.
The Gippsland Sculpture Exhibition runs from March 21 to May 9.