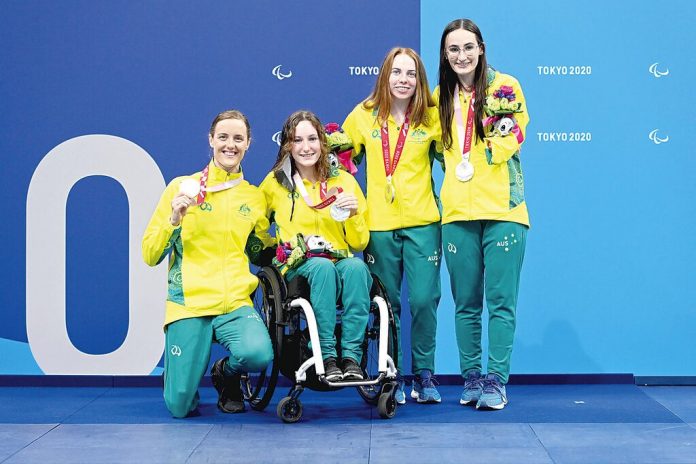 PARALYMPICS
By LIAM DURKIN
TRARALGON swimmer Emily Beecroft secured the first Paralympic medal of her career earlier in the week.
Swimming as part of the Australian four by 100 metre freestyle relay team, Beecroft helped her country to a silver medal in Tokyo.
The 21 year old took the all-important third leg in the relay, as her and teammates Ellie Cole, Isabella Vincent and Ashleigh McConnell touched in with a time of 4:26.82.
In a dramatic postscript, the Australian team was promoted to silver after the first finishing USA was disqualified for leaving the blocks too early on changeover, as well as Great Britain.
There was some nervous moments as the Americans protested the result, which delayed the medal ceremony to the next day, but it came to no avail and an Australian silver medal was inscribed.
In the finish the final placings were Italy, Australia, Canada.
Speaking to Channel 7 pool side post-race, Beecroft said she was ecstatic to be part of an Australian medal winning Paralympic team.
"I really didn't know what to expect coming into this race, we all just made sure we stuck to our race plans," she said.
"What a way to kick-off my Tokyo campaign, couldn't ask for a better start."
The race had great significance on a number of fronts. For Beecroft and Vincent it was their first Paralympic medal, while a 16th medal for Cole meant she equalled the Paralympic medals record with legendary para-swimmer Priya Cooper.
The result maintains Australia's great record of podium finishes in the women's four by 100 freestyle following gold in London (2012) and Rio (2016).
Proud father Gary Beecroft watched on from the sanctity of his man cave, with family and friends also tuning in.
"We had it set up with flags and streamers, we had a Zoom going so we had my family in Melbourne and Perth all up and about," he said.
"There was plenty of screaming, it was awesome, every leg, especially when Emily dived in and did her bit.
"It was pretty exciting but I was really nervous. As I've said in the past I just wanted her to do well for herself, she's put all the hard work in."
With his daughter now a Paralympic medallist, Beecroft praised the work of the entire relay team.
"It was a really good effort by them all. They all had a role to play and they all swum well," he said.
"Emily's role was to chase, chase, chase and I thought she did a good job in that.
"Swimmers really love the relays, even if it just in Traralgon or on the world stage they all seem to lift for it, they want to swim well for each other."
Emily has kept touch with things back home, as she lives the dream at her second Paralympics.
"We speak most nights after she finishes for the day and when she comes home she'll Facetime us," Gary said.
"She's having a good time, she's enjoying it. Unfortunately they can't get out and do much but she is enjoying her time."
Following the relay, Beecroft came eighth in an incredibly tight 100 metre S9 freestyle final on Tuesday – only 2.10 seconds off the winner.
She will swim in the four by 100m medley relay final tonight.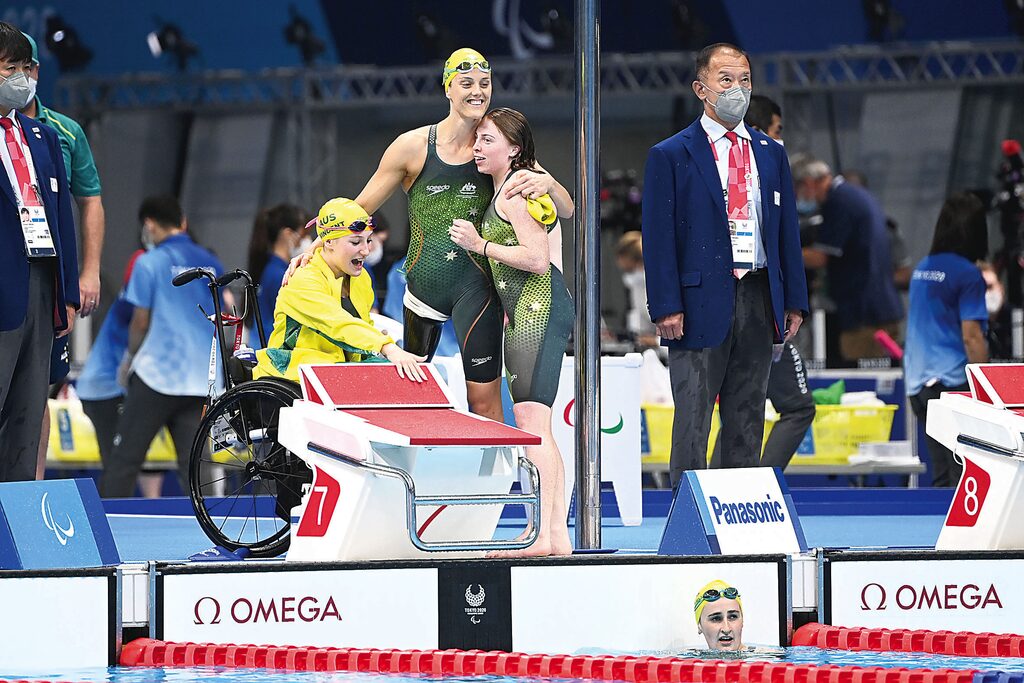 Job well done: Isabella Vincent, Ellie Cole and Emily Beecroft embrace, with Ashleigh McConnell in the pool, after the women's four by 100m freestyle final. photograph paralympics australia