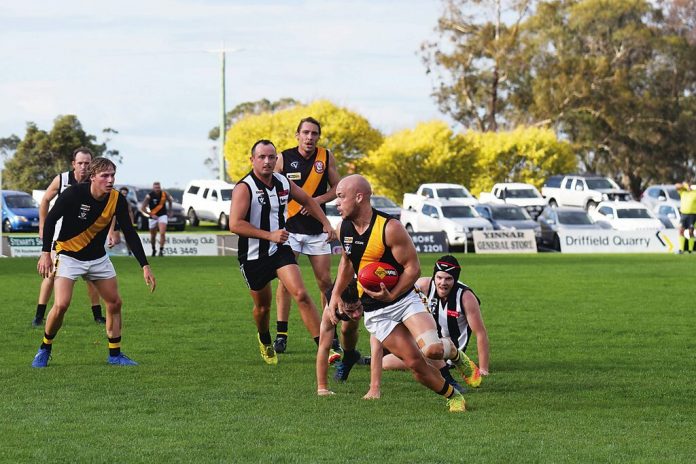 FOOTBALL/NETBALL
By LIAM DURKIN
THE MID Gippsland Football-Netball League met on Monday, where it was decided to abandon the last home-and-away round.
Teams needed to play the last game in order to reach a stage where they had played each other once.
At the meeting it was also decided that Saturday, October 2 would be the last date in which a grand final could be played.
Mid Gippsland senior finals will only go ahead if Melbourne-based played are able to travel to regional areas.
Junior football and netball finals will go ahead regardless of travel restrictions.
Whether or not the MGFNL sticks with its top-six finals format, or goes to a top-four will be determined in the weeks available leading up to October 2, with the leagues executive to work a finals fixture based on the framework applied to it by government direction.
Interestingly, a motion to have senior netball continue without senior football going ahead was defeated.
The news was surely welcome for Fish Creek, which has qualified for finals but was forced to forfeit its last game in A Grade netball as the entire team was based in Melbourne.
THE NORTH Gippsland Football-Netball League has remained steadfast in its ambition of crowning a premier through some level of competition for season 2021.
Despite the inevitable feeling of what is to come regarding lockdowns and restrictions, the NGFNL appears determined to get back onto the field and court until all options surrounding dates and logistics are exhausted.
League boss David Kyle reiterated the board's position in his president report earlier this
week.
"At the forefront of our board's mind is that our minimum requirement and our ultimate objective is to play a grand final to determine our 2021 premier other than to contemplate the awarding of a premier in any other fashion," he said.
"What we can say with absolute confidence is that any historic finals structure or system is off the table. Time is against us and will simply not allow this format (four week final five) to unfold. It is on that basis we must now convey the unpalatable news that any team which finished fifth as at the end of round 11 will now find themselves eliminated from the 2021 finals series."
The result means Traralgon Tyers United is out of senior football and Sale City will take no further part in A Grade netball.
As time is the enemy to get a finals series done, Kyle said it was also the enemy in regards to welcoming back crowds.
"Regardless of any policy announced about crowd restrictions being lifted, we suspect we simply do not have enough time to gain the necessary permit approvals to run a function with crowds of 1000 plus," he said.
"I can also say with absolute assurance that any final we are able to undertake will be done so without crowds."
While playing finals in front of no crowds is sure to be a buzzkill, the trade-off is that the NGFNL will bear the full brunt of the cost involved in setting up equipment to live stream all finals from every grade.
It is hoped clubs will be able to broadcast the games at end of season functions once venue and crowd limits allow.
Kyle acknowledged the possibility of just holding a grand final between the top-two teams remained an option.
"It would seem if COVID cases continue to rise or hold at current levels the hopes of restrictions being lifted will diminish and should that be the case in seven days' time (from last Sunday) then we can probably assume the option of a preliminary final will equally diminish with our only option being to play a grand final when that window opens," he said.
"It is the opinion of the board that our final window to host a grand final would be up to and including the Friday before the AFL grand final (the Friday, September 24 public holiday) or the Sunday after the AFL grand final (Sunday, September 26).
"Should we not be able to achieve a grand final by those dates then most likely we will decide to acknowledge the minor premier in some way but asterisk the 2021 season without the declaration of a formal premier for this season."
THE GIPPSLAND League abandoned its final home-and-away round last week, and is
undertaking to work out some sort of finals system in the three or so weeks it has left.
MID GIPPSLAND PATH FORWARD
-Final home-and-away round is abandoned.
-Cut off date is October 2 to play a grand final.
-Melbourne-based played must be available for senior finals to go ahead.