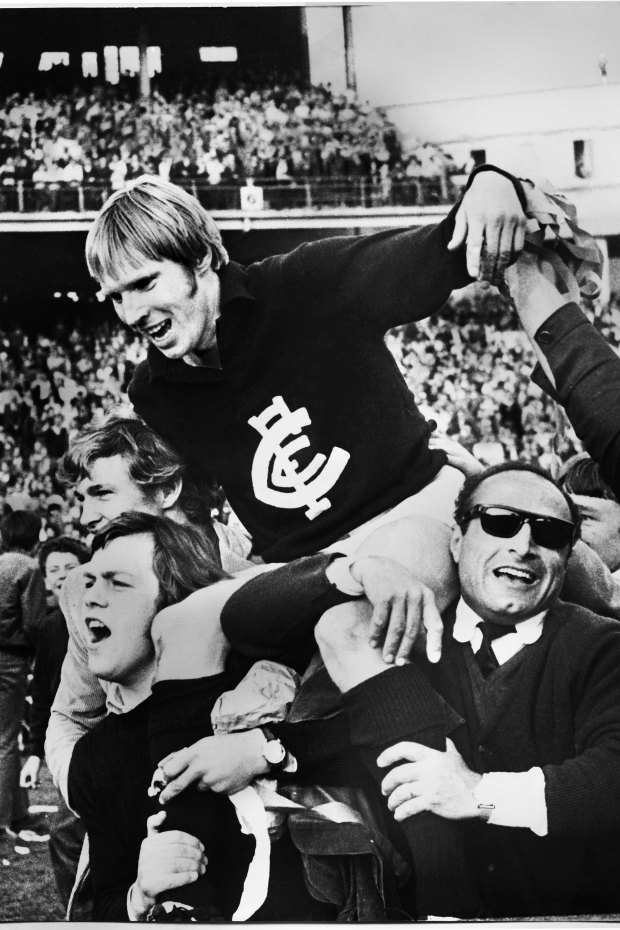 Liam Durkin
ONLY three sleeps remain until the AFL grand final.
Excitement levels are set to hit fever-pitch for Melbourne and Western Bulldogs supporters in anticipation for the big game.
While the players and fans of the respective teams will only have thoughts of winning the match at hand, the grand final is sure to make heroes of those who put in top-shelf performances.
Here are four Gippsland footballers who delivered on the AFL's biggest stage.
1. Ted Hopkins (Moe).
"GET ready Teddy – you're on".
The life of Moe footballer Ted Hopkins changed forever with just those five words, delivered by Carlton coach Ron Barassi at half time of the 1970 grand final.
Up until that point, Hopkins had sat helplessly on the bench as 19th man as Collingwood rushed to a 44-point lead at the main break, seemingly with one hand on the premiership cup.
What happened next was to go down in folklore as one of the greatest grand final victories of all time.
In front of a still record crowd of 121,696, Barassi took the gamble to activate Hopkins into a forward pocket.
Replacing Bert Thornley, Hopkins had an immediate impact, and within 10 minutes of the third quarter, Carlton had slammed on four goals – two of which came from the boot of Hopkins.
He added a third a short time later, and a fourth in the final term to see the Blues to a 10 point win for their most famous premiership.
The blonde 21-year-old was chaired from the ground for his heroics, in what was to become the very moment he would forever be remembered.
However, he was to disappear almost instantly, as he found the adulation afforded to him difficult to handle, and sought to escape his fame by camping in the bush during the off-season.
He played the opening match of 1971, but by then had reasoned he had nothing more to achieve and so retired quietly, finishing his playing career with a grand total of 29 games, 10 goals and the wrath of all Collingwood supporters.
What should be remembered however is that Hopkins didn't just appear out of nowhere and play a blinder on grand final day.
He was with the team the whole season, making 20 appearances.
Hopkins played 32 games for Moe before being taken by the Blues for the start of the 1968 season.
Like a lot of people who have played for Moe, Hopkins could perhaps best be described as a
'different cat'.
He was not your stereotypical league footballer, and dabbled in areas such as poetry and published fiction.
In later years he ventured into another eclectic stream, founding the company Champion Data, now the number one source of match day analysis for AFL clubs.
2. Paul Dear (Churchill).
LIKE Andrew Embley and Jason Johannisen, Paul Dear is remembered as something of an unlikely grand final hero.
Of the 123 games Dear played for Hawthorn, he saved arguably his best for the 1991 grand final, taking home a premiership and the Norm Smith Medal after finishing with 18 kicks, eight handballs, 11 marks and two goals in the Hawks' 53-point win over West Coast.
But there was more to Dear than simply an unknown who enjoyed a two hour purple patch, and his story offers a good lesson in persistence.
Recruited from Churchill, where he was playing senior football as a 15-year-old, Dear came to Hawthorn right in the midst of their greatest era in 1987.
He played in that year's losing grand final, but couldn't break into the team for either of the back-to-back triumphs of 1988 and 1989.
By 1991 many pundits had written Hawthorn off as 'too old, too slow', after playing in seven of the previous nine grand finals.
The danger for Dear meanwhile, was that he had missed the boat.
Season 1991 proved to be a year of firsts – the first grand final played at Waverley (due to construction of the Great Southern Stand at the MCG), the first grand final to feature a team from outside Victoria, and the first time a Batmobile was used in the pre-match entertainment.
Ironically, the only thing that didn't seem to change was the fact Hawthorn was in another grand final.
Only 10 points separated the teams at three quarter time, before the Hawks kicked eight goals to one in the final term to run out easy winners.
A crowd of 75,230 people came to Waverley, and heard the name Paul Dear announced as the winner of the Norm Smith Medal.
Dear generously donated his Norm Smith Medal to the Hawthorn museum some years ago.
In keeping with 1991 being a year of firsts, the Brisbane Bears became the first non-Victorian team to win a premiership when they secured the reserves title.
Gippsland was also represented in this match, with Moe's Lachlan Sim playing under the tutelage of Rodney Eade.
3. Scott Pendlebury (Sale).
STAGGERING to think how close this one came to not happening.
Had the unluckiest bounce in AFL history not eluded Stephen Milne the week before, the fortunes of so many people would have changed forever.
The 2010 grand final between Collingwood and St Kilda was an epic that ended with scores deadlocked at 68 apiece.
As a result, players were required to front up the following week.
St Kilda had clearly played their grand final the week prior, and the replay became something of a non-contest, with Collingwood winning by their greatest ever margin in a premiership decider.
Former Sale footballer Scott Pendlebury accepted the Norm Smith Medal in the replay for his 29 disposals and 11 tackles.
The only downside to accepting the medal was having his name completely butchered by two-time North Melbourne premiership player Arnold Briedis, who hurriedly scrambled the word 'Em-el-bry' on stage.
Unbeknown to most, Pendlebury had played the week prior under severe duress, as father Bruce explained.
"Scott wasn't well that day, he had gastro and didn't tell anyone, didn't tell Malthouse because he probably would have said 'no, you're not playing'," he said.
"It was pretty nerve-racking (the draw)."
"I suppose in one way they were lucky to make a draw but the following week they pumped them and he got the Norm Smith."
Depending on who you ask, Gippsland should have had two Norm Smith Medallists in 2010.
In the eyes of many, Traralgon's Brendon Goddard was best on ground in the draw.
Goddard finished with 31 disposals, one less than winner Lenny Hayes, but kicked two goals and took a famous towering hanger when the game was at its most intense.
Gippsland was extremely well represented by players on both sides for the grand finals. Collingwood had Pendlebury (Sale), Jarryd Blair (Wonthaggi), Leigh Brown (Heyfield), Dale Thomas (Drouin), Brent Macaffer (Kilcunda) and Tyson Goldsack if you want to get technical (from Pakenham but played for Gippsland Power).
St Kilda had Goddard (Traralgon), Andrew McQualter (Traralgon), Jason Gram (Sale), Robert Eddy (Stony Creek) and Sean Dempster (Mallacoota).
Strangely enough, Pendlebury only ever played one senior game for Sale.
For those wondering, it was Round 18 2005 against Warragul.
4. Gary Ayres (Warragul).
THEY say reputations are forged in big games.
Ayres' legacy as a big-game player is assured, with the former Warragul local winning not one, but two Norm Smith Medals for Hawthorn in 1986 and 1988.
Described as a "good driver in heavy traffic", Ayres played especially well when it mattered most, and was among the best players in all five premierships he won (1983, 1986, 1988, 1989, 1991) from a career spanning 269 games.
In the 1986 grand final against Carlton he had 17 kicks, six handballs and took five marks, while two years later he finished with 18 kicks, four handballs and six marks as the Hawks completed a then league record 96-point victory over Melbourne.
Playing in the seniors for Warragul as a 16-year-old, Ayres caught the attention of Hawthorn recruiters and eventually made his way down to Glenferrie Oval at the end of the 1977 season.
Fittingly, since 2016, the player judged to be best throughout the AFL finals series as voted by the coaches has received the Gary Ayres Award.
Winners so far are Sydney's Josh Kennedy (2016), Richmond's Dustin Martin (2017, 2019 and 2020) and Collingwood's Steele Sidebottom (2018).
Ayres' connection to Warragul is on display for all to see, with a place on the Baw Baw Shire Sporting Walk of Fame in the town's Civic Park.
Did we get it right?
Let our newsroom know at sport@lvexpress.com.au