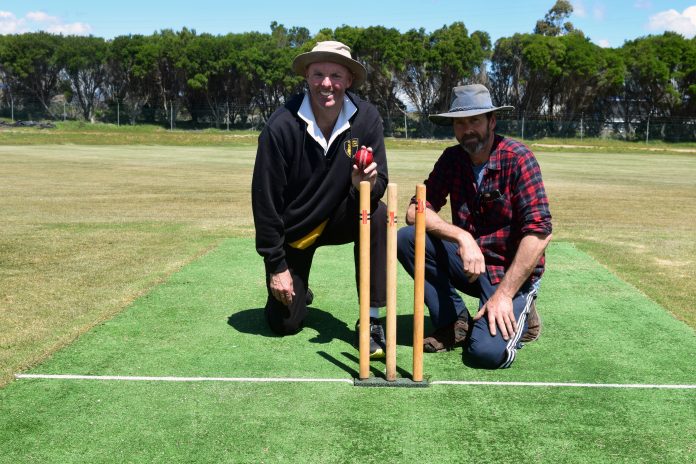 LIAM DURKIN
CRICKET
By LIAM DURKIN
AS any club umpire or cricketer would know, one of the many problems when playing on astro wickets is the need to become something of an unlicensed landscaper when putting the stumps in.
Strolling to the middle with a set of stumps and bails, people are often greeted with a rock hard surface in the middle of the bowling crease, making the task of setting up for the game at hand all the more difficult.
These difficulties won't be seen at Keegan Street, Morwell this season, thanks to an ingenious device designed and recently installed by local jack-of-all-trades Paul McGrath.
A player for Jeeralang-Boolarra Cricket Club himself, McGrath has patented the 'Super Stump Holder', a simple yet brilliant invention that takes away the need for mallets, stump gauges or the dreaded question from wicket keeper to batsman of "mind knocking these in for us mate?" following a wicket, run out or stumping opportunity.
The Super Stump Holder is essentially a rubber block fixed into the bowling crease, with holes inside enabling the stumps to be easily fitted into place.
The material used allows the stumps to slide into perfect position with minimal force, and also keeps the excitement alive for bowlers as the pegs still go flying after being struck by the ball.
In coming up with the idea, McGrath said the concept was born simply out of curiosity.
"From playing the game over the years and having to set the stumps up with dry, sandy, dirty conditions and the stumps just not wanting to go into the ground straight and true, it was just so frustrating," he said.
"I thought 'there has to be another way to do this'.
"I found this rubber mix that was available commercially and made some moulds, developed it and it's come to this."
While a lot of products in the cricket world can fall under the category of 'gimmicky', the Super Stump Holder appears a very worthy investment for all clubs.
The stumps will always stay square and true when placed in the holders, and maintain legal spacing between each peg.
McGrath installed the first lot of Super Stump Holders at his home club two years ago, and the two cricket ovals in Boolarra still have them to this day.
"They let me use that as an experimental base which I needed which was great," he said.
"They have stood the test of time. The substance is made from something that is totally UV safe."
Other local clubs have since come on board, as well as those in the city where dozens of Super Stump Holders have been sold.
The Super Stump Holder is sure to hold a place close to the heart of clubs that have
previously felt left out for only having an artificial wicket, especially considering the number of times they have been labelled 'hard deck hacks' and 'concrete kings' by opponents.
With Gippsland producing test and first-class cricketers over the years, it is heartening to know the region has also produced something that will be appreciated by players far and wide for generations to come.
Those wishing to find out more or to have a pair of Super Stump Holders installed at their club can visit www.superstumpholder.com.au or phone Paul McGrath on 0432 307 240.