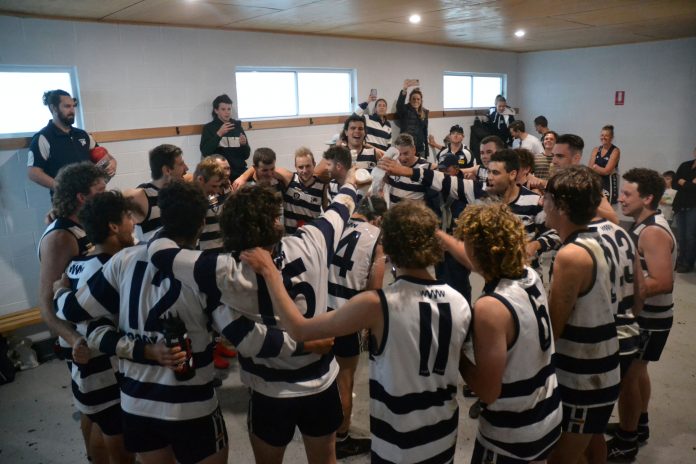 LIAM DURKIN
FOOTBALL/NETBALL
By LIAM DURKIN
OF all the 'what ifs' to come out of the cancelled football and netball season across Gippsland, the greatest one might well be Woodside.
After finishing the North Gippsland Football-Netball League season on top of the ladder in senior football and A Grade netball, those involved at the Wildcats could be forgiven for thinking this may well have been 'the year'.
While it might be easy for other clubs to look to the immediate future or bask in previous glories, Woodside hasn't exactly been a place brimming with silverware since it came into the NGFNL 13 years ago.
There has been four finals appearances and just as many bottom-two finishes in that time, yet even the finals appearances gloss over a sobering fact – the Wildcats are yet to win a final in their history as a NGFNL club.
To those unaware, the current Woodside is actually Woodside and District, which broke away from Devon-Welshpool-Won Wron-Woodside in 2008. That is certainly a story for another day.
Reflecting on the season, Wildcats senior football coach Michael Duncan can't help but think what might have been.
"It was one of those years where a lot of things went right but ultimately it all went wrong in the end," he said.
"If I had to say where I sit with it and how I feel … on a personal level I've been really privileged of finishing finals with the siren going in a grand final (Duncan won back-to-back premierships in 2013-14 with Morwell in the Gippsland League).
"So many people at Woodside are just incredible people who have poured everything into that club for a long time and haven't won a final in 13 years since being in North Gippy, just thinking of that opportunity to see and dare to dream.
"I look at guys like Daniel Missen, Ryan Foat and their families have such world legacies at Woodside, I just feel for those guys so much.
"There is no guarantee that we would have made it past the second week of the finals, we could've been knocked out in straight sets, that's a possibility, that's the reality of finals, but I really feel for those people, we gave them something this year, we gave them some great moments and probably teased them a little bit with what we're capable of but we didn't get the chance to finish that.
"You would like to think it was something that we can continue next year, but we all know how footy works.
"In 2008 at Morwell we made a grand final as a really young side, lost to Sale by 17 points and thought 'this is us next year' and then didn't make finals."
The coach said he was fine with the fact no premiership flag or medals were to be handed out, but hoped the somewhat unheralded significance of winning a minor premiership was not lost either.
"To win a grand final you need to make it to the finals but then it's really up to your 22 versus their 22 on game day," he said.
"But to win a minor premiership I think that just to be on top at the end of the season requires so many people at the club to play their part, to do the right thing, to support you and help you.
"I see a minor premiership as a really great achievement for our club, especially having A Grade and Seniors on top of the ladder, that shows to me that it is not just the players, it is the committee, sponsors, supporters that's made that possible.
"I'll always look at it as 'our club did a great job', from recruitment to retention, sponsorship, governance, everything."
Having carried the sentimental favourites tag for a while, the Wildcats won no shortage of admirers for the way in which they played their football this season.
"When I took the job (for season 2020) so many people told me Woodside's their second club, and it is easy to see why," Duncan said.
"I think we've earned the respect of a lot of clubs football wise, some of the support we had from other clubs in preparation for the finals wishing us luck has been pretty special."
Duncan paid tribute to his players for the way in which they had continued to front up under so much duress.
"What our players have done has blown my mind, they didn't see lockdowns as an opportunity to do nothing," he said.
"It's been really interesting for all of us to see the growth.
"As a playing group we spoke about we started this year as a side that had won five games and hadn't had a lot of success in a decade.
"Some of the teams we were picking and the way we had to win games early in the year – we beat everyone at their own game early in the year because we were still trying to develop our own style, so it was just going out and playing footy and finding a way to win, whereas the last couple (of games) when we were up against really good sides we were playing our style of football at that point.
"Next year we start the year with belief, belief in what we're trying to achieve, belief in how I'm trying to coach, belief in what we're capable of – that is a great spot to start regardless of talent."
Despite all the setbacks and negative connotations to come out of another COVID season, the Wildcats were able to prove the true meaning of community sport late in the season.
On a day that should have seen Woodside begin its finals campaign, restrictions meant they were unable to get on the park.
Not to be defeated, Woodside players decided to go on a run, and pledged a certain amount of dollars per kilometre raised.
In the end, the Wildcats ran 530 kilometres and raised $13,231 for Lifeline Gippsland
For a village like Woodside, that genuine sense of community and knowing how much difference they made to peoples lives could be even more rewarding than any premiership.