Alyssa Fritzlaff
YOUTH Support and Advocacy Service (YSAS) Morwell celebrated another therapy dog's first birthday on Thursday, November 4.
Finn joined the team shortly after Maggie May, the branch's other therapy dog, and works with his owner Terri Garnett.
Ms Garnett, is a Youth Drug and Alcohol Outreach Worker at the organisation.
A gentle giant, Finn trots around the office greeting guests at the door and assisting both clients and staff.
YSAS Morwell Community Programs manager Mark Tanti said it was not unusual to find staff lying on the ground patting one of the dogs.
"Everyone in the office has an affinity for dogs, we're all dog lovers," he said.
Finn won Ms Garnett's heart the moment she saw him while volunteering at Forever Friends Animal Rescue Latrobe.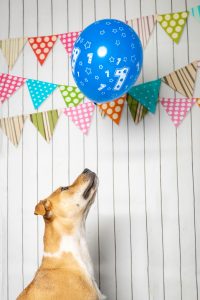 Ms Garnett takes photographs for animals up for adoption at Forever Friends, and said she was drawn to Finn straight away.
"I think I carried him around for most of the time I was there, because he was only eight weeks old," she said.
"He's really gentle and soft-natured and loves people."
Mr Tanti said he is like the pink panther around the office, "very quiet".
For Ms Garnett, raising Finn was a new experience, having only had older dogs in the past.
"I've never actually had a puppy before, my two dogs were both older when I got them – they were rescued as well," she said.
"It's been a lot of work, but he has been pretty good."
Ms Garnett had been hoping to find a dog suitable to bring in as a therapy dog at YSAS, and said Finn was the perfect fit.
"I knew when I got him that I was looking for a dog that would be suitable as a therapy dog … he's been quite a dream to train," she said.
Finn helps Ms Garnett with clients both in and out of the office.
"He comes with me to see clients on outreach, comes to some of the residential care units with me … and so far everybody has loved him."
Finn helps young people feel more comfortable during their sessions, and can even be a good conversation starter.
"A couple of the young people that I've worked with while I've had him have a lot of trouble speaking to people, telling their story, talking about what's happened," Ms Garnett said.
"I've found that they can sit on a couch with him and get cuddles … just being able to pat him while talking seems to calm them down a bit and make it easier to have a conversation, or taking him out on a bushwalk or walk in the park, and they can have the lead and control of him – it really opens up the lines of communication."
Like his co-worker Maggie May, Finn is working towards gaining his formal accreditation as a therapy dog.
"It's a lot of basic obedience, behaviour in public, ability to sit and drop and be patient," Ms Garnett said.
"I'm looking at doing a course in Animal Assisted Therapy as well, to get bit more knowledge about how to best use it."
When Finn was younger Ms Garnett even had some clients help with his training.
"I had one young person when Finn was a bit younger help me out with training him," she told The Express.
"We talked about how we train dogs, and why we train dogs, and behavioural expectations in society."
Finn is also popular amongst clients in residential care.
"A lot of the residential care young people really enjoy it because they can't have pets," Ms Garnett said.
Mr Tanti said having the two dogs at YSAS can really help to "break the ice" with clients.
"A lot of the kids that we deal with come in here to talk about their problems, it's pretty confronting," he said.
"But, the dog is not judging them, we're not judging them.
"It's learning in a fun way, quite often people shuffle them off to psychologists and psychotherapists and that'd the last thing some of these kids want to do."
It's a beneficial relationship for all involved, staff, clients and the dogs themselves.
"The dogs love the attention," Mr Tanti said.
"Some of the kids get along better with animals than they do with humans."