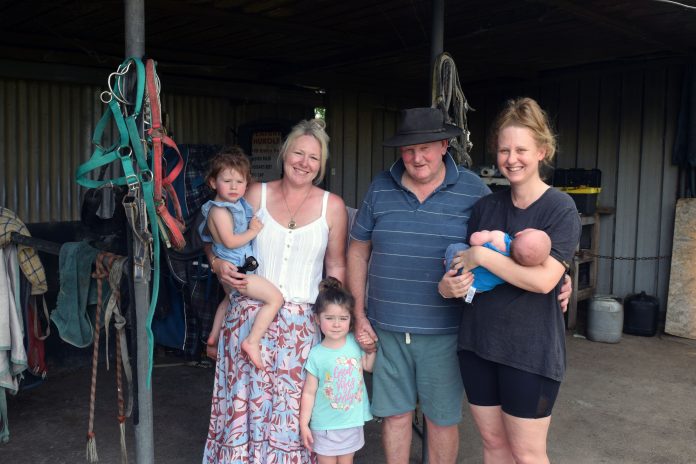 By Liam Durkin
IF you were to pitch the story of how Traralgon's Garry Douch won his first race as a head trainer to a Hollywood scriptwriter, there is a good chance even they would dismiss it for being too unbelievable.
As far as sentimentality goes, those in racing, and indeed sporting circles would be hard pressed to find another victory filled with the same sense of destiny or romance.
Few could have predicted what was to follow after Douch entered mare Ally's Reward in the BM64 Handicap on Traralgon Cup day.
Of the seven horses in the race, only two carried higher odds than Ally's Reward, who at nine-years-of-age was already seen as too old and too slow in the eyes of most punters.
As the 1900 metre race unfolded, a sizeable gap was established by the first four horses, and with 400m to run Ally's Reward was still well back in the field and looked no chance of even claiming a place.
At that point most in the Douch camp were ready to concede – but then, something truly extraordinary happened.
With 200m to go, jockey Nathan Punch found an opening out wide, and Ally's Reward found an extra gear to power to the finish and win by half-a-length from $2.70 favourite Be Alert.
The win was highly improbable, but what made it really special was the fact Douch won the race named after his late brother Allan, on the very same track his ashes are scattered on.
Perhaps the extra gear Ally's Reward found in the last 200m did in fact come from above.
For Garry Douch, who runs a humble stable just a stone's throw away from Glenview Park, to win at the same track his brother literally called home, with a horse no one gave much hope to, carried an incredible amount of meaning.
It was as if the milkman's horse had won the Melbourne Cup.
Reflecting on the victory, Douch, said it was a highly emotional time.
"It was a fairytale come true," he said.
"Especially the way the race was run, she wasn't entitled to win it from where she was, and she ended up running away … it was bloody unbelievable.
"The crowd was unbelievable, there was just that many people in the crowd crying, blokes and all, you couldn't script it any better."
Douch had an unbreakable bond with his older brother, and was by his side in all matters relating to the Douch stable for decades.
He was in no doubt as to where the Traralgon win ranked in his career.
"Over the years we have won a lot of big races but nothing compared to this – nothing," he said.
"We have a lot of nephews who are trainers and former jockeys, my brother Des trains greyhounds, he rang me up and said he had never been so excited and emotional in his whole career – and same as me.
"It was one of those things you dream of you never think it will eventuate. To win on that day was bigger than anything you would ever dream up. It was only a 64-class at Traralgon but what it meant was just unbelievable – you'd walk over hot coals to see it again."
Speaking on the race itself, Douch said pre-race expectations quickly evaporated until the frenetic final 200m dash.
"Prior to the race I gave her a hell of a chance. I knew she would be hard to beat but not how the race panned out, I thought we'd be closer coming to the turn," he said.
"Traralgon is hard to make up a lot of ground, it is not a very long run home so she had her work cut out. Then a fair way down the track (straight), I heard the crowd roaring and the broadcaster give it a big burst.
"It came out of the blue. For 95 per cent of the race I thought it was over, she wasn't going to get there, and then in the last five per cent she just went bang. Nine-year-old mares, there aren't many racing at that age, but she is tough."
Capping off the win was a beautifully called
finish by racecaller Adam Olszanski, who delivered: "Ally's Reward's coming now, this is fitting, going up on the outside, Ally's Reward takes out the Allan Douch".
In the immediate moments following the win, Douch said it all spilled over.
"It was pretty hard to control your emotions," he said.
"I usually don't get that emotional but with everyone around you, people you hadn't seen for many years bursting into tears, even the clerk-of-course was crying and the rider Nathan Punch said coming back from scale he had tears running down his cheek.
"It was a big result, very emotional for a lot of people in Traralgon, Allan trained here all his life.
"It was good there was a crowd there and a big percentage of the crowd were all cheering for Ally's Reward and she produced.
"People are still ringing up, people you haven't heard from in years, it is amazing, people from all over Australia you haven't seen for 30 years saying how when the horse won they were sitting at home by themselves getting emotional.
"Allan was a very popular fellow, in the racing game for the best part of 60 years, you meet a lot of people in various walks of life, it is amazing how people are still ringing up."
The Douch family and friends celebrated into the night, with the trainer shouting his grandkids dinner.
Douch wished to thank and acknowledge the support of all who have helped him and his family in the trying times since his brother's death.
Ally's Reward is set to see out the year racing on the Gippsland circuit, with the view to look at where things are at for 2022, while for Douch, it will be a matter of continuing his brother's proud legacy.
Douch contemplated entering Ally's Reward in the main event on Traralgon Cup day, before receiving the stable's true calling.
"I was going to run her in the Traralgon Cup, but when I heard there was a big chance they were going to name a race after Allan over the same distance – there never was an option, she was only going to run in one race," he said.