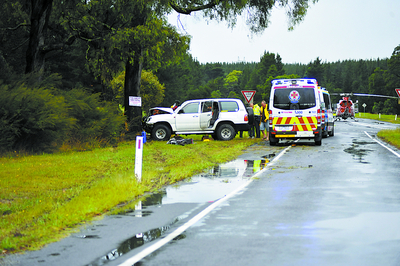 Wet weather has left a toll on Latrobe Valley road users.
In just over two days, seven collisions were reported in the Latrobe Police Service Area, with four of those reported on Tuesday within hours of each other, according to Division Five Traffic Advisor Senior Sergeant David Watson.
"We are extremely concerned about the accidents and appeal for people to take care on the roads especially during wet weather," Snr Sgt Watson said.
"It is likely most of the collisions would not have happened if not for the conditions; people should pay attention and drive to the conditions of the day."
There were three reported road accidents on Monday – a four-wheel-drive collided with a tree on Old Melbourne Road, Maryvale; a semi-trailer was involved in an accident on Princes Freeway, Moe; and a woman was involved in a car accident in Newborough.
On Tuesday, a truck jack-knifed on the Princes Freeway near Hernes Oak, which reduced the freeway to one lane for westbound-traffic for six hours.
None of the collisions were fatal, although Snr Sgt Watson said a number of people had suffered injuries, which required hospital care.
He urged road users to slow down and keep their distance from the vehicle in front of them, especially if the roads were wet, and to drive with their lights on in the inclement weather.
"If it's not safe to go on, pull over…when it rains heavily, patches of water on the road can affect your steering," he said.