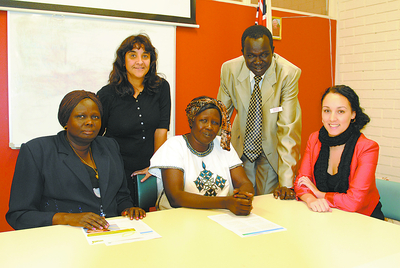 A COMMUNITY-run program supported by Gippsland Multicultural Services, Latrobe Valley Bus Lines and the Kindred Spirits Foundation were pleasantly surprised when they were told they would be the recipients of a $10,000 community grant.
The Kindred Spirits Sudanese Community Parenting Program committee was thrilled to receive the surprise funds from the Westpac Foundation Initiative's community grant, where Westpac employees nominated local charities they were passionate about.
"It was a wonderful thing to find out about the money," GMS director Lisa Sinha said.
"This particular initiative was a priority because the Sudanese community themselves identified it as a key need; it was a program they developed themselves."
Ms Sinha said the funds would help extend the program by another six months at least, and would bring with it other flow-on effects.
Committee member Marsa Chotper said the money would enable the committee to do more by providing training to additional members of the community to assist others.
"We want to maintain some of our culture and traditions," Ms Chotper said.
"(Those of us who moved here) have had some misery; different (levels of) education, war (trauma)…some of the children lost their parents in the war and are living with aunties and uncles."
The Kindred Spirits Sudanese Community Parenting Program helps provide some parenting support to migrant and refugee families.
"There have been significant settlement barriers for the Sudanese community here," Ms Sinha said.
"Young people are brought up in different ways; the program gives the community skills to become better parents to their own children here and aid other parents, and the community as a whole."
The program has been running for about two years on a small scale.
Meanwhile, Westpac head of commercial for Gippsland Peta Ward said the foundation was happy to support the work done by GMS.
"We are looking forward to providing support throughout 2012, assisting with raising awareness and helping with the good work being done by GMS in the community," Ms Ward said in a statement.
GMS was one of 55 not-for-profit organisations across the country nominated by local Westpac employees to receive the grant of $10,000.