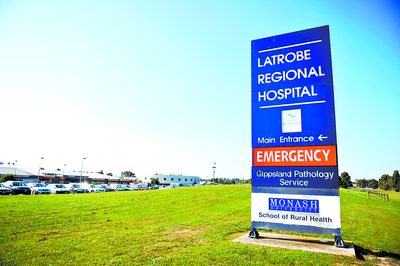 LATROBE Regional Hospital has sought to reassure the local community its perinatal outcomes are overwhelmingly good – and improving – despite alarming current statistics.
The findings of a recent report, partly authored by obstetrician and Associate Professor Glyn Teale and first documented on the front page of The Age, found babies were 57 per cent more likely to die at Latrobe Regional Hospital compared with the state average.
Yesterday LRH chief medical officer and senior paediatrician Dr Simon Fraser told The Express LRH took the findings, based on a five-year period from 2005 and 2009, "very seriously" but were also encouraged by an improvement on figures from the previous 2004-2008 period.
In releasing his findings, Prof Teale was reported as saying the causes of higher than average perinatal deaths at a hospital "could be many".
He said they could include problems with quality of care but could also be due to differences in the health of mothers who might be obese, have diabetes or smoke – all factors contributing to stillbirth.
"It may not be the organisation's fault but they might be able to try to manage whatever they identify," Prof Teale said.
Dr Fraser agreed the causes were "complex and varied".
"We do have to acknowledge that there are issues around socio-economic status and the fact that we are rural and there are issues of distance," Dr Fraser he said.
"The message we want to get across though, is that good ante-natal care and having babies in a hospital is still the appropriate way to go and the hospital is the safest way to have a baby."
The most recent perinatal mortality rate figures for Victoria, from the Council on Obstetric and Paediatric Mortality and Morbidity, showed as at 2008 there were 12.4 perinatal deaths per 1000 births, indicating a 98.76 per cent survival rate.
Some of the results from Prof Teale's report were based on a statistical analysis of deaths after 32 weeks' gestation, including stillbirths and those occurring within 28 days of life and excluding termination after 32 weeks, deaths due to congenital malformations and very premature babies.
Figures are calculated according to a complex formula which sets a benchmark of 100.
Dr Fraser emphasised figures did not refer to the number of deaths but referred to a standardised perinatal mortality rate based on five years of data.
"You need that to get enough cases to make meaningful comparisons because the number of baby deaths is very low," he said.
According to the report, LRH's perinatal mortality 'rate' of 157 for babies in the 'past 32 weeks' sub-group was higher than elsewhere in the state, though its 'rate' of 139 for babies born at 22 weeks or more was similar to one other hospital and not as high as a further five.
Though both 'rates', neither of which refer to actual numbers of deaths, sit well above the benchmark, Dr Fraser said there had been improvements but it would take time for the hospital to "return to the average" since each annual report continued to include information for the four years preceding the most recent year.
He said the most recent report came as no surprise to the hospital.
"It was actually reassuring because the figures were better than the 2004-08 report," he said.
"Any death of a baby before, during or after birth is a concern, clearly to the family and those looking after the mother, and we take it all very seriously," Dr Fraser said.
He said the report was currently being reviewed through LRH's internal processes and that "every perinatal death is reviewed, either internally or externally, and any findings or recommendations that are made, where there have been avoidable factors, we act upon them".
Dr Fraser was unable to say how many perinatal deaths had occurred at LRH during the period of the report but said "we are talking about very small numbers".
The report does not reveal numbers or specify the state average for perinatal deaths.