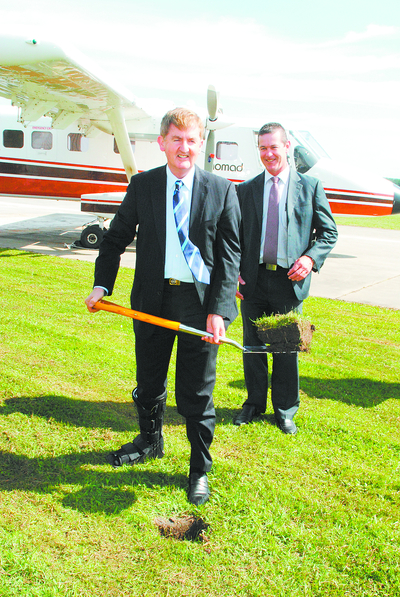 THE turning of the sod at Latrobe Regional Airport has been marked as "a huge step for the aviation industry" in the region.
According to Gippsland Aeronautics chief executive Terry Miles, joint funds from the State Government and Latrobe City Council would go a long way in establishing the future of Gippsland's aviation industry.
"It shows that there's no limit to what we can develop here," Mr Miles said.
"It signals the creation of up to 20 new jobs and shows that we're here for long term growth."
Victorian Deputy Premier Peter Ryan who was present to welcome the joint partnership between the government and council, heralded the event as "a case of welcome to the future".
"This is about building opportunities and creating niche products that no one else in Australia can do," Mr Ryan said.
Latrobe City Council contributed $500,000 towards the upgrade of the airport, while $1.5 million from the State Government's Regional Growth Fund was used to create a new hanger in the airport.
Council is currently awaiting on the outcome of its application for the Federal Government's Regional Australia Development Fund, if successful, it could pave the way for the manufacturing of GA18 aircraft.
This project is expected to trigger job opportunities in the region.
Latrobe City councillor and LRA board member Graeme Middlemiss signalled the airport as a hub for "economic diversification", adding it presented the region with a positive future ahead.