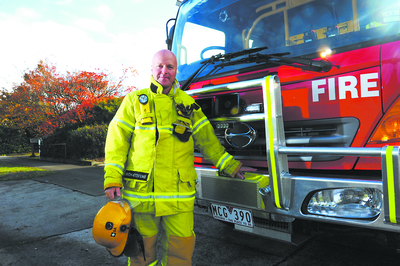 BY day Alistair Smith-Stevens is a construction worker, by night he is a volunteer protecting the region.
The cold autumn days and nights have not deterred Mr Smith-Stevens from battling blazes across the Moe and Newborough area.
For more than four years he has been a dedicated Newborough Country Fire Authority volunteer and said he wanted more residents to get involved.
Mr Smith-Stevens will join 60,000 CFA volunteers and celebrate National Volunteer Week, on now.
After attending a CFA meeting with a friend, Mr Smith-Stevens joined the team and said he "has never looked back".
"I had some time off work and thought I should help others out," Mr Smith-Stevens said.
"Most volunteers have joined because they like to put something back into the community."
Mr Smith-Stevens works full-time for Latrobe City Council but still commits time to volunteer.
Supportive of his dedication to the fire brigade is his wife Vanessa and children, Kyra, 12 and Jasper, 8. However, he joked, they were less supportive of call-outs when he was cooking dinner.
He said his fondest memories were helping residents in the Ballarat region during the 2009 floods.
"You constantly get trained in new things," Mr Smith-Stevens said.
"We train for two-and-a-half hours every Tuesday practicing forcible entry, breathing apparatus use, pumping and (associated) tasks."
But there have been some challenges along the way.
"There have been times when you see some pretty bad things, but there is support here for you and (CFA) is a really great organisation," he said.
Mr Smith-Stevens said one of the highlights of volunteering was the strong bonds made with the Newborough CFA crew.
"I want to do this long term, and I want others to come and join up," he said.
"Newborough needs more members and it is a good feeling giving back to the community.
"You are always on call; in the middle of the night you have to sometimes get up and go to a fire; I don't get anything back but I love doing it."
To register as a CFA volunteer, or for more information, phone 1800 232 636.