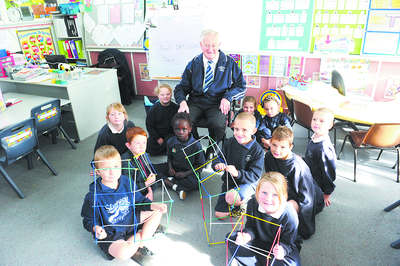 MORWELL resident and longtime educator Ken McDonald was misty-eyed last week as his colleagues and family members gathered for a morning tea at Morwell Park Primary School in his honour.
The 78 "going on 79" year-old extension mathematics teacher was farewelled on Friday after a teaching career spanning 61 years – a year longer than Queen Elizabeth II has been on the throne.
"(That) worries me," Mr McDonald, affectionately known as "Mr Mac" or "Macca" by his students, said when asked what he would do following his retirement.
"I might help kids at home; I teach maths to year 12," he said.
Mr McDonald came out of retirement 10 years ago at the request of Morwell Park Primary's principal Chris Joustra.
"I got talked into it, and it's been fantastic," Mr McDonald said.
"I'll miss challenging kids the most, and seeing the smile on their faces when they see what I'm trying to teach them."
Mr McDonald taught extension maths classes for up to 20 students from grades two to six, three days a week.
Mr Joustra said Mr McDonald's passion for teaching and "special skills" have made him irreplaceable to the school.
"You can't just get someone else in to replace him; we asked him to come back because of his special skills," Mr Joustra said.
"He has done a service to the community all these years."
Mr McDonald's "Macca's Maths Sessions" are about more than just numbers; he was known to incorporate other related topics, such as physics, into his lessons.
Originally from Mildura, Mr McDonald's career took him as far afield as Singapore, where he taught between 1971 and 1973, before relocating to Traralgon where he taught at Liddiard Road Primary School.
Mr McDonald's students said they would miss the element of fun "Mr Mac" regularly incorporated into his classes.
"He's a wonderful man and it was a pleasure to have met him," grade six student Linus Rodda said.
"My maths skills have improved more than I thought; his classes are also a lot of fun."
"I will miss him; he's a great teacher and very knowledgeable," grade six student Rishika Prasad said.
"He always has other stuff for us to do when we are done with our worksheets."