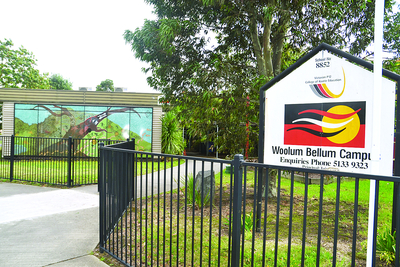 The principal of Morwell's Koorie Ccollege has expressed "disappointment" at a long awaited performance review, which has backed earlier assertions the school was a waste of government money.
The independent review by National Curriculum Services, released on Monday, found Victoria's four Koorie Pathway Schools, including the Woolum Bellum College, had failed to "engage students to the point of improving their attendance", funding for which was "unsustainable".
The review was called earlier this year after it was revealed the KPSs were running at exorbitant teacher student ratios, with Woolum Bellum receiving more government funding per student than any other school in the state.
However principal Matthew Snell took aim at the "snapshot" figures used in the review, which put enrolment levels at eight students in 2011 and attendance records at 56 per cent, which he said did not reflect the revolving door of student intake from local Valley schools.
"It's pretty demoralising for the staff here who have put a lot of individual effort in to these kids, they really do go out of their way for them; they would have no one without us," Mr Snell said.
The college is a "pathway" school for year seven to 10 students who have fallen out of mainstream schooling which aims to reintegrate students back into education or vocational pathways.
The review has been handed to State Education Minister Martin Dixon, who said its findings were concerning, pointing out enrolments at KPSs accounted for just 0.7 per cent of Koorie students in Victoria, while absorbing 16 per cent of Koorie student funding.
He said the review questioned the effectiveness of the KPS model, and said it was important programs for indigenous students remained as "effective as possible".
Mr Dixon said the schools would continue to operate while the findings of the report were considered and until any further decisions were made.
Mr Snell said he understood a government funding decision in response to the review was due in August, but had been given no indication to what extent the school's funding would be affected.
He added it was difficult to know whether the government department "truly understood" the integral role Woolum Bellum played for Latrobe Valley's indigenous youth, who National Assessment Program, Literacy and Numeracy figures have identified as the second most disadvantaged in the state.
"Obviously they are putting everyone in the same basket (in this review) and hopefully moving forward, they can see some value in what we do down here," Mr Snell said.
"There's certainly improvement that needs to be made, and there is a need to go through the process and look at the settings, so hopefully in time we come up with maybe a different structure to make it sustainable, but closing the school is simply not an option.
"There needs to be something for them at the end of the day; if secondary colleges around the area have no choice but to either suspend or expel indigenous students, where else do they go? Certainly the demand on (welfare services) would become greater."