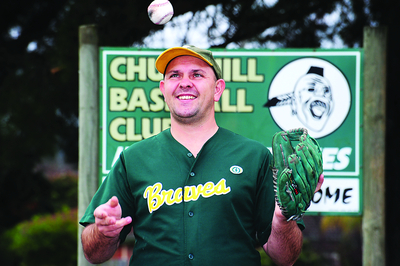 Shane Gill found baseball by chance.
"My parents divorced in 1987 and Dad moved to Churchill where they played this sport called baseball," Gill said.
"Dad started playing so me and my two brothers ended up giving it a go and I fell in love with it."
Twenty-four years later, Gill said the Churchill Braves Baseball Club was "part of (his) family".
In round 11 of the Latrobe Valley Baseball Association season, the records showed Gill played his 300th game for the club, but according to Gill it was his 301st.
"I actually played my first senior game under another name, Paul Hill, because I was too young," he said.
"But that doesn't count on the books, so technically it was my 301st."
Talking to The Express, Gill contemplated what the sport had given him on and off the field and his passion for the game was clear.
"I learn something new each and every time I step onto the diamond," he said.
"I love everything about the game; the statistics, the competition, everything. But my club is what drives me to get down every training session and game day… I know at a minimum I catch up with them twice a week which I love."
In terms of life lessons, Gill said the sport sent him on his "biggest learning curve" which was to "accept failure".
"The greatest players in the world fail seven out of 10 times," he said.
Reflecting on his lengthy career, Gill said what gave him the most joy was how the sport connected his family.
"One of my greatest memories was playing alongside my old man Jack for about five years – I was the short stop and he was the second baseman so we were literally side-by-side," he said.
"And now, seeing my young one who's 11 love the sport as much as I do is just amazing. He begs me each year to keep playing."
Gill said in his time he had witnessed the rise and fall of clubs in Yarram, Churchill and Morwell, but said the league was now "the healthiest it's ever been".
"The standard here is excellent – alone on my side I've got one player who's represented Victoria, Mat Prior, and Traralgon has Jude Power who plays for Canberra," he said.
When asked to pick a career highlight, he quickly identified hitting three 'grand slams' in one game – a grand slam being a home run with bases loaded.
"I don't know, but it could be some kind of record," he said.