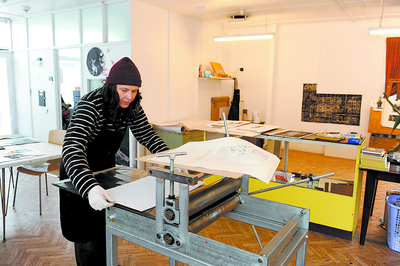 NESTLED in the heart of Morwell's industrial area is a blossoming little printmaking studio, lovingly nurtured by its founder and coordinator, artist Kate Zizys.
The newly-established Greenworks Press at 13 Holmes Road has been operational since late April, and is a supervised space for emerging and established artists to build their portfolios or learn new skills in a casual, supportive environment.
"We are a groovy art space in the heart of industrial Morwell," Ms Zizys said.
"With the TAFEs closing art and design courses, Greenworks offers a space for people to pursue arts in a skilled way, where they can learn things on a more professional level.
"I do think it fills a niche, and it's an affordable option… print studios are high maintenance with health and safety issues that need to be carefully managed.
"There's a need for an open access press here in the Latrobe Valley – there's interested people who want to engage in print practice but don't know where to start."
The irony of a low-toxicity space in an industrial area is not lost on Ms Zizys, who said Greenworks made a conscious choice to use greener chemicals for environmental reasons, as well as the health of the artists.
"In the past, the chemicals such as nitric acid and ammonia created fumes, which were inhaled, were common, but you can't work all your life without repercussions," she said.
"We don't use strong acids, have limited solvents, use vegetable oil for clean-up and food-grade products to replace ammonia; printmaking is going greener."
The Churchill resident has long been enamoured with the look of prints.
"I had books as a child that were illustrated with wood-cuts from Lithuania which I thought were so cool," she said.
"When I was studying in Mexico, I saw the political potential in print production; printmaking was the first social (medium)."
A former print media technician, Ms Zizys said starting her own studio was a natural progression.
The busy artist and business owner also has her work on display at the Latrobe Regional Gallery as part of the "Three is not a crowd" exhibition, which will run until 5 August.
"I'm really busy, but it's great and has been good fun," she said.
With a handful of regulars at present, Ms Zizys is looking to grow its presence, aided by the utilisation of its space by professional artists like local artist Mandy Thompson, Robyn Heckenberg and Elisabeth Scott.
Greenworks shares the same space with Mandy's Sunflower Studios; printmaking materials are also available for sale at the space, which runs open access sessions on Saturdays.
The studio is equipped for relief and intaglio print production using wood or lino and metal plates, as well as chemical printing.
For more samples of the work being produced at Greenworks, visit greenworkspress.tumblr.com or phone Kate on
0400 003 657.