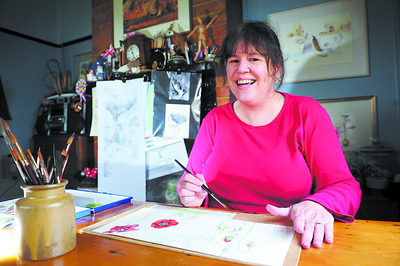 ENTERING an international art competition and securing a spot at the finals has given Gippsland's Roslyn Jennings a surge of confidence.
A self-professed "full-time artist" and "definitely no domestic goddess", Ms Jennings' shot at fame was as a result of The Waterhouse Natural History Art Prize.
With her work 'Zea Mays', a bright waterwork exploring the sustainable nature of the plant, resulting in her being named one of the 98 finalists, Ms Jennings is one of few Gippsland artists to have her work displayed at the South Australian Museum.
"Last year an artist from Drouin was selected… it felt really incredible when I got that letter asking me to arrange for my painting to be sent to South Australia," Ms Jennings said.
"It's definitely given me more confidence and helped me stretch myself.
"It's quite overwhelming; often for artists the hardest part is putting yourself out there and having your work out there for everyone to see."
With a new sense of confidence, especially as the award was Ms Jenning's debut in an international competition, doors are expected to open for the artist.
Having displayed some of her works across Gippsland, Ms Jennings hoped her recent recognition would help her display and sell some of her artwork.
Citing life as an inspiration in itself, Ms Jennings' style reflects "versatility with a hint of surrealness".
"I tend to paint everything; I look at natural history, birds, still life; I'm open to anything," she said.
"I paint because I paint; anything can be inspiring.
"On a certain day I can look at something completely simple but it could still inspire me; in that sense art really opens the way you look at things."
After actively taking on painting six years ago and focusing on watercolour as her prime medium, because of the ease to "carry all the material with you even when travelling", Ms Jennings devotes about three days a week to her studio, finding inspiration as she paints.
Her work 'Zea Mys' is a example of her finding beauty in the simple things, with inspiration behind the painting as a result of viewing a dying corn stalk in a friend's garden.
"Painting for me just makes me look at things more openly," Ms Jennings said.
"It's what I do and just makes me a better person; there's a certain joy in it.
"It exposes you and creates opportunities you never thought you had."