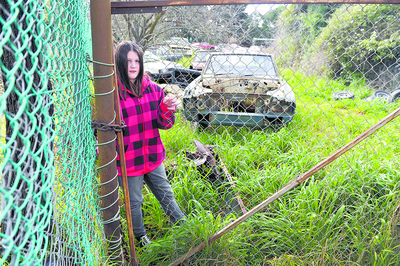 The nights have been a little quieter around an Avondale Road, Morwell household recently.
Normally guarded by three family dogs, the Paynter family always knew if someone was lingering too long outside the property.
"I don't hear very well; they are like my ears to me, they always let me know if someone's around," Kerry Paynter said.
However, last Saturday morning, the Paynters found their beloved pets, a German shepard cross kelpie, a white husky and a kelpie cross cocker spaniel had disappeared; with a gaping hole in their side fence, the only sign left of their whereabouts.
"Our fence was all wired up and secure, there was no way known that the dogs could get out …. someone's clearly untied ropes, and in one place (they) have cut the wire," Ms Paynter said.
"It is distressing; I don't know if anyone's got them in their backyard … I don't sleep well knowing they are not there; we certainly feel a lot more insecure."
The unwanted escape has added to a string of bad luck for the family; in recent weeks, the family's Meteor wagon was stolen from the front of the property.
The loss of the family's dogs has been equally upsetting for Ms Paynter's two daughters, who have been distributing 'missing dog' fliers around the neighbourhood.
"Our dogs were very energetic and caring; it's not a good feeling to lose them at all – I miss them, and just want someone to help bring our dogs back," 12 year-old Claire said.
While the Paynters have received unconfirmed sightings of the dogs around town, Ms Paynter can not help but speculate the break-in had targeted the family husky, however said local police had informed her without evidence of a theft, nothing could be done.