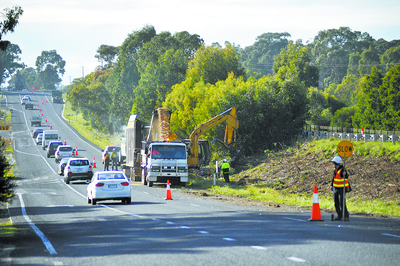 A GROUNDSWELL of community opposition has forced VicRoads to defend its multi-million dollar Princes Highway road safety project.
Central to the $16.4 million safety upgrade project is the removal of median strip trees on the Princes Highway between Longwarry and Traralgon.
VicRoads regional director eastern region Sebastian Motta told The Express this section of highway had the highest crash rate in regional Victoria.
He said in the five-year period to 2011, 94 'run-off-road' crashes causing injury occurred, including 36 serious injuries and four deaths.
Most were attributed to vehicles colliding with trees and shrubs.
On The Express' Facebook page, many motorists commented they were not convinced removing the trees was the best response.
Most claimed new safety risks had emerged from a lack of screening to minimise the impact of oncoming vehicles' high beams while a number raised environmental concerns.
Some motorists said contending with glare from oncoming traffic on the highway at night was now a "nightmare".
Mr Motta confirmed at many locations the safety works involved "complete removal" of all trees within median strips between traffic lanes.
He conceded this "may increase glare from oncoming headlights" but maintained "the safety benefit provided to motorists by clearing these trees significantly outweighs the screening of headlights".
One motorist claimed the project was "inherently expensive and ridiculous", saying the vegetation had served a significant "safety function".
Some suggested wire barriers, installed widely, could cause more damage than trees in the event of a collision, and others asked why barriers could not instead be placed either side of the trees.
Another asked why VicRoads was "putting up these barriers to stop vehicles hitting the trees… then they remove the trees?"
Other motorists asked how VicRoads would address the environmental impact of removing so many trees and what it might mean for wildlife using the small strips of land as corridors.
Mr Motta said VicRoads would purchase environmental offsets to compensate for the removal of remaining native vegetation.
He also said safety barriers were being installed "where the removal of roadside hazards is not possible or practical".
"Safety barriers reduce the severity of a crash by absorbing much of the impact and protecting motorists against hazards behind the barrier, such as trees, power poles and steep drop-offs," he said, adding they were also being installed within narrow central medians where there was "a high likelihood that if a vehicle ran off the road, it may cross into oncoming traffic."
Mr Motta said the safest roadside environment was one that had a "driveable 'run-off' area, clear of fixed objects or steep slopes, where stray vehicles can safely come to a stop".
He said road safety treatments completed along the same section of the highway several years ago, aimed at addressing the high risk 'run-off' road' crash locations, had not succeeded.
The current upgrades are aimed to "closer align to current road safety standards" to reduce ongoing casualty crash trends, Mr Motta said.
They were consistent with "new freeway design practice like the Pakenham bypass where vegetation likely to be a roadside hazard is not permitted within central median," he added.
In response to concerns about the safety of wire ropes, Mr Motta said the barriers had been "designed and tested in accordance with Australian Standards to be flexible when impacted to moderate the vehicle impact in a controlled and consistent manner to reduce the likelihood of harm to motorists."
"Impact with trees and shrubs by an errant vehicle is unpredictable and uncontrolled, which has been highlighted with a significant number of serious injuries and fatalities resulting from impacts with the roadside vegetation along with each section," he added.
Further road safety works to be undertaken once current works were complete would include guide posts, signage and reflective pavement markings to "assist motorists when driving at night," Mr Motta said.