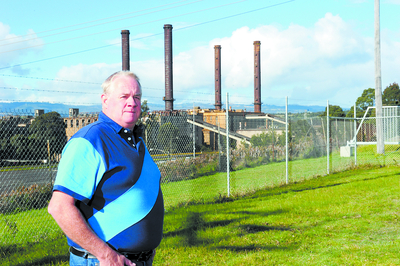 When Max Duncan joined up with the Morwell power station in 1977, he had no idea it was the beginning for a career which would span more than three decades.
"I am surprised it's lasted this long, and that's a credit to the company that it's lasted this long," Mr Duncan said.
As the oldest existing Victorian electricity provider, the Energy Brix power station, as it has been known since 1993, has been producing electricity since 1956.
However, last month saw the 170 megawatt station finally bow out of the electricity market, a move which has seen more than 30 employees taking up voluntary departure packages.
Contention has been rife among workers over the role of the Federal Government's carbon tax on the plant's closure, while unions have said the station was running on borrowed time.
But for 59 year-old Mr Duncan, and his fellow workers, the ongoing uncertainty leading up to the power station's decommission had been a "killer".
"The mood hasn't been the greatest lately; the uncertainty was there early in the piece, since the carbon tax was announced, and no one knew what was going to happen," Mr Duncan said in recollection of the past year.
"But once word came out what was definitely going to happen, quite a few of us have found the end to the uncertainty quite relieving."
For Mr Duncan, the events of recent months have been a "replay" of the widespread uncertainty prevalent during privatisation of the power sector in the 1990s, in which worker numbers were slashed en masse as the sector moved to shore up efficiencies.
"Basically these younger blokes are going through exactly the same thing now as what I'd been through during the change of guard from State Electricity Commission to Energy Brix," Mr Duncan said.
The split of the Morwell power station, and adjoining briquette factory, from the State Government portfolio, was the end of an era of job security for Mr Duncan, which he said is looked upon fondly by power industry stalwarts.
"Basically a job at the SEC was a job for life; you'd have to do something pretty dumb and stupid to get (fired), but that's a bygone era now; you'll never see that level of job security here again," Mr Duncan said.
"When I originally went with Energy Brix (during the privatisation), I was guaranteed of job for three years, and told it would be a maximum of five, but 20 years later, I was still there, so I've certainly been lucky there."
"Energy Brix has always struggled; they haven't had the big financial backers, but somehow until now, they have managed to survive."
Joining up with the SEC in 1977 during one of the largest workforce strikes in the state's history, Mr Duncan has seen the company fight major fires, while developing an "attachment with the place", which has built his home and raised his children.
"The crew I worked with and the friends I made will always be in my memories – and I probably made a few enemies too – but there's blokes from out there I haven't seen in 20 years that I'm still in contact with."
Winding back its power generation units last month, a handful of power station shift workers remain to operate two boilers which will supply steam to the briquette factory, an operation held up by a $50 million Federal Government lifeline announced last month.
While Mr Duncan took his VDP at a "more secure" stage of his life, he feels for the younger workers in the same situation.
"There's times where you wish you could just help them out; but all I can tell them is exactly how it was before (during privatisation) and they are just going to have to ride (the uncertainty out) for the next couple of years, and hope for an opening at another station."
"I probably had another few years left in me, but 34 years of shift work takes enough of a toll on the body; honestly it gets harder and harder, but then if it wasn't for the (benefits of) 12-hour shifts, I probably would've been gone like everyone else did years ago."