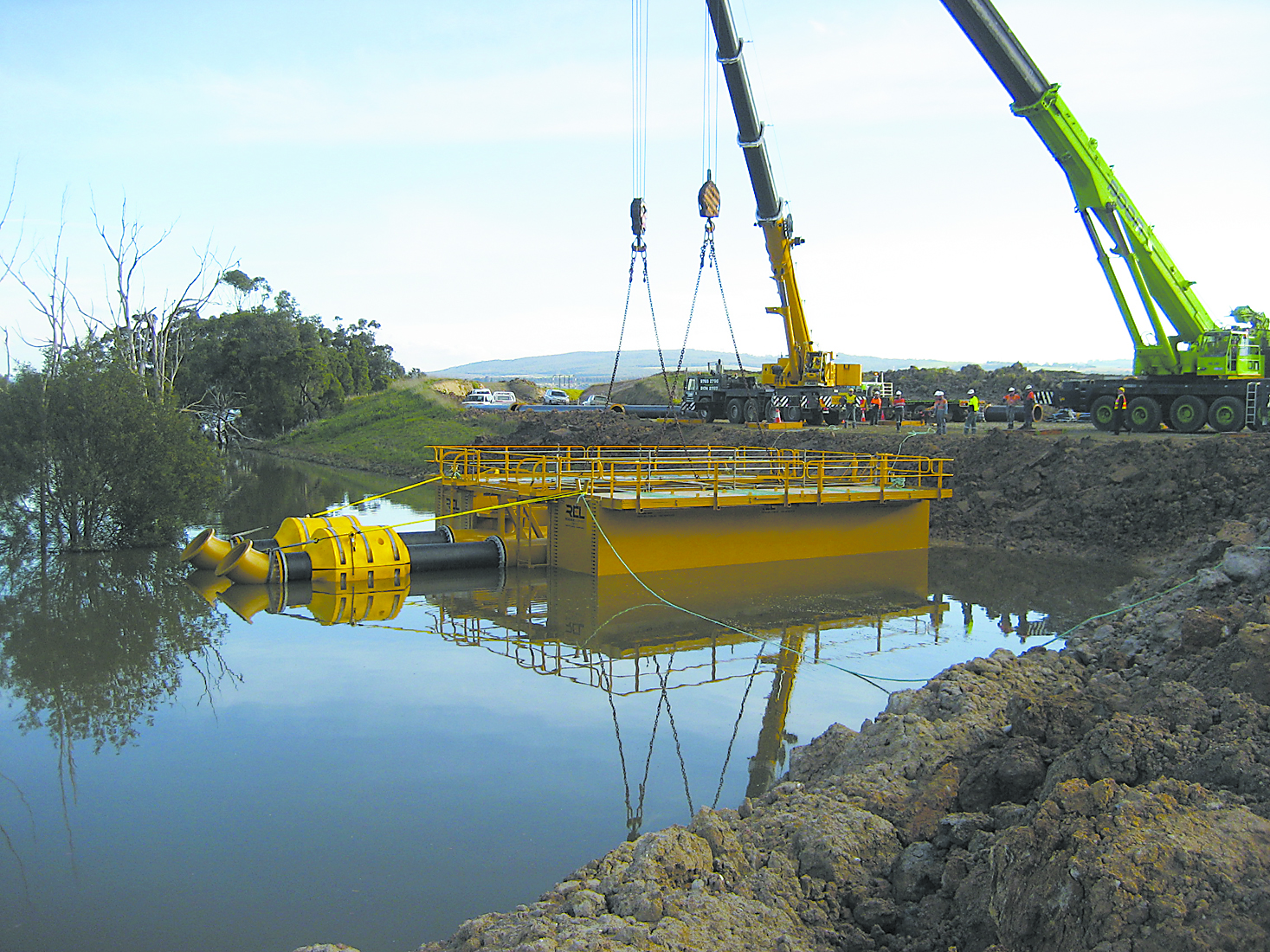 After over two months of frantic activity and numerous setbacks, TRUenergy's sustained response to Morwell River's collapse into the Yallourn mine has finally brought the situation under control.
The gushing of billions of litres of water into the open cut ceased on 17 August, after the establishment of a three-kilometre river-to-river pipeline, redirecting the entire flow of the Morwell River into the Latrobe River.
Stretching along the Morwell River diversion route, the 1.6 metre diameter pipeline, which can handle 120 per cent of average flows from the Morwell River, is a major milestone for the company, which has struggled to manage rising water levels in its two open cuts.
The Morwell River collapsed into the Eastfield mine in June after heavy rains, shutting down coal supply conveyor belts and reducing power generation capacity.
The full diversion has allowed the company to accelerate efforts to pump water from the Eastfield and Westfield mines, into the adjacent Latrobe River, levels of which have placed continual pressure on the power station's coal supply.
Water levels as of Friday, had 11,000 megalitres within Eastfield mine, while Westfield contained 44,000 litres, 6000ML below peak levels held last month, with a pumping output of from each mine at an average of 250ML per day.
TRUenergy director of operations and construction Michael Hutchinson told The Express on Friday the full diversion has greatly reduced the risk of heavy rainfall affecting operations.
While the power station has continued to operate three of its four generators since the reestablishment of a coal supply conveyor belt in July, efforts to reinstate a second conveyor are ongoing.
"The thing we don't have is the reliability of supply; one issue (experienced) on the conveyor could takes us out, and in summer, we certainly would not be able to supply peak demand on one conveyor," Mr Hutchinson said.
"We were thinking of relocating the conveyor to higher ground initially, but the plan has changed to reinstate it in its current trajectory, hopefully with current water management (we) can do that sometime in October."
Mr Hutchinson said a long term plan to fully repair the Morwell River diversion, with the additional use of a river bed liner, an additional feature to the original design, was underway.
"We are looking at six to eight months work for that long term plan to be in place; in design and construction we've done a month's work already, removing material out of the breach," he said.