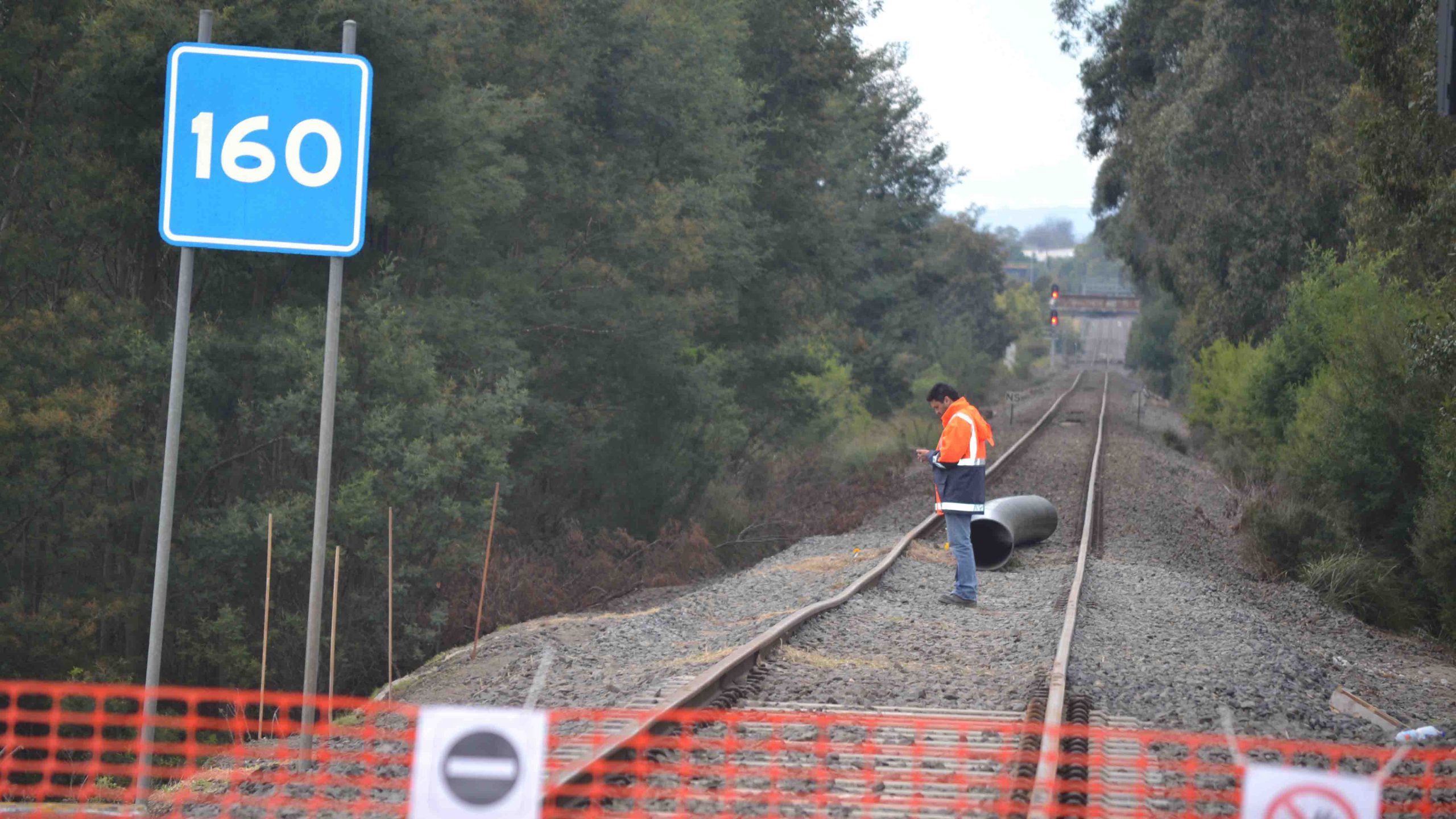 The likely recommencement of V/Line train services east of Moe has been pushed further into October, as ongoing and unprecedented delays to track works continue to plague the repair effort.
Despite V/Line crews and contractors working around the clock through daylight hours to waterproof the site, which sits on Morwell River overflow plains, actual repairs to damaged track embankment culverts are yet to commence, four weeks after the line's closure.
The repair timeline blowout comes as initial dam walls built around the site were compromised two weeks ago when bursts of rain saw the area inundated with water, which "resembles an inland sea" during high rainfall.
V/Line eastern region operations manager Tim Pianta said the incident could not have happened on a worse place on the Gippsland line.
"We've been staggered with the amount of water we've had to deal with," Mr Pianta said, adding an inch of rainfall equalled 1.25 metres of water adjacent to the repair site.
The up-scaled dam construction effort, now in its second week, has utilised 15,000 tonnes of locally sourced quarry material brought in to raise the dam walls another metre.
While V/Line has handled similar repair operations in wetlands on the Warrnambool line, Mr Pianta said the comparative scale of this operation was "up to 10 times bigger".
The V/Line track was closed in August after subsidence was discovered in the line, crippling the service east of Moe, with commuters transferring to and from Morwell and Traralgon stations via road coaches.
In a visit to the site by The Express last Thursday, Mr Pianta said once the site was waterproofed, reinforcement steel would be welded inside the drainage culverts, before they were coated with 250 millimetres of concrete; however, train services would not be able to recommence until a two-week concrete curing period had passed.
He said the track subsidence was caused by warping in the galvanised mild steel culverts, which created cavities in the embankment after decades of ageing and corrosion since their installation.
With school holidays commencing today, Mr Pianta said V/Line was working to implement extra road coach services to meet the demand of commuters wishing to travel to the Royal Melbourne Show.
Mr Pianta said the repair effort had not been budgeted for, and while ultimate repair costs remained unclear, the operation could cost "in the millions".