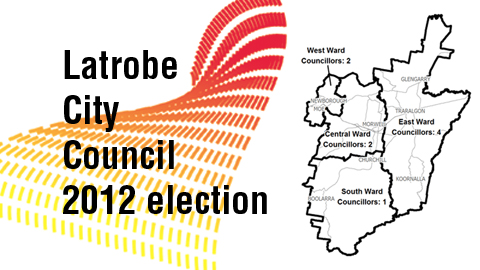 Central Ward
Peter Ryan – I am standing for Morwell because Traralgon will try and take over having four councillors to Morwell's two. Council need to be Latrobe Valley focused not single interest groups or single town. I want to have a linked walking and bike track throughout the region. Following the wet years, I also want to address the flooding issues.
Bruce Lougheed – I want to see a strong focus on responsible delivery of council services, facilities and budget. I will continue to strongly advocate for this community, particularly in a carbon constrained economy. The renewal and growth of the central ward remain my highest priority.
Merv Geddes – Morwell is at the crossroads with unemployment at 8.6 per cent. A small business recovery with an impetus coming from transferring appropriate government departments to the coalface is required. Council needs to cut costs and focus on their core functions, not put itself further in debt with unviable projects. An audit is required of their financial obligations and stormwater infrastructure.
Dot Kitwood – It is time for a change and some down to earth representation from your local councillor who cares about the average person. I am sick of our rates going up and where does the money go? Time for questions to be answered in council. I believe in listening to the people and going in to fight for them.
Graeme Middlemiss – I have always pushed strongly for development, facilities and services to be fairly shared across Latrobe City. This is now even more important given the electoral changes which bias power towards Traralgon. If re-elected, I will maintain my focus on economic development and job creation. There is considerable opportunity for growth in alternate uses of brown coal and council must be seen as supporting this.
Christine Sindt – As a Morwell-based businesswoman, I am concerned about poor drainage, freeway closures, land movement and slippage around the Morwell and Yallourn mining areas. Our water rates are double those of Melbourne and our council rates subsidise the power generators. Our electricity should be cheaper than Melbourne since we have the coal.
East Ward
Michael Rossiter – I am married to Michelle, have two children and operate my own business and employ locals. I support local sports interests and am a service club member. I have experienced the frustration of the Latrobe Valley being deprived of business, job opportunities and community development through dubious governance. I aim to redirect our community to the cohesive and progressive society we deserve.
Paul Howden – We haven't been getting value for our rate dollar. I hope to rein in the free spending of this council which has delivered one of the highest rates in the state, introduce a viable alternative to the defunct hard rubbish collection, ensure council lobbies state and federal governments to ensure the long term future of the power industry and your area.
Kellie O'Callaghan – I will continue to work with the community to bring effective change, focus on opportunities for our region's future and address issues impacting on us locally. I believe Council services must be well resourced and sustainable. I am committed to advocating strongly for our community, ensuring we have strong employment, education, business and health opportunities to meet our community's needs.
Dan Jordan – If elected I will work with businesses on training needs, creating jobs, keep rates reasonable, introduce rate payment plan over 10 instalments, reducing tip fees; two hard rubbish collections annually; no Coal Seam Gas mining; protecting heritage assets; safe bike paths between towns; supporting planned transition to a sustainable economic base; representing all residents diligently. I am Greens endorsed.
Sandy Kam – I am committed to taking this community forward despite the economic challenges, review our rates system and implement a system that is fairer. I will help improve services and inclusiveness in our smaller townships; maintain and improve services in Traralgon; and ensure current projects reflect the views of the communities that will be impacted eg. Car Parking Strategy, Traralgon Growth Areas Review, Traralgon Activity Centre Plan.
Dale Harriman – I will continue to stand up for Traralgon and District and fight to receive our fair share. I stand for lower rates, less waste and in independent investigation of council operations. I believe ratepayers views count and should be heard, particularly with the Performing Arts centre and the extra hundreds of thousands of dollars it will cost at Kernot Hall.
Axella Johannesson – Councillors must listen to what the people want – not pretend to listen, and vote however they want in the end. The people employ councillors, not political parties or special interest groups. We need an open, honest council. Too much is declared 'confidential', in my opinion, to avoid public scrutiny. We need long term jobs, not splashy projects, and prudent spending.
Anne Murphy – As a third generation Traralgon resident I have seen the Latrobe City grow and develop into a vibrant community. The altered ward boundaries present new challenges and opportunities. My vision for the Latrobe Valley is continued growth and development with consideration to the liveability and environment around us. I will work cooperatively with honesty, integrity and without bias to develop our region to its fullest potential for the benefit of all residents.
South Ward
Darrell White – I want to continue the smooth transition to a low carbon future in terms of job creations and mix, attract new investment while continuing to engage with state and federal government and the private sector to encourage local investment. I'm focused on diverse economic developments and ensuring prudent financial spending and an appropriate balance between affordability and community aspirations.
Gilio Barbara – I want to promote Latrobe City as a regional capital and to further promote the employment opportunities within the city. We are experiencing a transition to our economy and as such our need to promote investment will be crucial if we are to maintain our current level of employment.
West Ward
Sharon Gibson – With what is happening in relation to jobs, I believe now more than ever it is imperative to stand up and fight for our community. People's livelihood's and lifestyle's are at stake, now is not the time to play games. Everywhere you turn around prices are escalating and people cannot afford this, wisdom and listening to the people is needed.
Peter Gibbons – I am a Moe resident and community advocate that is why I helped form MADRA. I support cheaper water, job creation, National Broadband Network for Moe/Newborough, and more public toilets. Forget white elephants – let's upgrade Moe's existing Library, create a skatepark near Apex Park and provide community groups with their own facility. Together, let us get a better deal for our community.
Marilyn May – I have lived in Moe for 42 years and have experienced all of the positives and negatives that have influenced the growth of our town. That is why I created 'Make Moe Glow' and am working with the Moe Traders Association, Committee For Moe, Moe Jazz Festival Committee, Moe-Yallourn Rail Trail and as a volunteer at Old Gippstown.
Tony Flynn – Delivering the community's interests led me to stand; our community needs to ensure that our Council representatives are people who have the record, the skills and the commitment to secure our fair share of investment, of attention and of government support; to secure long term sustainable jobs in the transition to a more diversified regional economy.
Jenny Webb – As a local resident of west ward I care about what is important to our community. I am an independent who will work with other councillors to achieve better outcomes for the area. These outcomes include rate money being used for services in the local area, attracting business and investment and promoting tourism in the area.
Ed Vermeulen – I want no rate rises in excess of the rate inflation as well as completion of the Moe central business district rebuild. Continued development of the botanic gardens/rail trail, and Narracan gardens residential development. Increased public and private investment in the Moe and Newborough area to provide jobs, more support for Old Gippstown and want Moe to receive its fair share.