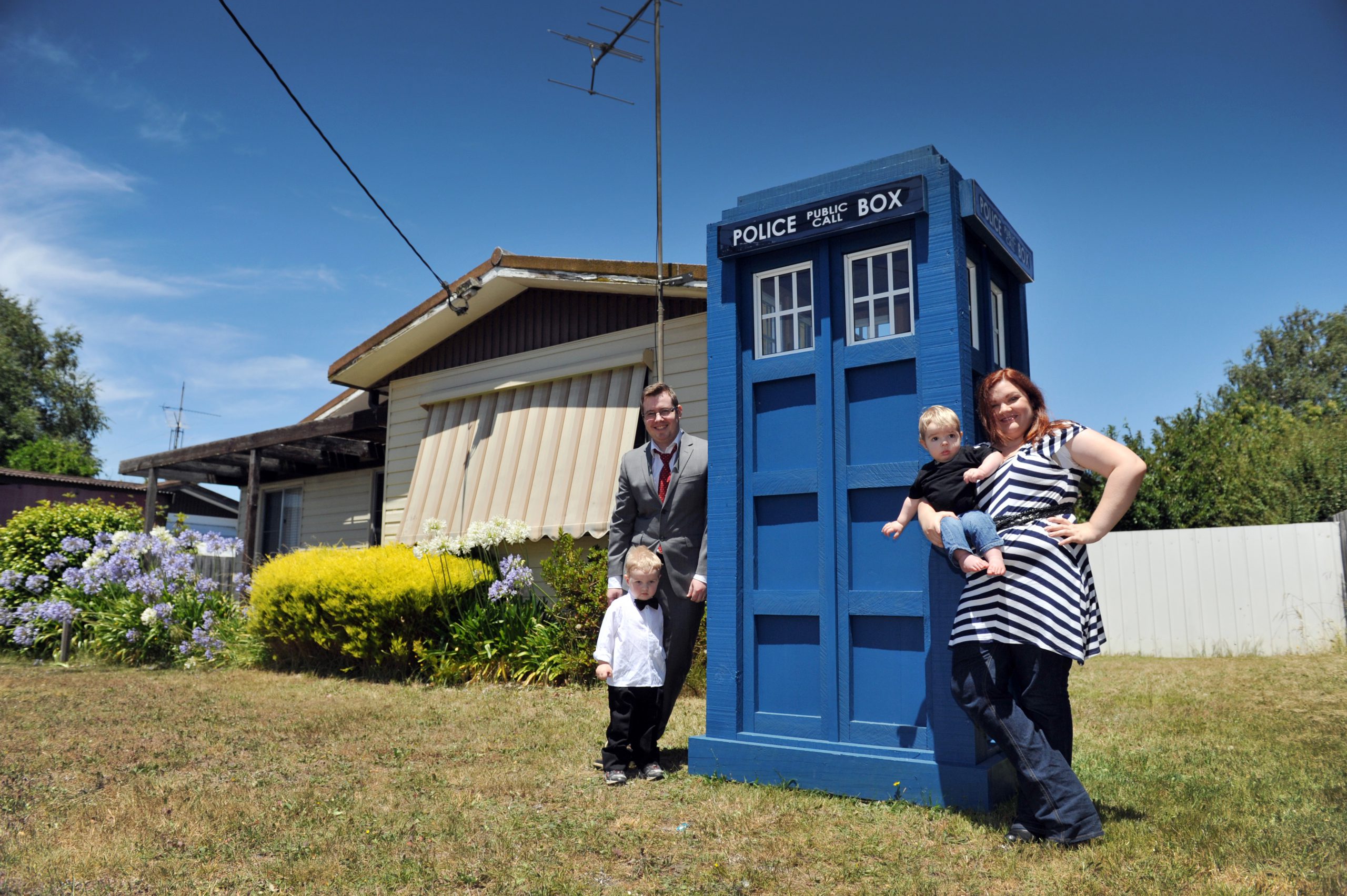 FANS of the long-running science fiction series Doctor Who may have recognised the doctor's iconic time travel device on the front lawn of a house in Northern Avenue, Newborough.
Mary Brooks was "gobsmacked" to see a life-size TARDIS, a Time and Relative Dimension in Space, outside on her birthday, Christmas day, last year.
Her husband Shad had spent more than 50 hours building a replica of the machine the title character uses to travel during his adventures, for the Doctor Who fan.
The family have since lost track of the many passers-by who have stopped to take photos of the blue structure, which looks like a 1960s British police box.
Mr Brooks said he decided to make the combined birthday/Christmas present for his wife, knowing that she had missed out a lot over the years due to the "unfortunate date" of her birthday. "I decided to do something really special, something big, something she'd love," Mr Brooks said.
Though not a furniture maker or carpenter by trade, Mr Brooks grew up around his builder father, and worked making windows and other frames for more than a year.
Mr Brooks said he tried to keep the present a secret, building it at his father's workshop near Erica, but Mrs Brooks had her suspicions when her husband came home with blue paint on his singlet.
Mrs Brooks is a passionate Doctor Who fan who even "cried a little bit" when she missed the first episode of a season last year.
"My mum's a big fan and had them (videos) so I grew up watching episodes with her, and it rubbed off on me," she said.
She said of the many actors who have played Doctor Who since the show first aired in 1963, her favourite was the 10th Doctor Who, played by David Tennant, and her favourite enemies were the Weeping Angels, aliens who look like stone statues.
With no plans to create a Weeping Angel replica for his wife, Mr Brooks said his next project would be building a fence, "but not to keep people out".
"I'm more than happy for people to come to take photos – just close the door when they leave," he said.