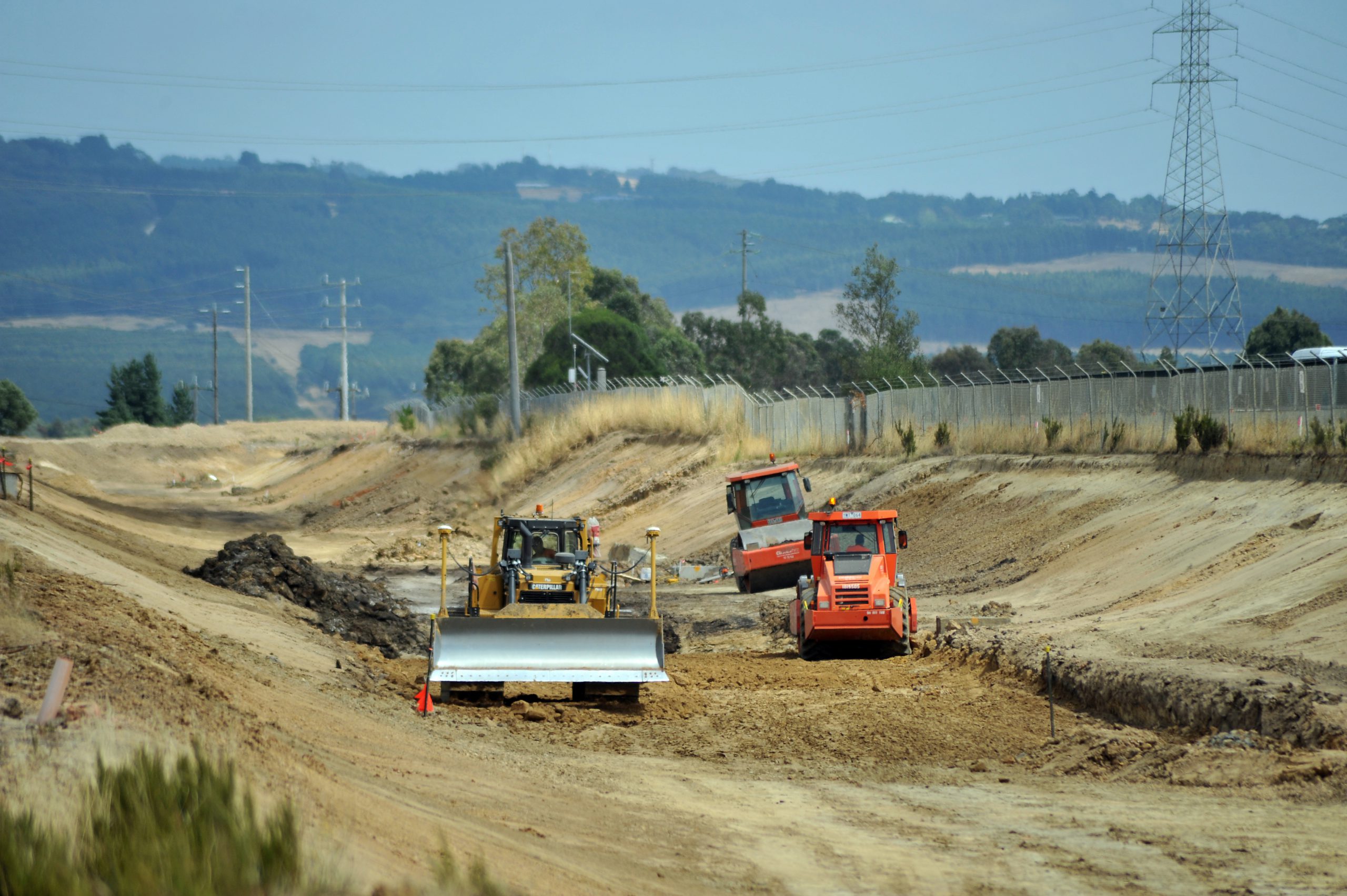 A LOCAL community group has warned the multi-million dollar project currently underway to address Morwell Main Drain inadequacies and prevent future Princes Freeway instability is not fool-proof.
On the day State Energy and Resources Minister Michael O'Brien was in Morwell to inspect remedial works on the drain, Advance Morwell chair John Guy questioned whether the government was committed to diverting water away from the drain to avoid a recurrence of the problems which forced the freeway's closure for much of 2011.
Mr O'Brien told The Express current works, including sealing a 1.8 kilometre section of the drain, were being undertaken on the advice of geotechnical experts from the State Government and Hazelwood mine owners GDF SUEZ, and would "put the drain, therefore the freeway, on a much firmer footing".
Asked whether a water diversion project would follow, Mr O'Brien said further assessment of the area would first be conducted to determine the success of current works.
Any potential diversion would "obviously be a much more complicated exercise," he said.
Responding to reports yesterday that GDF SUEZ said it did not intend to move the drain, Advance Morwell chair John Guy said that was "at odds" with advice from the Department of Primary Industries which referred to current works as "stage one" and mooted "concept plans for a diversion using engineering solutions".
"The current work, as we understand it, is also only a partial lining of the drain and is part of a compromised solution reached by the DPI in its negotiations with (GDF SUEZ) Hazelwood, and we have concerns about that too," Mr Guy said.
Referring to the two million dollars the State Government had contributed to current works, Mr O'Brien said "this is a critical piece of infrastructure for the people of Morwell, Gippsland and all of Victoria… we can't afford to have that road closed again so we are prepared to put money on the table to get that work happening, put that road on much firmer footing and give the community confidence".
He would not speculate on the total cost of the project, being managed by GDF SUEZ, but confirmed it would be "seriously in excess of $2 million".
Mr Guy maintained as long as the drain ran underneath the freeway it was possible land instability problems could recur.
Meanwhile motorists have been warned to expect months of delays on a section of the freeway between Commercial Road in Morwell and the Strzelecki Highway due to traffic management barriers and speed restrictions.