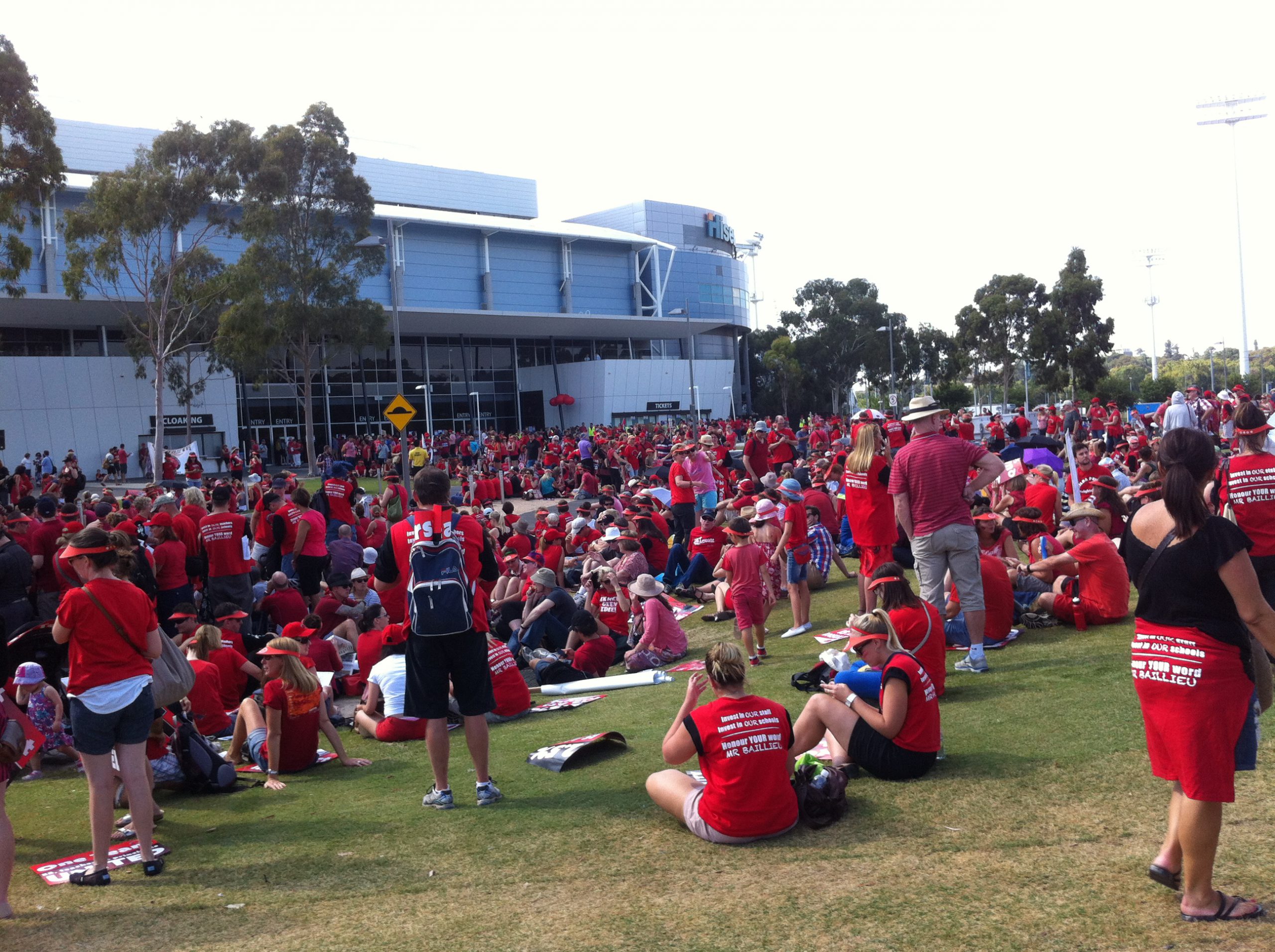 THOUSANDS of Victorian school staff including those from the Latrobe Valley participated in a "very successful" rally in Melbourne last week, according to Australian Education Union Gippsland region organiser Jeff Gray.
Mr Gray estimated up to 20 schools in the region had been unable to operate as usual as staff walked off the job on Thursday in a statewide 24-hour stopwork, while other schools had a less staff on duty with limited classes.
"There has been lengthy debate about increasing the number of stopworks; a (proposal for a) two-day strike was defeated, but the 38-hour work weeks have really just begun," Mr Gray said on the union's next course of action.
With regard to negotiations with the State Government, Mr Gray said AEU leadership had not yet shared details with its members.
An estimated 14,000 teachers, principals and support staff rallied on the hot day, filling the Hisense Arena to capacity, with thousands more filling the overflow area outside.
Union representative for Lowanna College and Latrobe Valley AEU councillor Ross Jackson said the mood of the crowd was angrier than at the last stopwork held in September.
"It's two years too long. We had an opportunity to have a 48-hour strike, but that was defeated because teachers are putting the kids first, we want to teach," Mr Jackson said.
He said a record number of staff from Lowanna College had participated in the stopwork, with 90 per cent of teaching and education support staff on strike.
"Some of the ES staff are working for less than the legislated minimum wage," he said.
Meanwhile, Mr Gray said the plight of ES staff had not been heard enough in the public domain.
"Their voices have been lost in the mix a bit," he said of the ES staff, which included integration aides, office staff and technicians.
"They have a separate agreement, but some clauses are the same as the teachers; their agreement ran out a year ago and they are chronically underpaid with conditions which are a concern."
Mr Gray said up to 40 per cent of ES staff were on contract and had low base salaries.
He said larger schools like Lowanna College in Newborough would have up to 40 ES staff, whereas smaller schools would have two or three staff.
The Age reported Premier Ted Baillieu saying the industrial action had done nothing to advance negotiations, while a spokesperson for Teaching Profession Minister Peter Hall said the government was disappointed the AEU was continuing its industrial action while negotiations were taking place.