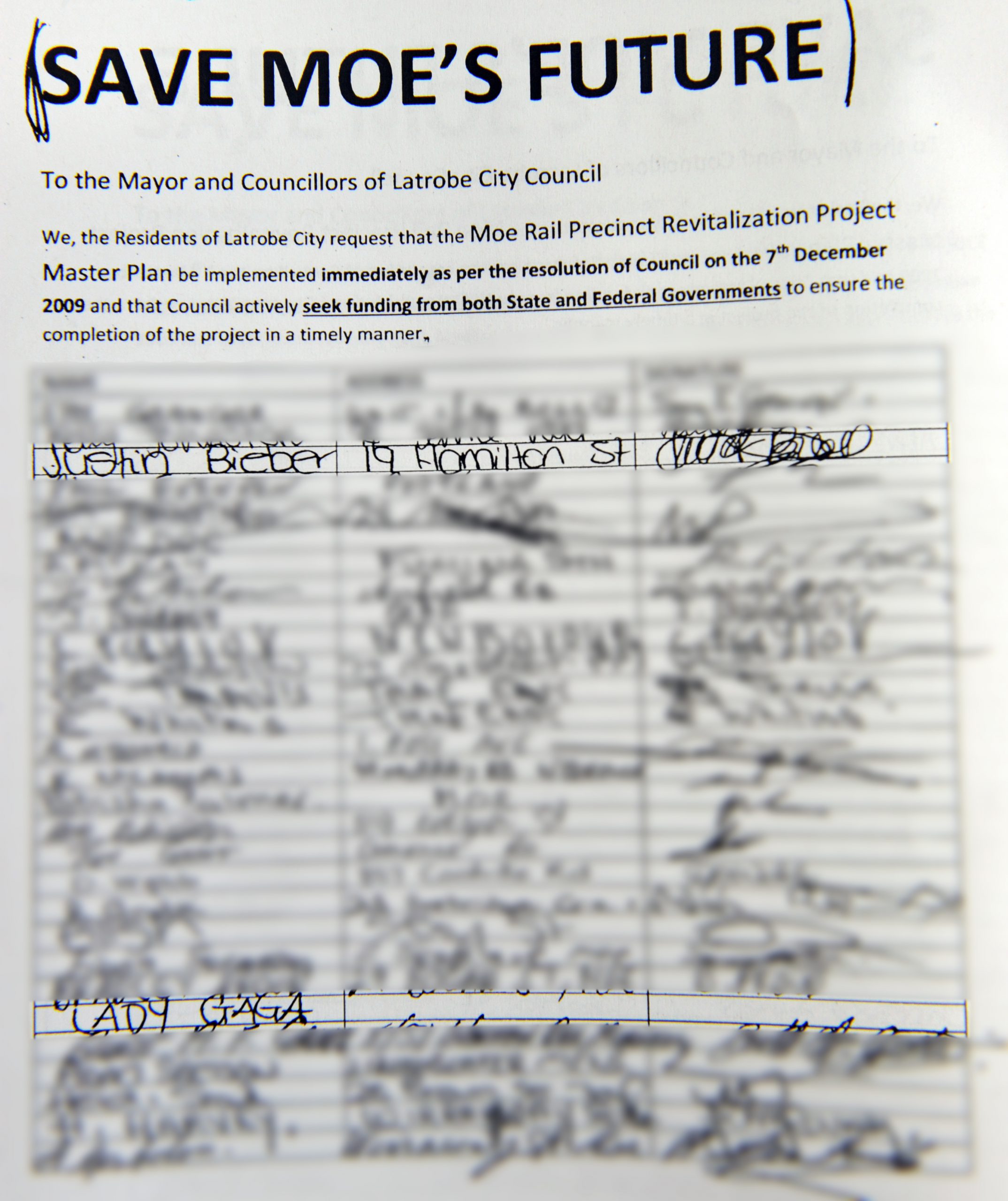 POP stars Justin Bieber and Lady Gaga became the subject of debate in a Latrobe City Council meeting this week as a part of a move to discredit a community petition.
The petition contains more than 6600 signatures supporting the immediate revitalisation of Moe's railway precinct after the project was put on ice as part of a review led by councillor Peter Gibbons.
In raising concerns about the contents of the petition at Monday night's meeting, Cr Gibbons said he "wasn't aware we had such famous stars in Moe like Lady Gaga, Justin Bieber and even (deceased Soviet dictator) Joseph Stalin".
Cr Gibbons said the pseudonyms were not the only questionable aspects of the petition.
He said some genuine names appeared more than once, in some cases up to 10 times, and many signatories were not residents of Moe or even the Latrobe Valley.
But Cr Gibbons told the meeting despite his concerns, he was not "denigrating the petition".
The comment prompted an outburst from a member of the public gallery, who made a quick exit under the watch of a Victoria Police officer.
It is the second meeting in a row police have been called in to monitor proceedings.
Cr Kellie O'Callaghan said it was important to recognise with any petition there was always an "element of consideration" for multiple signatures and "people doing funny things".
She said the views of people who had signed the petition in good faith should not be diminished.
The Committee for Moe lodged an additional 200 signatures to the petition on Monday night, however it has failed to stop the review before its expected conclusion.
Councillors voted unanimously to delay consideration of the petition until 25 March when the results of the Moe Activity Centre Plan review will also be voted on.
Mayor Sandy Kam and Cr Dale Harriman declared an interest in the matter and left the room during debate and voting.
? For details of last night's special council meeting which heard from 17 speakers on the Moe Activity Centre Plan as part of its review, visit The Express online at
www.lvexpress.com.au