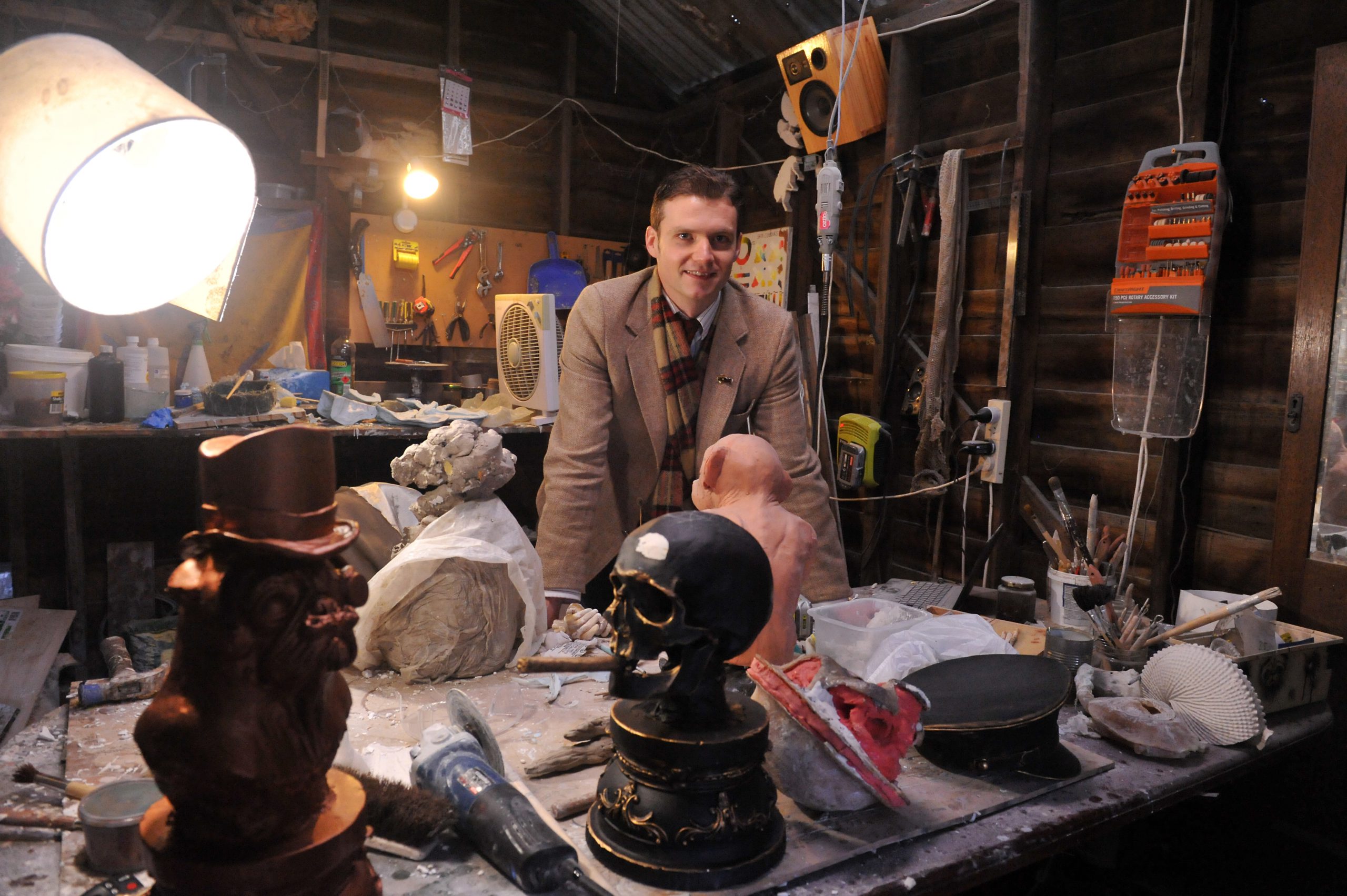 With rigorous attention to detail, Michael Gallop draws on his affinity with animals to create chillingly lifelike works of art.
Strewn with clay and fibreglass moulds, the back shed of his Traralgon home illustrates just how involved his process is.
And while each piece in his upcoming Melbourne exhibition has taken between 50 and 100 hours to construct, Mr Gallop has welcomed the shift from his previous labour-intensive medium of woodcarving.
"With the wood, you've got to reduce it down and make sure you don't take too much off," Mr Gallop said.
"With this stuff, it's all constructive, rather than reductive.
"You can see it slowly forming."
For his favourite piece of the collection, 'Nostalgia', a silicone rubber sculpture of a baby chimpanzee, Mr Gallop used photographs and his experience in life drawing to inform his initial moulds.
"While the chimp is not human, it has all the same shapes, just different scales," he said.
A previous purchase in the homewares section of a local department store proved useful for the final details of the chimp.
Mr Gallop used mohair from a pillow he "thought would make a good art project one day", for the chimp's hair.
Inspiration for the second part of the piece, the 'mystery magic box', which has captured the chimp's curiosity, came later for Mr Gallop, from an online talk by American film director J J Abrams.
"He talks about this magic box that he bought when he was a kid," Mr Gallop said.
"Basically it's like a lucky dip, but he's never opened it.
"The chimp is peering in to discover the mystery that's inside."
Another favourite of Mr Gallop's is his sculpture of a pig wearing a tiger suit.
"The idea came from the circus and making animals be who they aren't, making them perform.
"I tried to put a disgruntled look on his face, he's fed up with being a toy."
Mr Gallop attributes his fascination with animals to growing up with various pets and his taxidermist father Stephen Gallop.
"Animals have always just been a part of my life," Mr Gallop said.
"Dad has always been more of a hunter, shooting and stuffing things, whereas I guess I've served that in a different way."
A tattooist for the last two-and-a-half years, Mr Gallop said body art had begun to inform his work.
But mostly, it has helped temper his perfectionism.
"It's allowed me to be a lot more confident… rather than getting caught up on every little detail, because you're under a bit of time pressure (when tattooing)," he said.
'The Flux', Mr Gallop's second Melbourne-based show, will feature 12 pieces and opens on Saturday, 6 July from 2pm to 5pm in the Australian Galleries, 35 Derby Street, Collingwood.
It will run until 21 July.