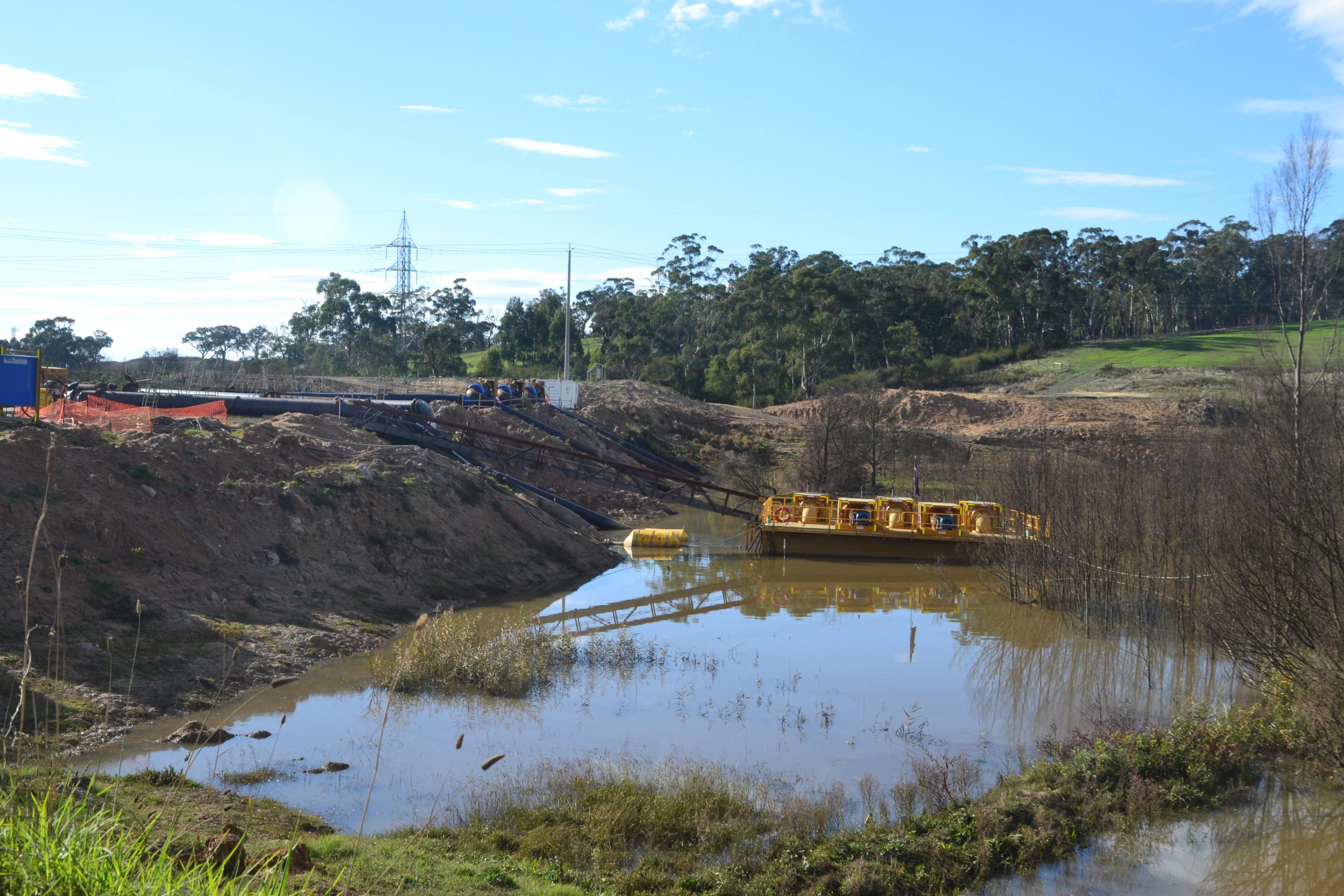 The emergency pumping of floodwater from Yallourn's active coal mine, which began overflowing into the open cut on Saturday after heavy rain, has begun after receiving environment regulator approval.
The Environment Protection Authority yesterday granted mine operator EnergyAustralia the emergency discharge approval – the third since the initial collapse of the Morwell River Diversion into the mine last year – to alleviate the flooding pressure on mine operations.
While the breach has come as a considerable setback for the company – a coal supply conveyor has become inundated and is expected to be offline for three weeks – the event had been anticipated by mine management.
EnergyAustralia group executive manager Michael Hutchinson said the Yallourn mine and ongoing reparations to the Morwell River Diversion had been, and would continue to, remain vulnerable to rain events, until the diversion was completed.
As of Monday afternoon, four gigalitres sat in the bottom of the East Field mine, with 800 megalitres flowing into the open cut everyday – a situation further compounded by general local rainfall run off into the mine, which acts as a rain catchment during normal operations.
As of yesterday morning, the Morwell River wetland area, which sits upstream of the mine river diversion, remained visibly inundated with flood water.
"Our contingency in the case of heavy rainfall events and rapidly increasing river flows has always been to allow excess water to enter the East Field section, and this is now occurring," Mr Hutchinson said.
An EPA spokesperson said a biological risk assessment during previous emergency discharges showed the pumping would not have a long term impact on the Latrobe River catchment, amid ongoing environmental concerns the pumping could impact on bio-diversity.
Mr Hutchinson said power station generation had not been impacted by the flooding, as coal was still being transported to the station via a remaining coal conveyor.
As of last fortnight, the diversion reparation was operating towards a September completion date – depending on the weather.
Industrial action to recommence
Meanwhile, EnergyAustralia has labelled moves by the Construction Forestry Mining and Energy Union to recommence industrial action at the power station tomorrow, during the flooding crisis, as "reckless".
The CFMEU and EnergyAustralia are currently undergoing a conciliation session at Fair Work Australia to reach an agreement in an ongoing enterprise bargaining dispute, however after seven days in the commission, the effort has failed to come to a resolution.
The company said the industrial action would include automatic generation control mode bans, a four-hour strike next Tuesday, and the deliberate operating of generators in a way it claimed would financially impact Yallourn's revenue.
However the CFMEU's Luke van der Meulen hit back at the criticism, stating the industrial action had no relation whatsoever to the flooding situation.
"That comment from the company is at the heart of the problem here – they think we are trying to 'get' the company, but we are trying to get an agreement for our workers," Mr van der Meulen said.
"It's not our fault the company has not got proper contingency plans for the rain."