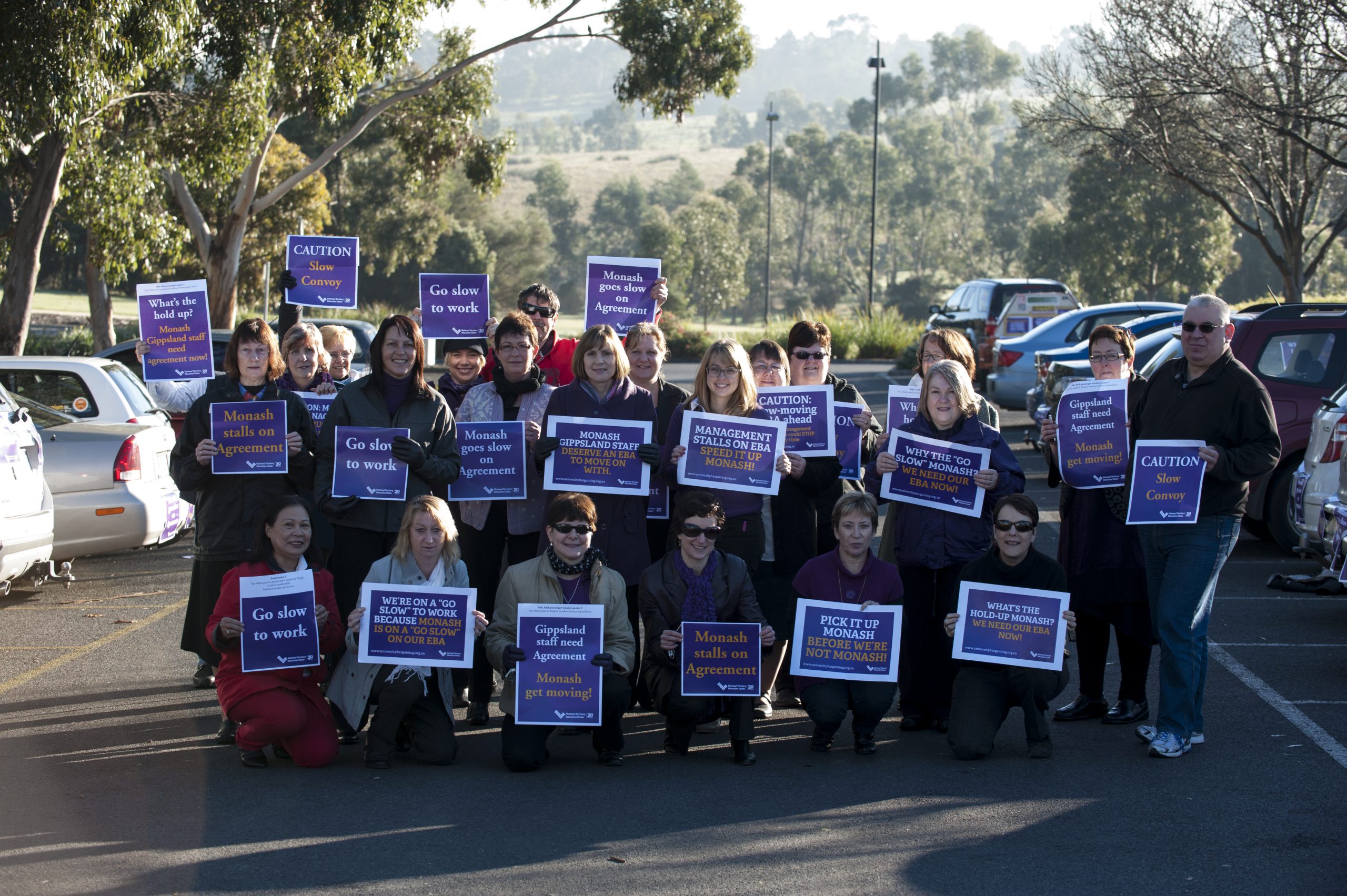 MONASH Gippsland campus staff fear the implications for their workplace arrangements if enterprise agreement talks are not resolved before University of Ballarat takes over the campus in January next year.
Last week "disgruntled" staff participated in a National Tertiary Education Union-led 'Go Slow to Work' convoy on Monash Way, between Morwell and Churchill, to protest Monash management's approach to 10-month long negotiations over pay and conditions.
NTEU delegate Marion Slawson said negotiations started last August "but despite more than 20 meetings, management has not moved on the key items in the NTEU's log of claims". Ms Slawson said Monash had "refused to budge on workloads, job security, consultation about change and pay".
With Monash set to "give" its Churchill campus to UB on 1 January Ms Slawson said an agreement was "critical" for NTEU Gippsland members.
Staffer and NTEU delegate Anne Lorraine told The Express Monash had "attacked" two Gippsland-specific conditions prior to negotiations stalling – rostered days off and free parking.
She said with "major, major changes" looming at Monash Gippsland, having a new EA in place was "fundamental to the (feeling of) security among staff now".
"There just doesn't seem to be any give on this and we are very frustrated at the lack of progress," Ms Lorraine said.
While previous EA's had been subject to hold-ups, she claimed "this one seems to be quite exceptional, in that we are not getting anything after 10 months".
Ms Lorraine said management's procrastination was "disadvantaging staff and is not very respectful either".
NTEU organiser Liz Schroeder said Monash management had, at the outset of the EA process, "been of the firm view that the next agreement we negotiated would apply (after the take-over) but now they are in an incredibly go-slow process that no-one envisaged being in at this stage, it is not fair for the workers".
Ms Schroeder said there was "genuine concern" about how the transfer of business would now play out, adding "people are really in limbo and management have been very slow to answer any questions about the new entity".
"To be blunt, I don't think Monash themselves know some of the answers to these questions about what staff will go to Ballarat, who does Monash keep… this is really horrible for the staff, they don't know if they will have a job with Monash or the new entity," Ms Schroeder said.