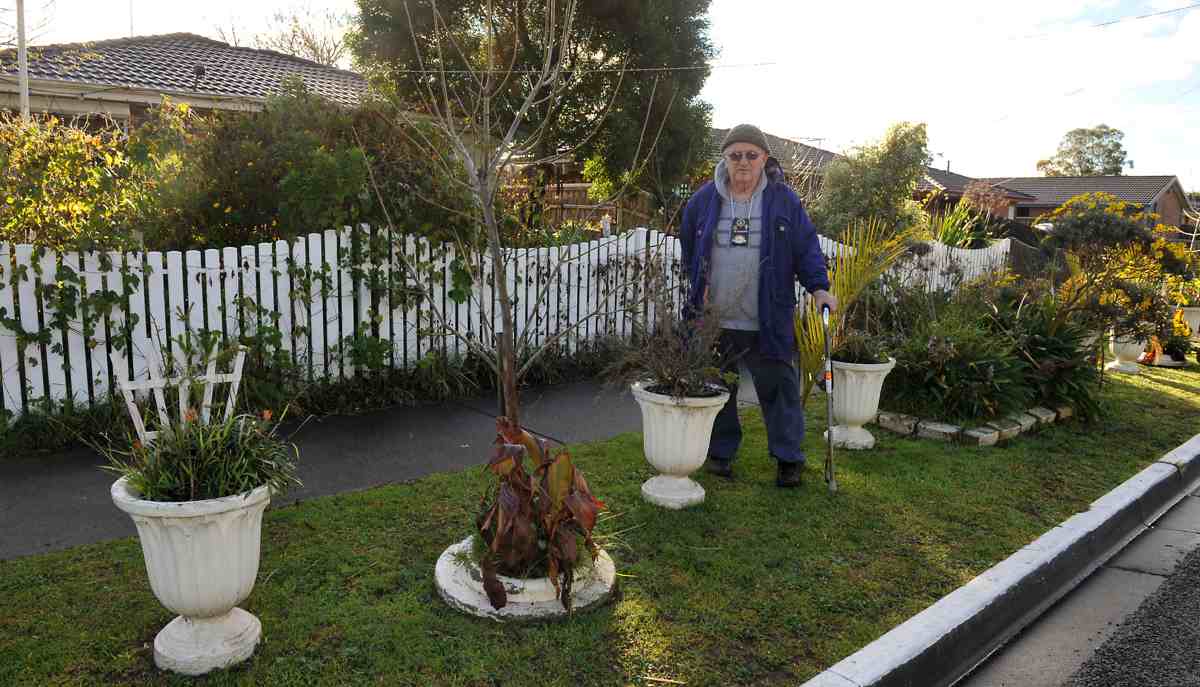 RELATED COVERAGE: Social talk – 'Colin's last stand'
A national gardening personality has stepped in to bat for an ailing Morwell man, who had been ordered to remove his nature strip garden by Latrobe City Council by today.
In a call out to his Facebook followers earlier this week, Australian conservationist Jerry Coleby-Williams, a presenter on ABC television's Gardening Australia, posted a public letter addressed to Latrobe City mayor Sandy Kam, calling for her to intervene on the matter.
Colin Bermingham, 69, vowed in an article published in Monday's Express to resist a renewed seven-day order to remove street-side pot plants and bushes from in front of his property, which were installed without a permit some years ago.
The article attracted a large response on The Express' Facebook page, with the majority of readers coming out in support of Mr Bermingham's stand.
"I've been staggered by the amount of support I've gotten; I couldn't believe it, it's just incredible how this is growing, and to get a phone call at six in the morning (yesterday) from A Current Affair about the issue was surprising," Mr Bermingham said.
"But I was absolutely chuffed when I saw (Mr Coleby-Williams') letter; to think that someone else has done something on my behalf like that, I don't know how to ever say thank you."
In his letter, Mr Coleby-Williams said he was "very upset" to hear council was persisting with orders for Mr Bermingham to remove his nature strip plants, calling on Cr Kam to take a more encouraging approach to street-scape gardening.
"Take a deep breath and instead of hurting good gardeners who are making your council a greener, cleaner, healthier and more pleasant place to live, help Mr Bermingham enjoy a long and fruitful gardening life," Mr Coleby-Williams wrote.
"Sometimes saying 'yes' and 'how can we help?' can build a better community. Issuing a permit for his nature strip is easy – it's just a piece of paper."
Latrobe City acting general manager community liveability David Elder said local law officers had been in discussion with Mr Bermingham for three years about the nature strip garden in response to complaints.
"We have empathy for his situation and we commend him for his passion for gardening. However, it is also important to understand that we do have a duty to investigate complaints and where hazards are identified take action," Mr Elder said.
"As such we are still working towards a solution that satisfies both Mr Bermingham and the complainant.
"As the issue has been going on for three years now I think it is clear that we have taken, and are continuing to take, every action possible to ensure an outcome that makes everyone happy."
However Mr Bermingham said he received a call from Latrobe City on Tuesday informing him he would not be able to apply for a retrospective permit.
"I'm going to stand my ground over this, and leave it there as long as I possibly can, and even though it's not looking good, it's nice to know that I've got that support out there."
Mr Bermingham said a pile of mattresses which had been sitting for six months on a neighbouring nature strip, mentioned in Monday's article, were removed on Tuesday.