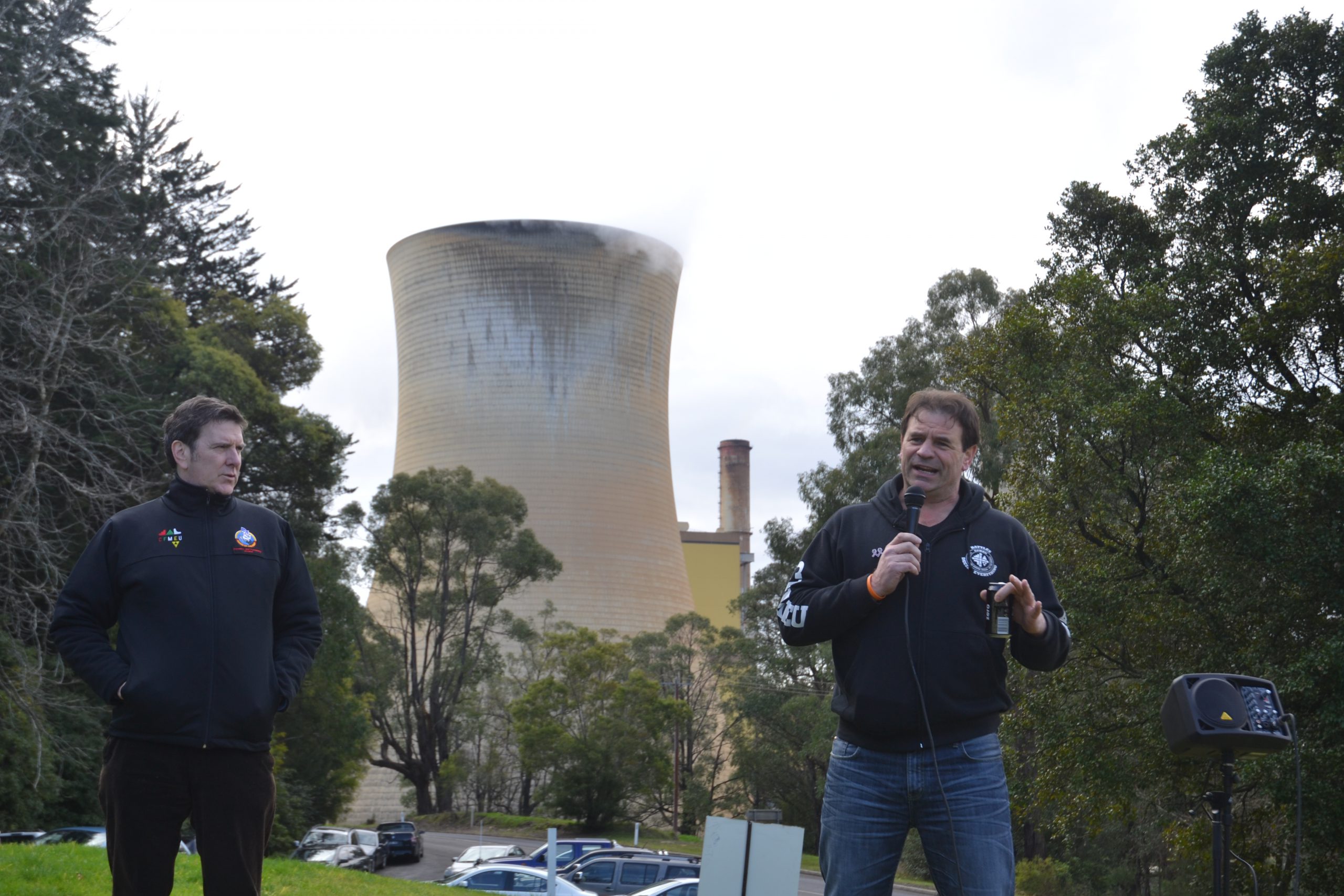 The resolve of 75 Yallourn operators, locked out of their workplace for the fifth week running as part of an intense industrial dispute, has been "steeled" by a high profile show of support on Friday.
As part of their weekly barbecue, which has already become a Friday tradition at their not-so-makeshift protest camp outside power station grounds, operators, along with family members and a contingent of visiting Melbourne-based workers gathered to hear prominent union representatives commit to support the ongoing lockout protest.
The Construction, Forestry, Mining and Energy Union's national secretary Michael O'Connor and Victorian secretary John Setka pledged unconditional support from more than 100,000 members nation-wide, echoing the union's underlying ethos, "if you touch one, you touch us all".
"When you're locked out it might feel like everyone's forgotten you – when it seems like all is lost, you need to keep your heads up high… it's keeping up the good fight that makes us stronger," Mr Setka said.
"We will support you, we will not forget you."
As members of the CFMEU, the operators, locked out without pay, will receive some financial assistance from union coffers, however with both sides digging in over sticking points within enterprise bargaining negotiations, a solution remains elusive.
"When I first spoke to the guys a few weeks ago, I thought there would be a moral slump, but the company's actions have given us something to rally around; the worse the company gets the stronger the blokes get," an operator said, referring to EnergyAustralia's alleged admission it would not lift the lockout until an enterprise agreement was reached.
"When Michael (O'Connor) and John (Setka) commit support and resources from the CFMEU, what do you think is going to happen? They don't make empty promises those two blokes.
"If I was EnergyAustralia I would be questioning myself about now, realising these guys are going to be in it for the long run."