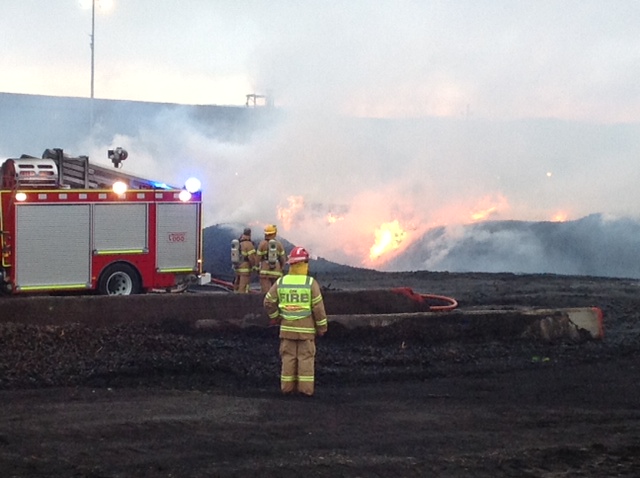 Fire crews remain on site at EnergyBrix briquette factory in Morwell after numerous fires broke in its open storage yard early this morning.
Country Fire Authority Morwell station officer and incident controller Matthew Muscat said multiple fires had broken out among briquette piles in a 100 by 100 metre square area, creating difficult smoky conditions.
Mr Muscat said firefighters' access to the blaze was hampered by large amounts of smoke, and required some CFA personnel to utilise breathing apparatus equipment.
"On our arrival, a huge column of smoke was drifting across and flames were issuing out of the briquette piles in multiple locations… at one stage a fire was close to a conveyor and building, but our crews were able to get in and stop it," Mr Muscat said.
"We had to use (on-site) front end loaders to pull the piles apart, and when the oxygen got in, the fires would flare up, and we had to assist frontend loader drivers from being safe from the flames."
Mr Muscat said 25 CFA members and six appliances from across Latrobe Valley responded to the 5.47am callout, and Traralgon's 'Bronto' rescue ladder was called in to douse the blaze from an aerial height.
"It's still going at the moment, but we've got it under control – we are still trying to mop up hot spots before we leave," he said at 10am this morning.
While the cause of the blaze is yet unknown, Mr Muscat said local fire crews respond to fire callouts at the briquette factory numerous times each year, adding onsite combustion issues generally flared up during changes in the weather.