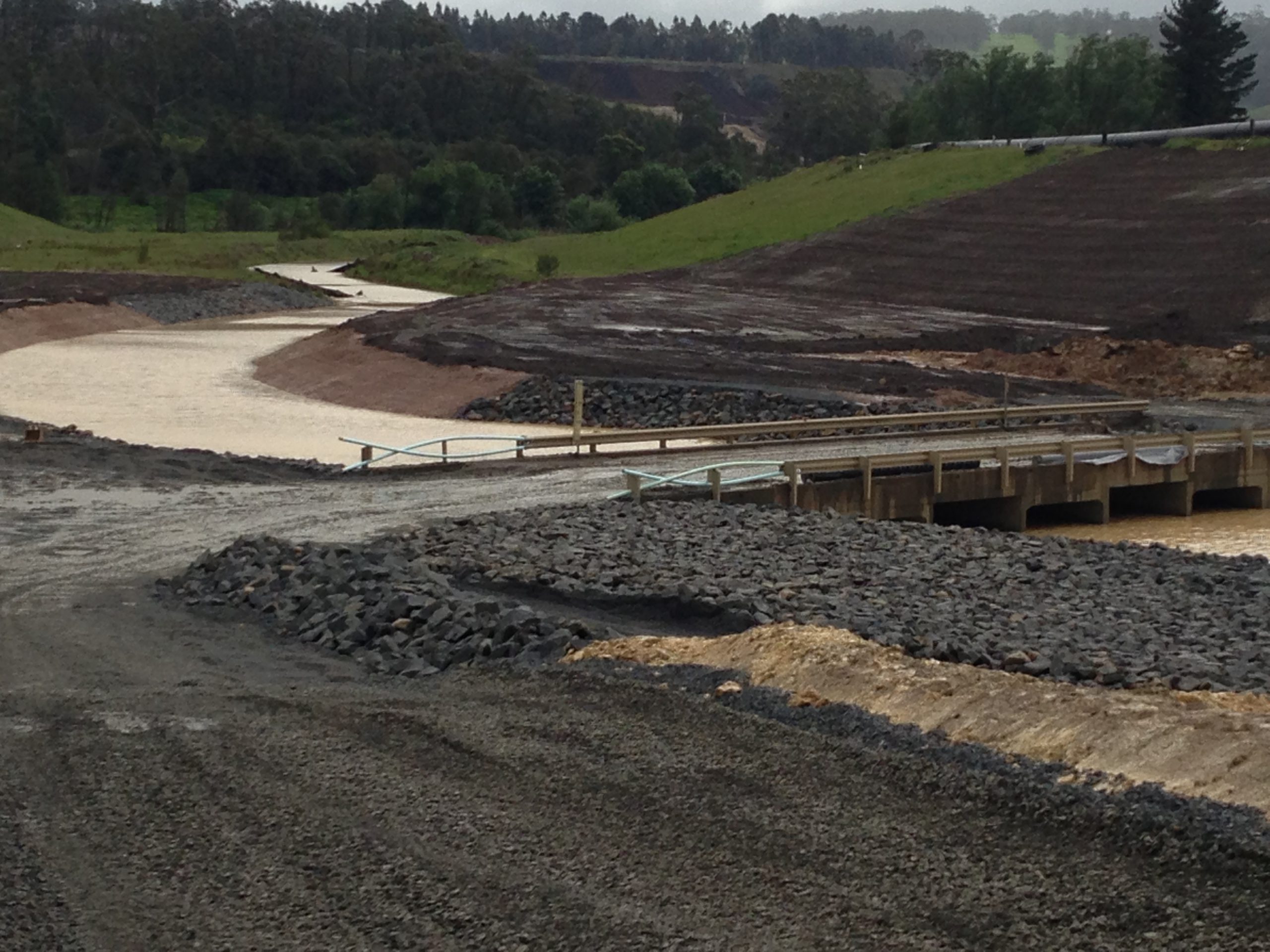 One of the nation's most complex infrastructure repair jobs is nearing completion, with full river flows gushing through the Morwell River Diversion for the first time in 14 months.
Having remained dry since the diversion's catastrophic collapse on 6 June last year, Yallourn Power Station owner EnergyAustralia has been implementing a staged re-commission of water flows since 17 September.
"One of the major goals has been getting river flowing through the diversion again and we have achieved that," EnergyAustralia group director operation Michael Hutchinson said.
"While we would have liked to have it operating earlier, heavy rainfall has impacted on the completion date."
With an 800 metre liner system installed on the diversion's river bed – incorporating nine different layers, double seam welded at the joins – the company is confident the diversion will avoid another breach.
"The diversion has undergone significant testing and has been inspected by independent engineering experts. The complex liner system is working well, allowing us to open up the diversion to river flows," Mr Hutchinson said.
Australian Manufacturing Workers Union organiser Steve Dodd, who represents about 100 Yallourn workers, said the diversion's collapse would keep the industry "on edge" regarding mine stability for years to come.
"I'm glad that they've finally completed it, but we hope they have repaired this in the appropriate way; last time they told us it would last a one-in-10,000-year flood," Mr Dodd said.
"I'm sure they've worked hard to fix this, but why should we give them credit for something that shouldn't have happened in the first place?"
Monash University environmental engineering senior lecturer Gavin Mudd said while a failure of such magnitude was rare in the geotechnical engineering industry, the ordeal was a lesson in poor design and operation.
"Shifting a river is totally within our realms of capability, it's just that they failed so fantastically to get it right; it's sad because it shouldn't have happened in the first place," he said.
During the 14-month reconstruction effort, water flows were at first allowed to flow directly into Yallourn's open cut coal mines either side of the diversion, from where it was pumped directly into the Latrobe River.
Later, the establishment of a 1.6 metre diameter pipeline, stretching 3.6 kilometres across the top of the diversion, allowed river-to-river pumping.
"We have stopped pumping water through the pipe infrastructure. The pumping system has been dismantled, while the pipe infrastructure will remain," Mr Hutchinson said.
Meanwhile the company has continued to pump water sitting in Yallourn's open cut mines directly into the Latrobe River, with a further nine gigalitres targeted for removal.
Mr Hutchinson said an Emergency Discharge Licence, granted by the Environment Protection Authority, would expire in February, and EnergyAustralia was working to reduce water levels "as quickly as possible".
Victorian Energy and Resources minister Nicholas Kotsiras said a number of workshops had been held with industry stakeholders, including other Valley coal mines, to share the lessons learnt.