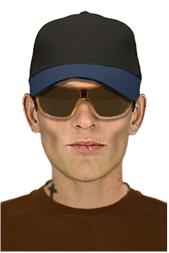 Yallourn North attempted abduction
Police have released a photo-fit image of a man they wish to speak with in relation to an attempted abduction in Yallourn North.
According to police, on 27 November a 10 year-old child was riding in Third Street when they we approached by a man in a vehicle similar to a black four-wheel-drive wagon.
He allegedly got out of his vehicle and approached the child in a manner that made them believe they were about to be abducted.
The man is described as Caucasian, 30 to 40 years of age.
Anybody with information about the incident or the man's identity should phone Crime Stoppers on
1800 333 000.
Woman charged
Police yesterday afternoon charged a 33 year-old Morwell woman in relation to a string of burglaries in Hazelwood North.
The burglary and theft charges relate to seven burglaries since 22 November and one attempted burglary yesterday.
Latrobe Crime Investigation Unit Detective Sergeant Paul Stow said the woman's arrest came as a result of information from the public.
Property stolen included jewellery, computers and computer equipment, games consoles and games.
Synthetic cannabis seized
Latrobe Inspector Mick West has issued an impassioned plea to the public to steer clear of synthetic drugs, after seizing fake cannabis from a Traralgon business on the weekend.
An undisclosed amount of the synthetic cannabis was seized on Saturday and Insp West said it would now be tested to check its composition.
Some synthetic drugs are banned, but Insp West said manufacturers were constantly altering their composition to make the substances technically legal.
"It may be legal, but it doesn't mean it's not harmful," he said.
The warning came as State Mental Health Minister Mary Wooldridge announced as of Tuesday, the synthetic cannaboid 'Marley' would be the latest drug banned, after it put five people in hospital across Victoria.
Trafficking Marley could now result in a 15-year jail sentence.
Burnt dredger back in operation
A Loy Yang mine dredger has returned to service after catching fire on Tuesday morning.
AGL is investigating the cause of the minor fire, which was detected about 10.30am on the bucket wheel of dredger 14, one of the mine's three large coal excavators.
"Mine operators quickly brought the fire under control and the CFA attended and assisted with identifying and wetting down hotspots," an AGL Loy Yang spokesperson said.
"The mine employees who responded to the fire are to be commended for their prompt response."
No employees were injured and the dredger sustained minor damage from smouldering coal embers.
It returned to service on Tuesday night.