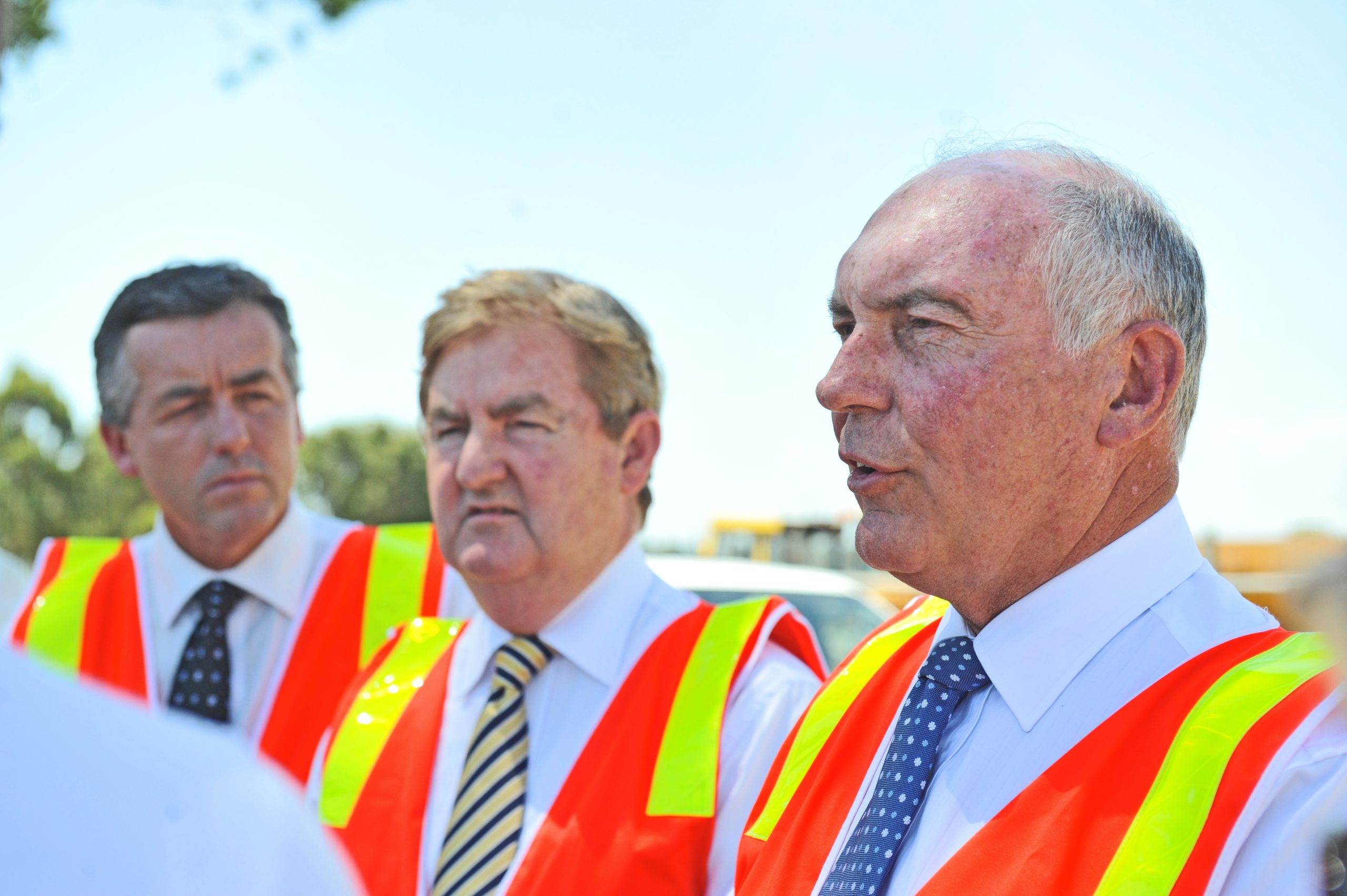 Acting Prime Minister Warren Truss has shown his "commitment" to finish the Princes Highway duplication project between Traralgon and Sale.
Mr Truss met with Acting Victoria Premier Peter Ryan, Federal Member for Gippsland Darren Chester and State Member for Morwell Russell Northe and VicRoads representatives to inspect works taking place east of Traralgon on Tuesday.
Work has been underway for four years to create four lanes on the highway with two of the six stages already completed.
"This is a major highway, linking the eastern parts of Victoria, the productive areas of Gippsland and the Latrobe Valley into Melbourne, and therefore it is an important part of the national network," Mr Truss said.
"That's a commitment we made when we were last in government and that would be a goal, and that would be one of our objectives, and we are committed to achieving that as part of National Highway upgrading program."
The Federal Government is contributing $140 million to the project with the State Government contributing the remaining $35 million.
Mr Truss also confirmed the Federal Government would negotiate with the State Government to fund 80 per cent of the cost of similar projects, with the State Government contributing 20 per cent.
He said the previous Labor Government wanted to break from this traditional formula with a 50/50 split, with an effect that the states did not have access to available money.
"The fact that we have broken that ongoing dispute with the state governments right around the country on the funding split, by committing to traditional funding, means that these highways are beginning to gain life again right across the nation."
Acting Premier Peter Ryan said between 8000 and 17,300 vehicles used the Princes Highway between Traralgon and Sale each day.
Mr Ryan said people were reliant on these road systems not only for the passage of people who live in the region, but commercial and tourism traffic and other users.
"These road investments are significant of course from an Australian perspective and in the Gippsland context, no less so," Mr Ryan said.
Federal Member for Gippsland Darren Chester said two of the six sections have been completed and another section was under construction.
"In December, I turned the first sod for the Nambrok Road section, which completes the section we are at today. The remaining…sections near Flynn and Fulham are still in the planning stage and are scheduled to be completed incrementally by mid-2016," Mr Chester said.