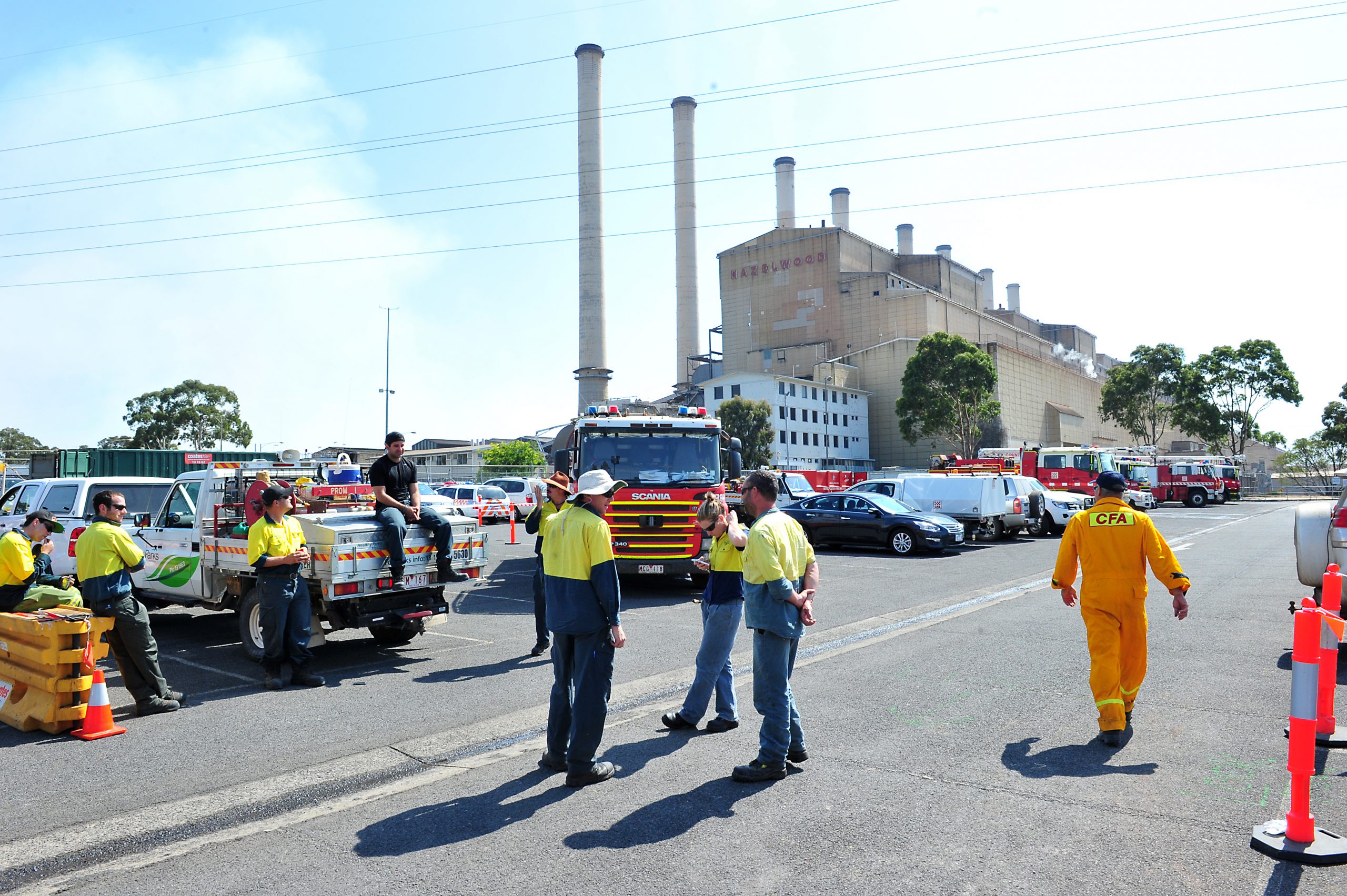 RELATED COVERAGE: This is a crisis: community outrage at public meeting, Heat to rise on Hazelwood
Firefighters at the Hazelwood mine are bracing themselves for increased winds over the coming days, where they have dug in for a firefight predicted to continue for weeks.
In what has been described as one of Victoria's most significant fires by Fire Services Commissioner Craig Lapsley, firefighters were still struggling to make ground on the coal batter blazes in yesterday's fluctuating wind conditions.
The Hazelwood Power Station car park has become a home-away-from-home for emergency service personnel, with an army of CFA and MFB appliances and tents occupying the space usually reserved for power station workers.
Starting on 9 February after the Hernes Oak fire spotted east towards the mine, about two kilometres of the unused section mine remains ablaze in two separate sections on the north and eastern batters.
About 200 firefighters, 100 mine staff, 30 incident management team personnel and nine medical monitoring workers were on deck as of Tuesday afternoon, with tankers, heavy pumping vehicles, eight large aerial ladder appliances and aerial water bombers at their disposal.
While some unmanned spray systems are in place to reduce the use of fire fighters on the coal face, authorities are still waiting on the progress of a water main to be installed in the affected area by mine operator GDF Suez Australian Energy to bolster the containment and extinguishment effort.
A GDF Suez spokesman said the 1.2km long, 300 millimetre pipeline was still being extended from a dirty water pumping station on the mine's northern batter to the fire zone, and was due for completion in the coming days.
With extensive resources being thrown at the firefight, 30 firefighters and 10 appliances were shipped in from New South Wales yesterday, with another 30 due today to hold the fort at under-resourced MFB and CFA stations across Victoria.
"Fire Rescue NSW is an urban firefighting service and will bring specialist urban trucks for response to building fires, industrial fires, car fires and hazmat incidents," Commissioner Lapsley said.