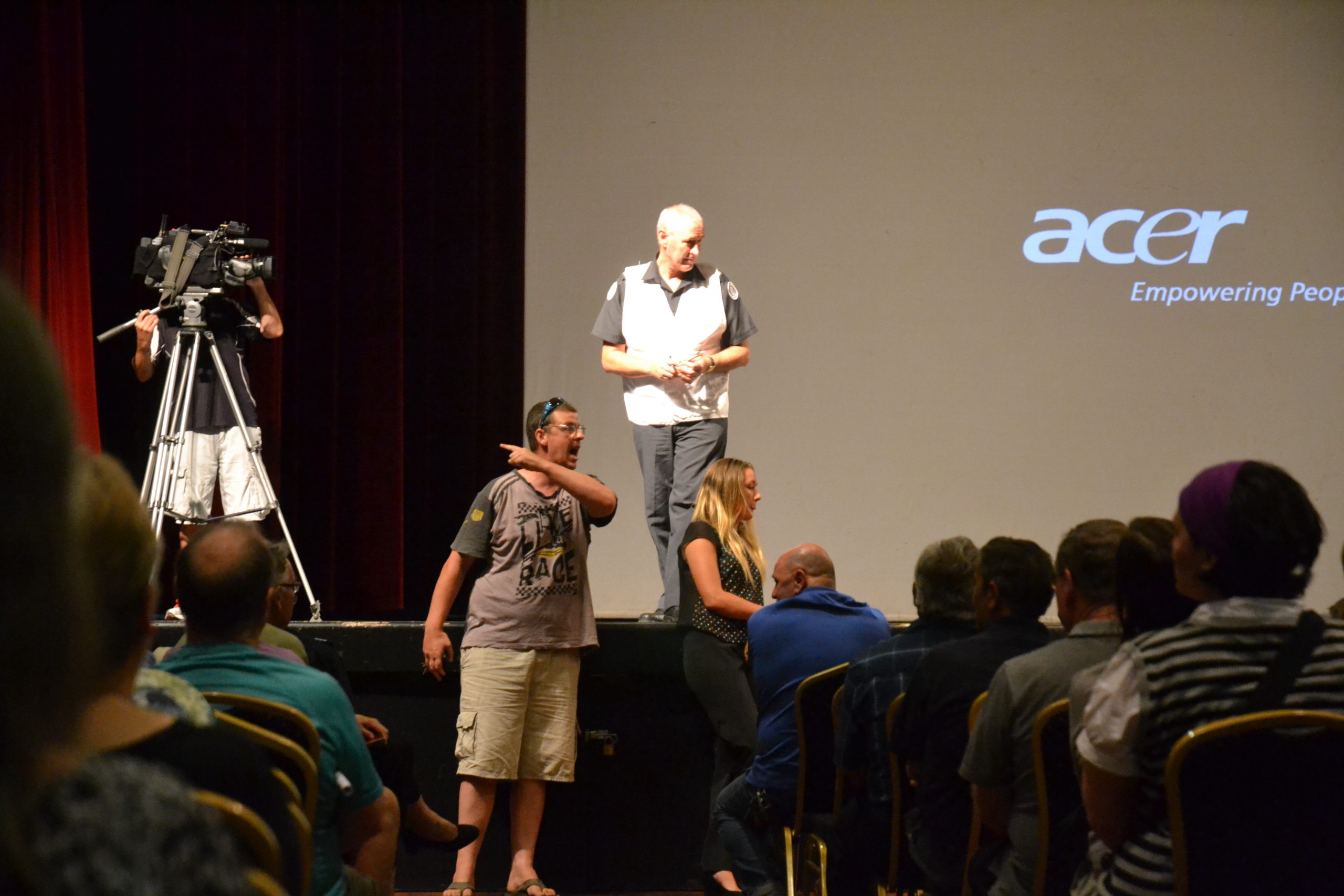 RELATED COVERAGE: 'No long-term health worries', Morwell smoke fears prompt student relocation to Moe schools, New air monitors on their way, Health fears continue to linger, Cause for concern, Heat to rise on Hazelwood, Buckled in for the long haul
"We are here trying to say to you, 'this is a crisis'."
That was the resounding statement of one resident which echoed through Morwell's Kernot Hall on Tuesday night, encompassing the concerns of more than 150 community members who gathered for answers.
"We need a solution now," Estelle Landy said.
"It appears there is no forward contingency plan for something like this when we live in such a populated area."
Anxiety was elevated, with residents calling out from the crowd to fire and health authority representatives, demanding a crisis centre be established, where residents could go to get fire information and medical check-ups.
"There are things you should be more proactive about," Toongabbie resident Tracey Anton said.
"All you've said tonight is 'we've got monitoring'."
The community concern was partly addressed yesterday, with the establishment of a Department of Human Services 'respite centre' at the Moe Town Hall.
While there will be Ambulance Victoria and Department of Health representatives on hand at the facility, it will not provide medical check-ups.
The absence of a GDF Suez Hazelwood representative was felt at the meeting, with multiple speakers criticising the company's no-show.
The group heard from Country Fire Authority, Environment Protection Authority, Department of Health and Ambulance Victoria representatives.
CFA Incident Controller Barry Foss said fire crews were "searching the world" for the solution to the Hazelwood mine fire, including the use of firefighting gels and foams, but "nothing will suffice other than water".
Mr Foss said crews could not flood the mine without placing power at risk.
"The last thing we want to do is lose power for you," he said.
The Moe Town Hall respite centre on Albert Street will be open until 7pm tonight and daily, depending on demand.
It will offer an air-conditioned space with tea and coffee-making facilities and current information on the fire and health situation.
Representatives from Latrobe City Council, the Red Cross, Victorian Council of Churches, EPA and fire services will also be on hand.
For current information on opening hours, phone DHS Traralgon on
5177 2500.