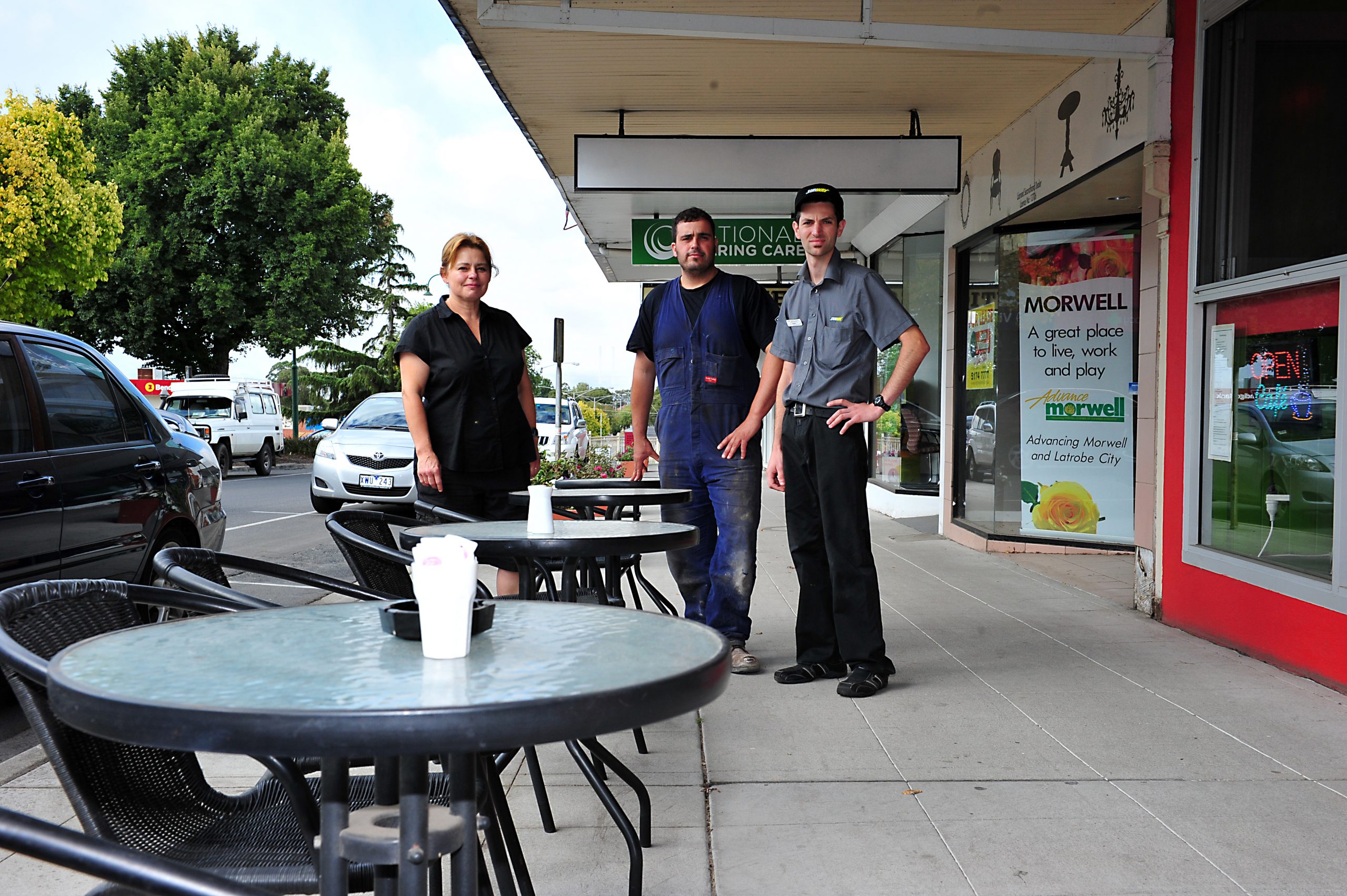 Morwell business-owners fear the economic impacts of the smoke crisis will continue to the point of no return.
Cafe-owners south of the railway line have reported significant loss of business because of thick smoke and health concerns deterring customers from going outdoors.
The impact has extended to tradespeople and retailers, one of which has lodged an insurance claim for smoke-damaged stock.
Plumber Steve Mizzi of Country Maintenance Plumbing said he normally attended up to 20 jobs a week, but since the smoke hit, that figure had been reduced to two or three.
"It's absolutely destroyed us," Mr Mizzi said.
"No-one's ringing because if you bring the plumber in, you're going to bring in the coal dust."
Panthers Mensland owner David Panther said the ash had caused damage to clothing stock in the Commercial Road store and his business had lodged an insurance claim for loss of trade.
"The number of people walking in Commercial Road has dramatically declined and that's reflected in our turnover," Mr Panther said.
"We're way below what we normally would be getting.
"But businesses are just part of a larger situation and we really feel for the residents."
Subway Morwell owner Mark Carrioli said the financial effects of the smoke crisis were particularly felt on weekends, when office buildings were closed.
"As soon as that smoke kicks in, people aren't going to come down here if they don't have to," Mr Carrioli said.
"We're already struggling to build the town back up, now with this, we're back to square one."
Cafe-owner Claudia Davies said she feared some businesses could take up to a year to recover, or might struggle to recover at all.
She said the number of Claudia's Cafe patrons had reduced significantly, however, the crisis had brought out an amazing show of community spirit.
"People come in specifically because we're going through a tough time," Ms Davies said.
"There is not a better community anywhere and that's what will see us through. That's why we're open and we'll tough it out,"
Ms Davies encouraged businesses to purchase air purifiers as they had made a difference to the air quality at the George Street cafe.
There is currently no financial compensation available for businesses affected by the smoke.
Member for Morwell Russell Northe, who is also Parliamentary Secretary for Small Business, said he had spoken to senior government ministers calling for support for local traders.
"What form that might be, I can't say at this early point in time," Mr Northe said.
However, he said he had been in contact with the government's small business mentoring service, to arrange for affected businesses to receive first-hand advice from others in their sector.
Latrobe City Council's economic development department has been doorknocking Morwell businesses to gauge how they are coping.
Mayor Sharon Gibson said the doorknocks would continue, not just in Morwell south, but the broader town, including businesses and homes.