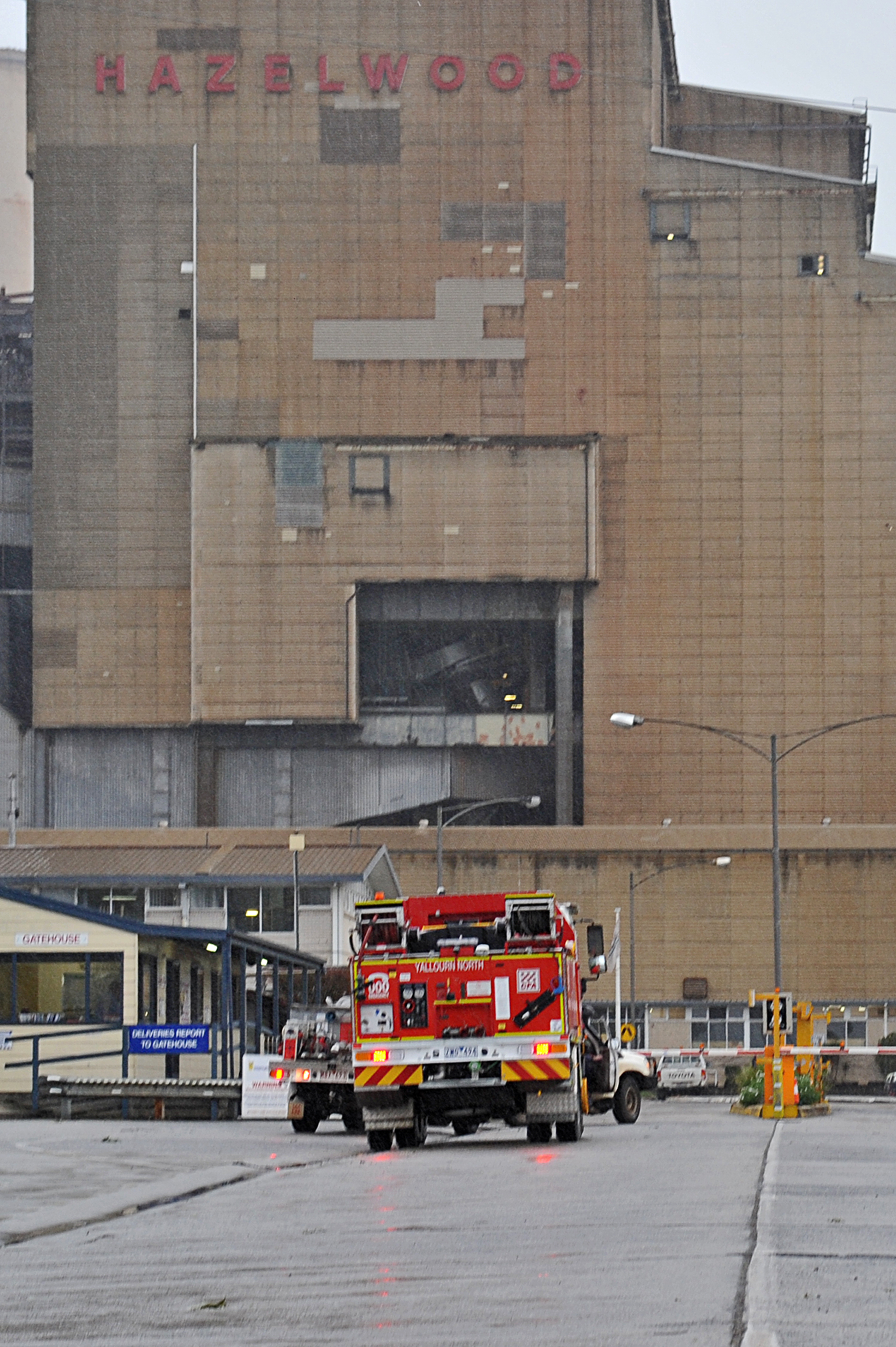 FIRE authorities have confirmed a spot fire in the Hazelwood open-cut mine has been extinguished, but have maintained operator GDF SUEZ was not to blame.
Morwell Fire Brigade operations manager Shane Mynard said the fire – about 50 metres long in the eastern batters of the mine – was contained about 4pm Thursday and fully extinguished about 6pm.
"There are no fire brigades now it attendance and GDF SUEZ will monitor the situation, especially with wind conditions. There is no change from last night and all hot spots were extinguished," Mr Mynard said.
He said in all coal mines hot spots could happen every now and then and with wind conditions on Thursday, it "enflamed the spot fire and away it went".
"GDF SUEZ did anything it possibly could to ensure the safety of the mine, but wind conditions were horrendous," Mr Mynard said.
"Everything possible was done to ensure none of this would happen.
"With wind conditions, there's not much they could have done."
The operations officer said he was more concerned about the number of burn offs across Gippsland getting out of hand on Thursday.
"There was no damage to properties, but some bush and grass fires. Even though it's wet, those winds, it's just going to take through the bush."
Voices of the Valley reacts
A LATROBE Valley community group formed in response to the Hazelwood mine fire is demanding urgent fire safety upgrades to the mine following the flare-up on Thursday.
Voices of the Valley president Wendy Farmer said the community had absolutely no confidence that another major mine fire was not going to happen again.
Ms Farmer said the fire on a winter's day showed that hotspots were still smouldering from February's mine fire and still posed a threat to the community.
"It's been months since the fire was contained and the next bushfire season is almost upon us," Ms Farmer said.
"We demand to know what actions GDF SUEZ and the government have taken to address fire safety since the major fire occurred.
"We don't need an inquiry to tell us that the fire protection at Hazelwood mine is woefully inadequate."
The nature of brown coal
Hazelwood Power Station operator GDF SUEZ has yet to confirm if the hotspot flare-up originated from February's mine fire.
GDF SUEZ spokesman Trevor Rowe said it was possible there were still hotspots in the mine, but said it was the nature of brown coal.
"Hot spots can form from time to time, but we monitor them and keep them under control. With extreme weather conditions it's likely to serve something up," Mr Rowe said.
In response to questions about the mine's preparedness for fire, Mr Rowe said the mine was on high alert and identified the fire quickly.
He added CFA felt Hazelwood's response was appropriate and showed preparedness.
"We've always been very vigilant about fire protection, and obviously it's been reviewed from the follow up of the fire process to ensure we have a process in place to tackle incidents," Mr Rowe said.
When asked if the community was likely to see a repeat of Thursday's flare-up, Mr Rowe said, "these were extreme conditions, we've seen the media coverage about what happened in Gippsland (on Thursday). It was wild weather, we don't get yesterday every day".