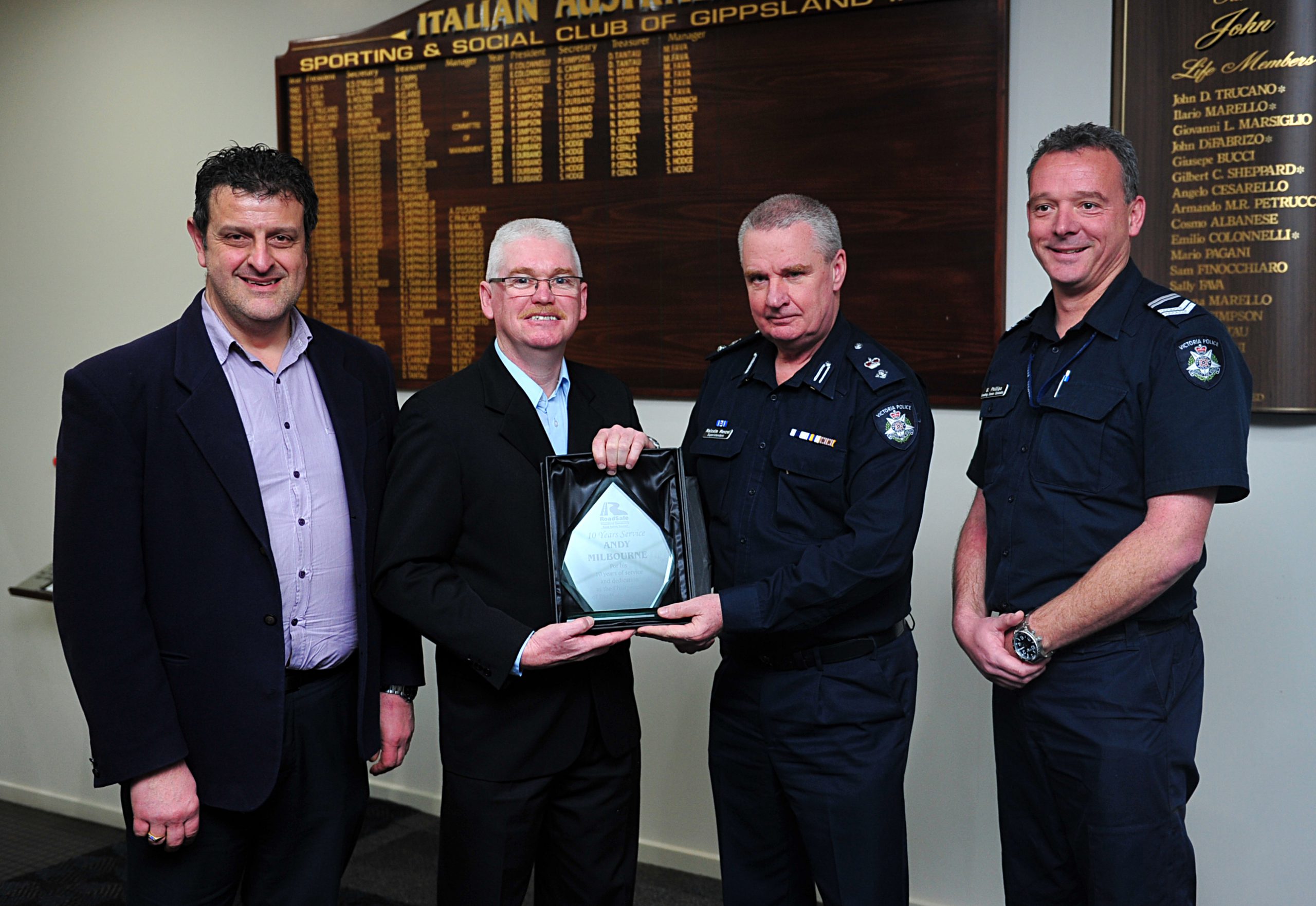 Over the past decade, Sergeant Andy Milbourne has become synonymous with the road safety message.
Described by local Magistrate Clive Alsop as a "remarkable man" who has been the "driving force" behind road safety programs, Sgt Milbourne has dedicated countless hours to promoting the message through advertising campaigns, school talks and lobbying.
Yesterday he was honoured by his colleagues at the RoadSafe Gippsland annual general meeting for 12 years as the group's chairman.
"We've achieved so much already, but unfortunately there's still so much we've got to achieve," Sgt Milbourne said.
"We've got 300-odd people dying on our roads in Victoria each year."
As a 19-year Victoria Police member, Sgt Milbourne knows the effects of the road toll all too well.
"It frustrates me at how simple a death is," he said.
"They pick up their phone just to have a look at a text message and all of a sudden they're off the road, wrapped around a tree and an 18 year-old kid's dead. I've been to that crash."
His RoadSafe role is a way Sgt Milbourne can be part of the solution.
Counted among his successes is being part of the local team which developed an education program for soon-to-be learner drivers and their families – now used across the state as the 'Keys Please' program.
Sgt Milbourne and RoadSafe have also lobbied for the reduction of speed limits along numerous Gippsland roads. But perhaps his most celebrated wins are the small ones.
"You get letters from kids and you see the look on their faces and it's started sinking in," he said.
The ultimate goal for Sgt Milbourne is a zero road toll and mandatory inclusion of the latest safety technology in all cars.
"As humans, we make mistakes, and we're paying the ultimate price for them, too," he said.
"But if we can get technology and the Australian (car) design rules changed, then we're going to be safer.
"I'd also love to see cars speed limited. There's no reason for a car to be able to do 200 kilometres an hour on our roads. But they're building them."
In order to drive the message home, Sgt Milbourne often asks people how many deaths are acceptable in their own family.
"The answer's always going to be zero," he said.
"We all need to treat everyone like our family on the road. That's what utopia is, putting everybody in the other person's place."