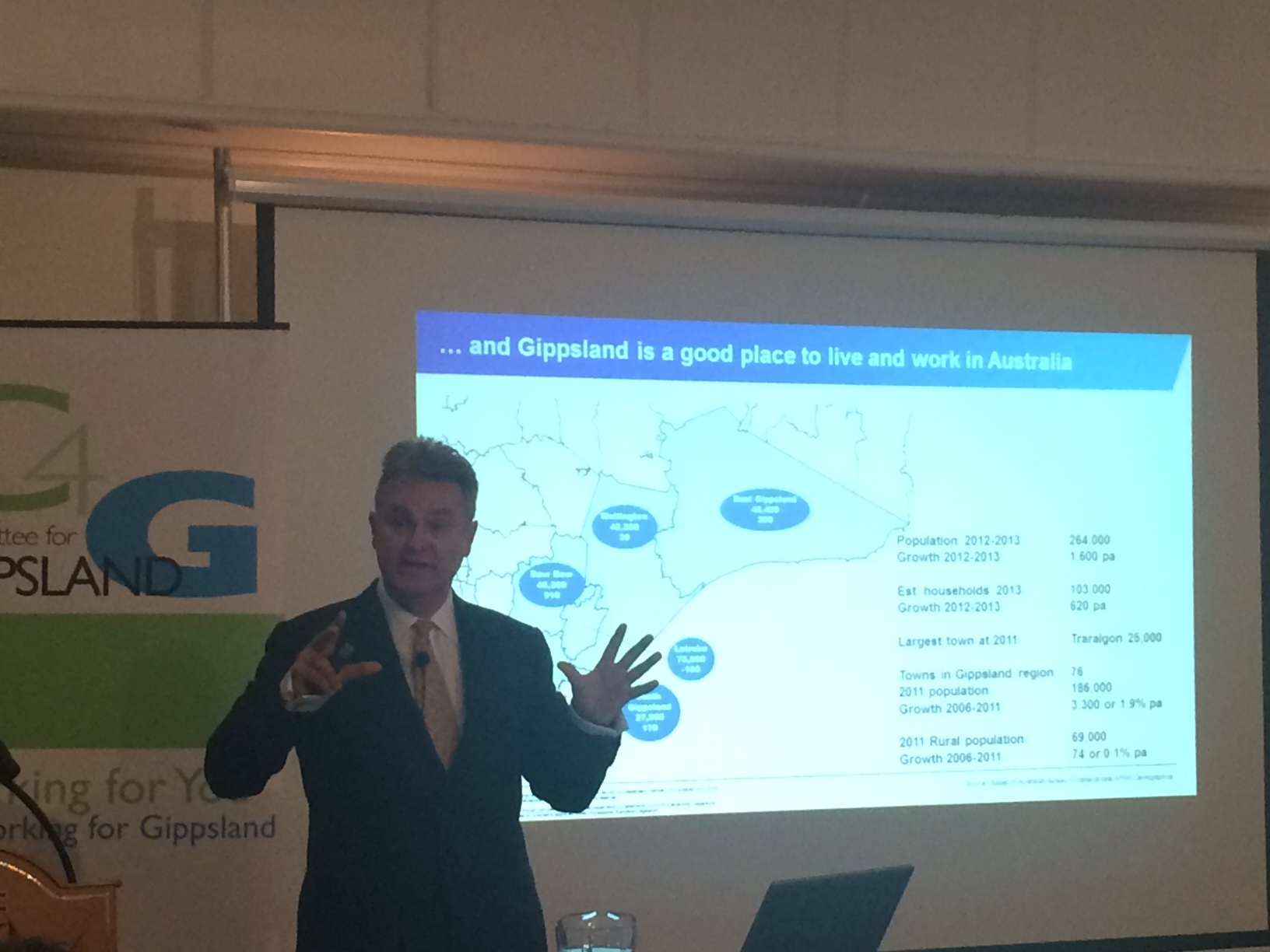 A renowned Australian demographer predicts a bright, expanding future for Gippsland, labelling it the ninth largest separate market in Australia.
Presenting his research into Gippsland's future growth last week, Bernard Salt told community members the region was on the rise culturally, economically and socially.
"The region is growing by 1600 people per year, with about 650 households more per year," Mr Salt said.
"It offers a diversity of lifestyle options to Melbournians, tree change, seachange and suburbia."
While many Latrobe Valley residents in particular express concerns of impending power station closures in the long term, Mr Salt said his data, based on predictions for 10 years from now, showed there would still be job growth.
"Despite the restructuring across power generation and agriculture over the last decade and a half there is still job growth, population growth and, in my view, Gippslanders have every reason to be positive about the next 10 years," Mr Salt said.
"I think the worst is over, I think the hard restructuring has taken place."
Mr Salt told The Express, it surprised him that in Gippsland and other regional centres community members did not seem to pay enough homage to local achievements
"Gippsland needs to develop a culture of celebrating its own success," Mr Salt said.
"I think this is an issue with regional Australia generally, when I turn up there is a tendency to showcase who used to live there that's now famous.
"Celebrate your own, celebrate success, build a culture of 'have-a-go-ism' rather than admiring someone from afar, it sends the wrong message to youth."
Suggesting improvements to the region, Mr Salt said he believed there was scope for more tertiary institutions.
"If we're going to manufacture stuff we should be smart about it and what we should be heavily investing is now is education," Mr Salt said.
"You need to be skilling up your kids, your grandkids and investing in a generation of knowledge workers."