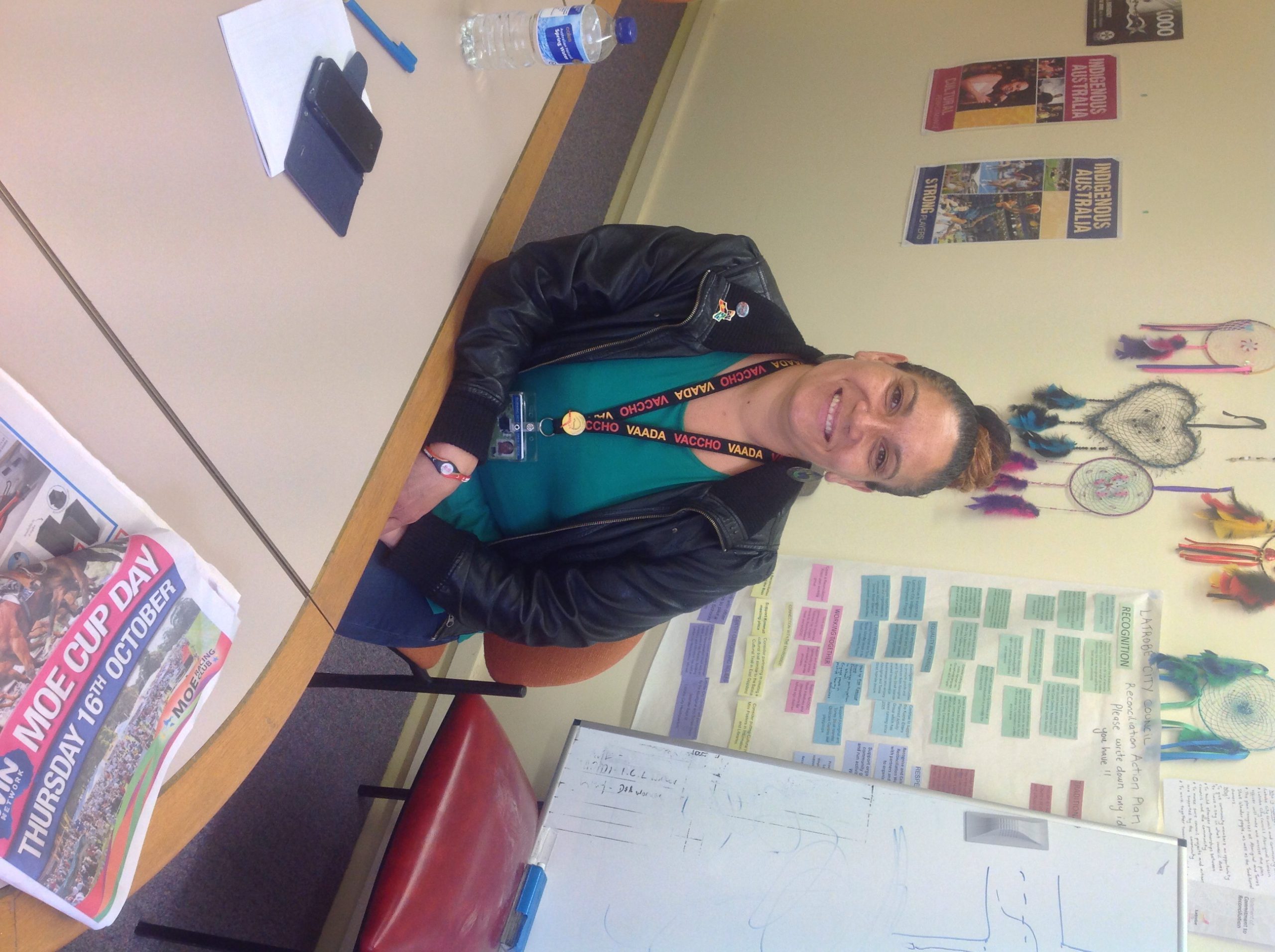 Naomi Murphy emulates strength and courage.
She sits peacefully in the meeting room, sharing her story with conviction.
But Ms Murphy's story is not uncommon – she has been a victim of domestic violence.
Working at the Gippsland and East Gippsland Aboriginal Co-Operative house in Morwell, she said experiencing mental and physical abuse in the past had helped her connect with other indigenous women who had been through domestic violence.
"It started after the last two break-ups that I went through. I hit rock bottom and turned to drugs and alcohol… the mental abuse was, in some ways, worse than the physical," Ms Murphy said.
"When we actually split and when he left, I was in the scariest place ever and sometimes I just wanted to go to sleep and never wake up again."
Originally from the Wakka Wakka tribe in Queensland, the mother of three said the turning point of her life was giving birth to her youngest daughter, Destiny, who motivated her to get involved in health and fitness.
Ms Murphy said her three children who were educated, "non-smokers" and had a keen interest in learning more about their Koori heritage, had played a major role in her new life.
Since Destiny's birth, the Koori activist has immersed herself in indigenous community support groups, such as dance group 'Black Mystique', for young indigenous girls.
According to Ms Murphy, joining local sporting clubs – including the Churchill Cougars Netball Club – has improved her outlook on life.
Ms Murphy said she also kept busy because her work was not a typical "nine-to-five job", and working with the community meant she "can't just shut off".
"Sometimes it's just about having someone come in and say 'hi' and have a cuppa with," she said.
"A lot of the women like hearing my story, I think it's important that they can relate to someone who has actually lived it."
She also emphasised the importance of the local Koorie community getting involved in local sport teams.
Being part of a state-wide Aboriginal sports committee, she said it was crucial more of the indigenous community got involved because "diabetes and heart-disease is off-the-chart".
She also said going to sports carnivals had an indirect "positive effect" on the family, because that time was used without "being at home and drinking".
According to Ms Murphy, "positive effects" on the indigenous family include providing counselling and support services to Koorie men who are susceptible to violence.
"People ask about why our men do this, a lot of it goes back to cultural trauma," she said.
"I'm not about saying 'leave your man', he can go and get the support he needs if he wants it, because there is a lot out there as well and ultimately we want our Aboriginal families to be together and lead strong and healthy lives," she said.
Statistics from the Department of Social Services show that one in three women experience some form of domestic violence Australia-wide.
Ms Murphy says domestic violence was "one of the main issues" not only facing Aboriginal women, but non-indigenous as well.
She said the whole community must take a stand if awareness was going to reach its peak.
"It's something that I'm really passionate about," she said.
If you know someone who is going through it, you need to give them a number or call the police and not just walk away because it's 'domestic issues'… sometimes they just don't have the strength to do it themselves."
As for the future, the sky is the limit for Ms Murphy.
She plans to spend more time with her children, continue her health and fitness regime, inspire other women in her community, and take a personal journey to "discover more about her roots".
"I feel like I have a real purpose in my life now," she said.
As for other women experiencing domestic violence, the positive community worker has some sound advice.
"It's just really good if you admit to yourself that it's not your fault, and sometimes I think 'maybe if I did that better' or 'if I wasn't doing that things would have been different', which is what I used to think," Ms Murphy said.
"I made a lot of silly decisions when I was younger but I feel like I'm making a better life for myself and my kids."
*Sarah Price is a Monash University journalism student.