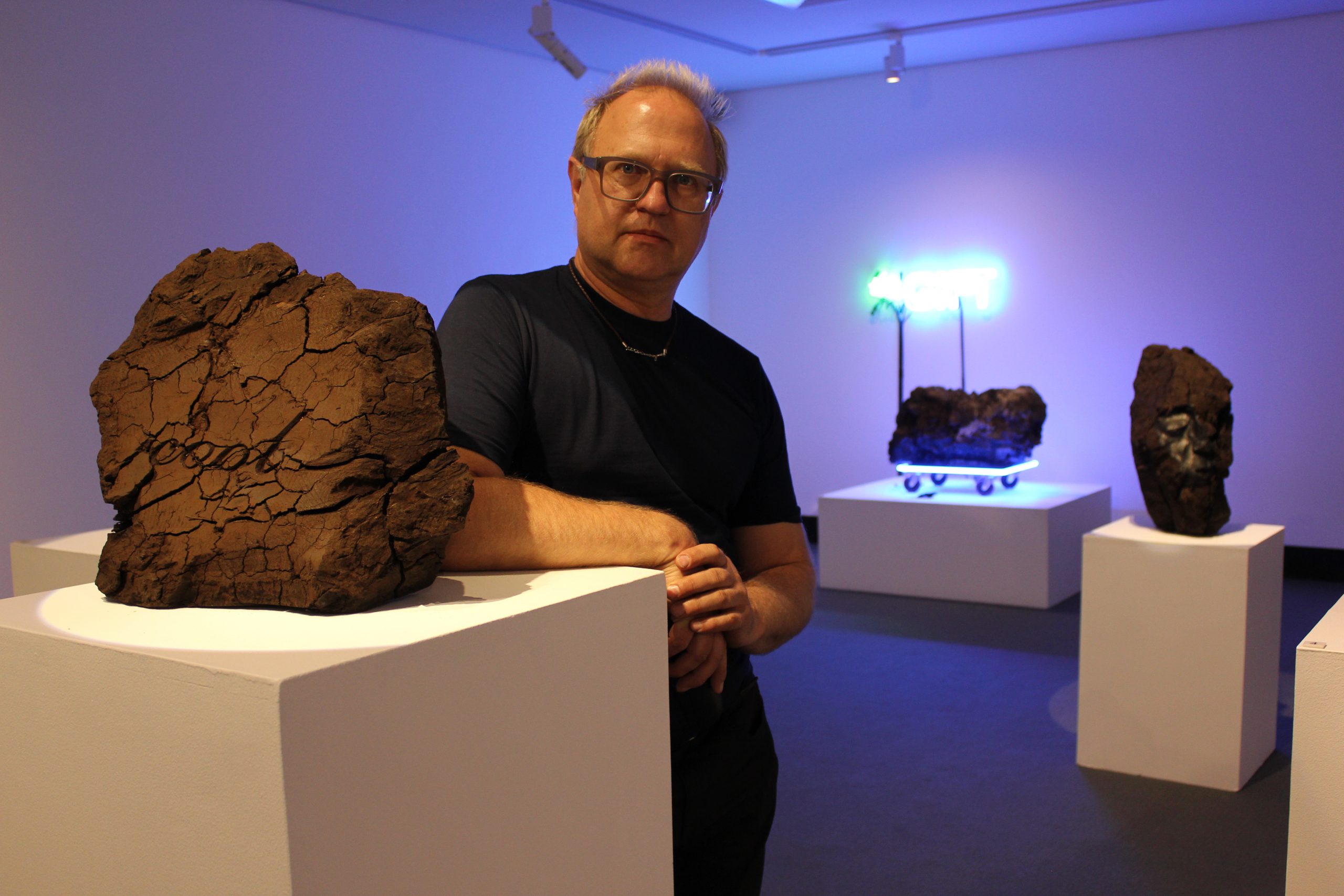 Coal extracted from the depths of the Hazelwood mine has been used to create sculptures and charcoal drawings in an exhibition that questions our dualistic relationship to the resource.

In the corner of Melbourne-based artist and German native Hartmut Veit's exhibition 'Vibrant Matter' at Latrobe Regional Gallery this month, is a neon sign above a trolley of brown coal that reads 'The Gift'.
Mr Veit said the word had two definitions for him, the first like 'present' and 'das Gift' in German, which translates to 'poison'.
"There's this social theory of the gift exchange, a give and take that is happening. It's not just black and white," Mr Veit said.
"We've got this gift from nature, but when we use it perhaps in the current way that we're using it, there are enormous repercussions.
"Coal provides this vital service, electricity, but people in Melbourne have no idea and don't care about what happens in Morwell."
The exhibition follows the artist's six-week artistic residency at LRG following the Hazelwood mine fire.
In consultation with clinical psychologist Rob Gordon, who specialises in working with people affected by emergencies or disasters, Mr Veit interviewed a broad spectrum of the community and drew their portraits using brown coal from the mine.
"There were diverse experiences that came out of it that I put into the show. I didn't want to be some artist that came out of town who knows it all. It was more of an anthropological inquiry, to see what people were saying to make the work," Mr Veit said.
The exhibition also features a series of coal sculptures, sometimes engraved with words or manipulated to form abstract faces.
Mr Veit said brown coal as an artistic material was difficult to work with, often falling apart and in need of repair.
"I started repairing the sculptures, in the same way that I was trying to affect some sort of healing in the community. It wasn't durable, there were cracks, but I kind of liked that."
The exhibition opened on Friday and will be open until 30 November.