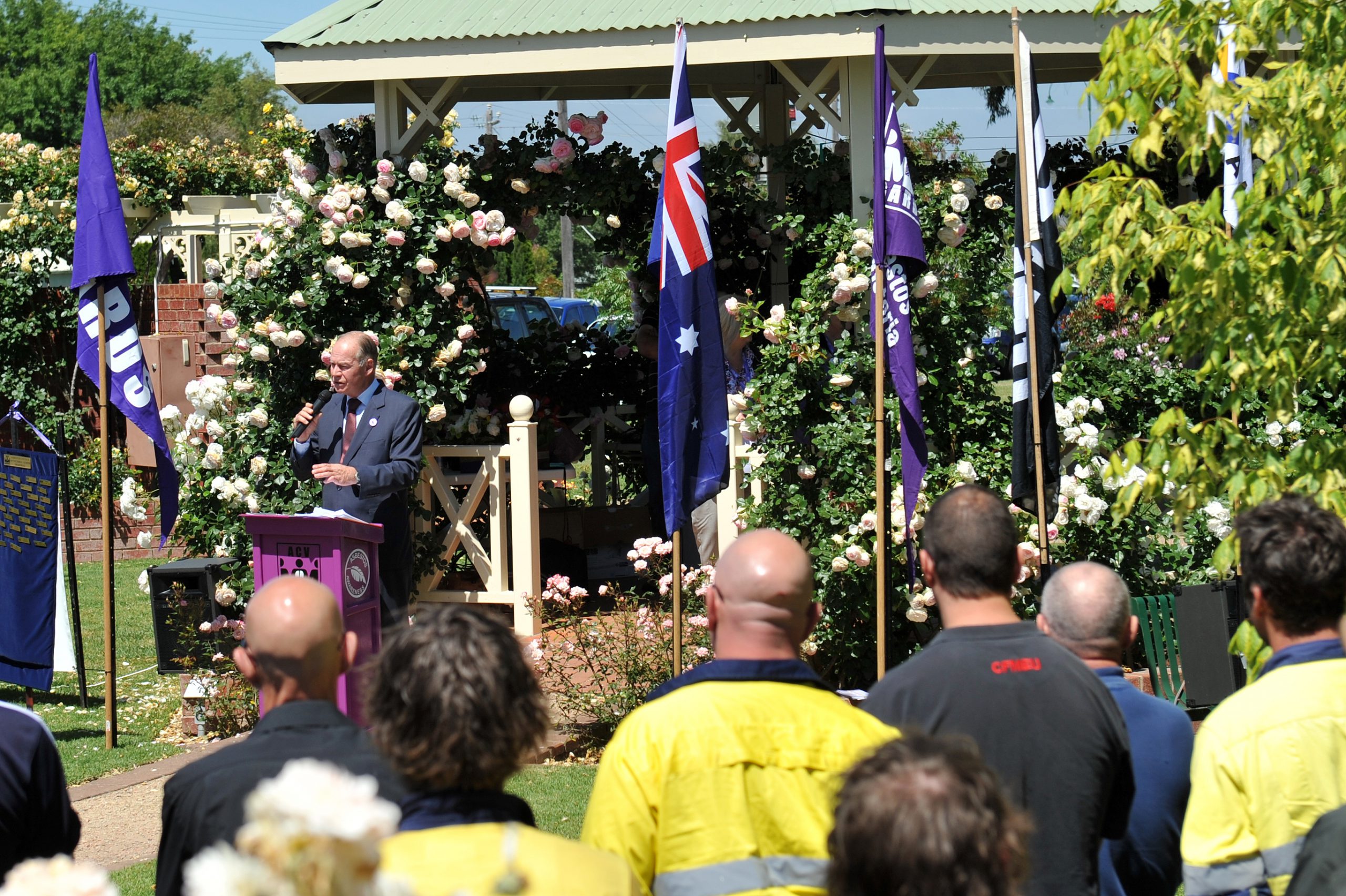 Tributes were paid to those who lost their lives to asbestos related diseases at the annual Asbestos Awareness Day ceremony in the Morwell Centenary Rose Garden on Friday.
A crowd of about 200 union members, onlookers, school children, sufferers and their families converged on the Asbestos Council of Victoria and Gippsland Asbestos Related Diseases Support group event.
GARDS chief executive Vicki Hamilton said the purpose of the ceremony was to remember those who had died and show support for those still suffering from the diseases.
Ms Hamilton said the event was also an opportunity to raise awareness of the deadly fibre and highlight causes GARDS fought for.
She said James Hardie's announcement that it was seeking to pay sufferers in instalments was of immediate concern.
"James Hardie have a moral obligation to look after the community that they exposed to asbestos," Ms Hamilton said.
"People deserve to be paid their full compensation. You can't pay people in instalments."
Ms Hamilton vowed to ramp up the pressure in the coming year.
A terrible battle
Mesothelioma sufferer Marvin Webster and his wife Petra were earlier this year introduced to the pain exposure to asbestos can cause.
Mr Webster was diagnosed with the disease in May after he was exposed to the fibre working as a rigger at Hazelwood Power Station during the 1960s.
The Moe resident said while he was fighting the disease and his six to 12 month prognosis with treatment, another battle was adding to his stress.
"James Hardie do everything they can to discourage you from seeking compensation," Mr Webster said.
The 70 year-old said the compensation claim he lodged in June was being disputed and labelled the company's instalment plan as "a joke".
Mr Webster said Friday's ceremony was "emotional" for he and Petra.
"It makes you realise how many people are suffering and have suffered and all the support you need to get the message out there," Mrs Webster said.