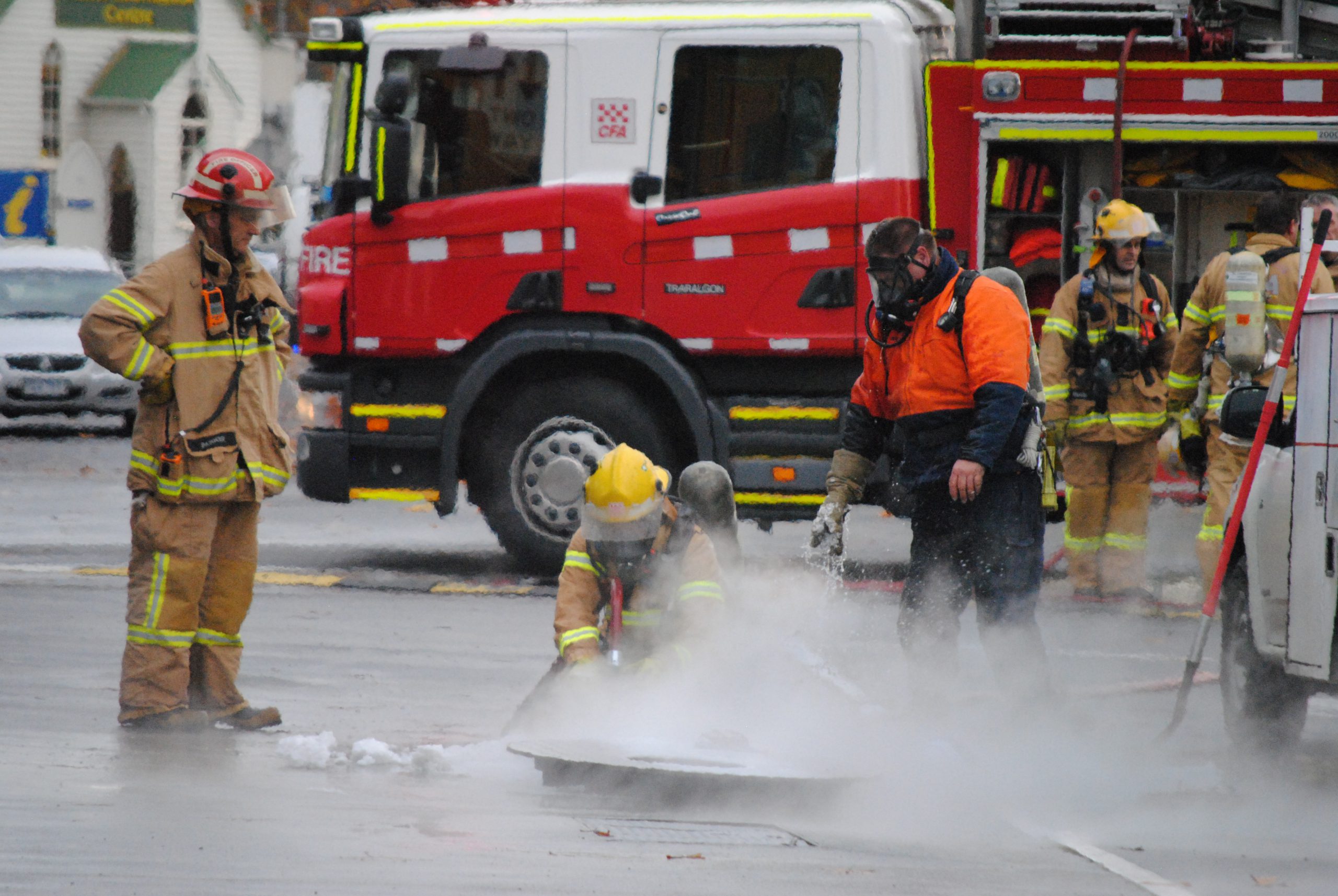 Firefighters hoped like hell any fire stayed well clear of Traralgon's United service station, as they worked to suppress a burst LPG line spewing gas vapours into the open air on Thursday.
Princes Highway traffic was reduced to one lane along the site of the rupture, after authorities responded to a mid-afternoon callout, which sent a continuous stream of sub-zero temperature gas from the ground like a geyser.
With access to the underground rupture restricted, the Country Fire Authority used breathing apparatus and fog spray nozzles to suppress the spread of the gas.
The trademark stench of onions and garlic could be smelt wafting downwind of the site, towards neighbouring businesses east of the railway station, which were faced with the question of evacuating premises for the afternoon.
Immediately adjacent to the service station, Clark Rubber employees shut up shop early, as access to the business was blocked by CFA and police barricades.
Next door, Repco store manager Allan Ashlin said while he was told gas levels had not reached dangerous levels, he wished the call to evacuate had been made.
"We asked the CFA if it was safe to be there, and they seemed to think it was under control," Mr Ashlin said.
"But a lot of the boys (employees) got a headache and could still smell the gas, so we would have preferred to have been evacuated, because it was pretty pointless for us to stay open.
"The smell was not overwhelming but it was still pretty bad, we closed all our doors and used the aircon, but could still smell it inside."
Four shopfronts downwind, the Centrelink call centre is understood to have closed off upstairs levels and a tea room, and used wet towels to block door drafts.
Community and Public Sector Union organiser Jack Coleman said he was satisfied with the actions taken by the call centre's response.
"The health and safety reps were right onto it. And the CFA's air quality tests showed the gas was below dangerous levels, so it was deemed acceptable," Mr Coleman said.
CFA remained on the scene until later that evening, suppressing the vapour flow until the arrival of an LPG tanker to decant the 9000 litre underground tank.
Maintenance works could be seen onsite the following morning, ahead of a business-as-usual setting later that afternoon.
United Petroleum did not respond to a request for comment.